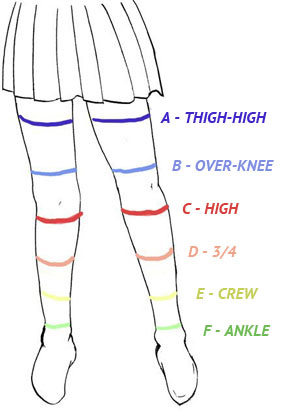 Zettai Ryouiki describes the area of uncovered thigh between the skirt and the stockings that's apparently a total magnet for Male Gaze.
The term originates from Neon Genesis Evangelion to designate an Absolute Terror field, although it's had considerable semantic drift. As per usual for fandom who obsess about costumes, this can be considered a Moe attribute and thus, appear prominently in character designs and schoolgirl outfits.
Since a Zettai Ryouiki is defined by the length of the stockings or socks, some people have categorized it into grades depending on the length of the socks. This ranking system goes from Grade F to Grade A.[1] However, only Grades A and B are considered true Zettai Ryouiki.
As a relatively new phenomenon, the symbolism of Zettai Ryouiki only recently began to crystallize. Since it is, by nature, a sensual costume that doesn't reveal the "naughty bits", it symbolizes budding, innocent sexuality, a trait common for The Ingenue who is already aware of her attractiveness but not (yet) cynical enough to put it to use (which is why many a Deredere wears Zettai Ryouiki). Of course, as with any symbols, Genre Savvy characters can Invoked Trope it on purpose even if far from the described archetype themselves.
See also Joshikousei (a school uniform this trope is often combined with), Stocking Filler (for stockings without the skirts), Mini-Dress of Power, Who Wears Short Shorts?, and She's Got Legs. Compare with Opera Gloves, which is the equivalent for arms. Contrast with Sexy Schoolwoman (who usually shows more leg than this) and Panty Shot. On the other end of the spectrum, contrast Proper Tights with a Skirt.
Anime & Manga
Shana in Shakugan no Shana.
Yuri Zahard has this with black stockings.
Louise Françoise Le Blanc de La Valliere in Zero no Tsukaima. As an Expy of Shana, this isn't surprising.
Taiga from Toradora!, not surprising for another expy of Louise. It also gets a lot of attention in the opening credits.
Aria H. Kanzaki from Hidan no Aria, yet another Twin Tails wearing Deredere voiced by Rie Kugimiya, who happens to be one of her schools average S Rank students. Her zettai ryouiki are known to magically shift between A and B whenever she reveals the dual thigh holsters that she somehow keeps hidden under her skirt.
Code Geass Kallen Stadtfeld in her school uniform, not to mention her Custom Uniform. She is also credited with popularizing the hotpants+socks variety of Zettai Ryouiki.C.C's new black outfit in R2 also uses the hotpants + socks variation.

Nunnally gets to use a B Grade Ryouiki in the Knightmare of Nunnally manga, as it's included in the Ashford Academy's middle school uniform. Same goes to Alpha Bitch Ekaterina, her Girl Posse, and Nunners's best friend Alice.
Anya gets to use a Grade A while in her Knight of Rounds uniform.
The technical term for the near-impenetrable shield with which the Shinkirou is equipped is the Absolute Defensive Territory (Zettai Shugo Ryouiki).

Touka of the Tennouji Family (from Nogizaka Haruka no Himitsu 2nd season), has a Grade A Zettai Ryouiki, aside from twin tails and tsundere spoiled brat personality, making it a Grade S.
Love interest Rion Akagami wears this in Cage of Eden, even when they're stuck on a tropical island inhabited by hordes of prehistoric animals.
Lucky Star

Featured in the opening. The B-Side of the Lucky Star opening song single, "Kaeshite! Knee Socks", is pretty much entirely about thigh-highs.
Ayano Minegishi has this as part of her school uniform.
Finally, in some of the manga sketches, Konata and Yutaka have this as well.

Mazinger Z: Sayaka Yumi tended to wear short skirts whether she was wearing her school uniform or casual clothes. And later in the series she wore a very short white-red skirt and knee-length, white boots. In the manga versions more female characters wore attires or uniforms that showed their tights, such like the Gamia or Minerva-X in Shin Mazinger Zero.
Chiaki Minami,(occasionally worn by Kana at home) also the standard uniform in her school in Minami-ke.
Kurumi Momose and Yuma Kashiwagi in Pani Poni Dash.
Seems to be a part of the standard school uniform in Zombie Loan.
Yomi in Azumanga Daioh.
Sai Hinoki from Betterman is a good example for this trope.
Pretty much standard uniform for all female crew members in Starship Operators, but considering it is a Show Within a Show, one could blame it on Sex Sells.
Magical Girl Lyrical Nanoha Striker S

Nanoha and Fate's basic Barrier Jackets in the third season seem to have been designed with this in mind.
Fate's Barrier Jacket in the first two seasons, as well, and Nanoha's normal outfits (non-Barrier Jacket, non-school uniform) from those seasons. And the Lieze twins (very perfect "A" Grade). And Vita's normal non-combat outfit (only "B"-Grade, which is sad because she meets both of the added requirements for a Grade S). And Teana's Barrier Jacket and military uniform. Yeah, this show runs on Fan Service, alright.
Don't forget Sister Schach.
There's also the strange case of Reinforce, who has... only one sock.
And now Magical Girl Lyrical Nanoha Vi Vid adds Corona, as well as Lio and Einhart in their Barrier Jackets.
Young Nanoha sported these in the OP of the first series.

Alice in Aria since it's part of her school uniform, making her of the very few main characters who regularly wears something else aside from her Undine uniform. In one anime episode, Aika wears the variety with shorts.
Princess Rita Sior in Sisters of Wellber.
Seemingly part of the school outfit on School Days. It's also humorously refereed to, as an army of school girls in short skirts activate Zettai Ryouiki by putting on knee socks in an attempt to draw more people to their classroom for the School Festival. This instance is doubly notable as the last comedic occurrence in the anime before things go straight to hell.
It's also part of the school outfit in the one Margaret attends in Madlax.
And Kagura Tennouzou's school in Speed Grapher. IIRC, Kagura also uses Zettai Ryouki when she dones a very Stripperiffic outfit as the Divine Goddess. Yui and Haruna's school in Corrector Yui also has it as a part of its standard outfit. Yui's elemental suit makes the skirt, or even panties, pretty much pointless while initiating, also.
Mahou Sensei Negima. Considering that Ken Akamatsu has written about moe on his blog, this is certainly intentional, and shows up quite often, on Yue Ayase, Evangeline, Chachamaru (After her Mid-Season Upgrade, she seems to have the stocking component built into her synthetic skin, Ako, Natsumi and Akira in the Magic World, Nodoka, the other girls from Yue's magic academy, Asuna (Grade S, even), Anya (also Grade S), Chisame and Makie, Yuna, Takane D. Goodman, Setsuna (on rare occasions), Ku Fei joins in for a moment during a Instant Cosplay Surprise during the school festival (as if the fox girl outfit wasn't enough).
Yuuki Cross, and several of the female characters in Vampire Knight wear these.
Shino in .hack//Roots and her Expy Atoli in the G.U. games.
The three heroines of Ultimate Girls.
Part of the standard uniform for most schools in Kyoshiro to Towa no Sora, and since the appropriately-named Academia (the series' setting) is a scholastic city (everything is, or is related to or servicing, a school), that means just about every girl in the city falls into this trope.

Akane as well, on occasion, notably at the start of the Martial Skating arc.

Tsuyuri in Doujin Work.
Frequently, Nico Robin of One Piece, if thigh-high boots count.
Yoko from Tengen Toppa Gurren Lagann goes the hotpants route (which Kamina gets a good long look at). She later switches out the socks for boots of about the same length. She's has a Grade A but is missing the Girlish Pigtails required to qualify as Grade S.
Haruhi Suzumiya: Haruhi wears this a couple of times.
Rosario + Vampire: Kokoa Shuzen, Mizore Shirayuki, and Yukari Sendo. With the hair, and Kokoa bumps up to Grade S! However with Mizore, they actually make it an obvious part of her Moe factor, when attempting to seduce Tsukune during moments with his Harem.
Yu-Gi-Oh

Anzu used the hotpants and socks once, more exactly in the Marik and Noa arcs. Anzu also wears the socks and miniskirt in one of the ending animations.
Rei of Yu-Gi-Oh GX.
Aki of Yu-Gi-Oh 5 Ds.
Jessie's Team Rocket miniskirt and thigh-high boots in the anime.
Also, Lyra from both the anime and Pokémon HeartGold and SoulSilver sports a Grade B shorts version.
In the Pokémon Special manga, Dawn's counterpart, Platinum, has higher stockings making her closer to a Grade B.
Sabrina's anime outfit is a Grade A.

Rosette from Chrono Crusade has thigh-high stockings and slits up to nearly her waist in her militia uniform, making it a variation of this trope.
D Gray Man: Lenalee Lee. When you think about it, she's actually got Grade S Zettai Ryouiki at first, what with her Girlish Pigtails and all (though she's not much of a Deredere). That is, until the whole Eshi incident. And her socks/boots give her magical powers. No, really.
Seras Victoria from Hellsing.
Shinobu from Ninin ga Shinobuden (a.k.a Ninja Nonsense). Extra points for doing this with a ninja outfit.

Karin. She also gets points for pulling it off with a ninja uniform (for ninja in the service of Orochimaru, no less), though she uses shorts instead of a skirt.

Naruto's mother

Kushina also liked the look when she was young.
Hinata wears them during the episode Milestone celebration.

Alsh the Vampire from Bloody Kiss has his preferred Zettai Ryouiki at 10–15 cm.
Love Hina

Kaolla Suu seems to wear this quite a bit in the manga.
Naru also wears this from time to time and the cover of book 7 she manages Grade A and epic Opera Gloves at the same time.

Himeko from Himechan no Ribon is a borderline Grade B.
Hayate the Combat Butler

Nagi and Sakuya. The former a bona fide Grade S.
Hinagiku tends towards the hot pants variety, and also gets points for being Deredere, but no twin-tails.
Even Isumi joins in on occasion.

Faye Valentine from Cowboy Bebop, though with hot pants and not a skirt.
In the 4th season of Mariasama ga Miteru Yumi Fukuzawa starts dressing this way outside of school.
In Pandora Hearts, this appears to be the Latowidge School girl's uniform. Note that this is not an all-girl's school, either.
Sumire's high school in Venus Versus Virus apparently has this as part of the school uniform. What is it with all-girl schools and ultra-short skirts in anime?
Bakugan

Runo in Bakugan: New Vestroia is Grade S. (In Bakugan Battle Brawlers, she was a thoroughly unremarkable C-Grade, though she already had the other two parts of the S requirements). Sadly, she and the other two main girls from Battle Brawlers are pretty much gone by the second episode.
Mira returns in Mechtanium Surge with a new grade A outfit.

The sisters Mawata and Mayune from Prétear.
Bludgeoning Angel Dokurochan. Dokuro has got to be at least a Grade A, maybe even S.
The eponymous Shion of Shion no Ou exhibits Grade A Zettai Ryouiki, usually with a red miniskirt and white thigh highs.
Mai-HiME

Haruka Suzushiro is notable for being the only high school girl that sports it; all the other ones wear socks. Also Grade B.

This seems to be part of the standard uniform in Mai-Otome.
From 2007 onwards it was a requisite that at least one team member in a Pretty Cure continuity had this:
Blue from Wolfs Rain uses thigh-high boots and a peacoat.
Moetan is filled with this.
The latest volume of Nora has Keini in Grade A. She already had the other two components for Grade S.
Sumika from Sasameki Koto.
Most people don't notice, but Macross Frontier actually has a lot of this.

Nanase wears the traditonal variant with her school uniform.

Ellis from El Cazador de la Bruja.
Kaze no Stigma

Kanon (one of Ren's school friends) wears A-Rank in both her school uniform and her street clothes.

Nodamiki from GA Geijutsuka Art Design Class, at least in her anime incarnation.
Aoba Kozue from Mahoraba wears them as part of her personal wardrobe.
Kenichi's sister Honoka in Kenichi the Mightiest Disciple. Shigure also wears it regularly.
Umino Masachika of Satou Kashi no Dangan wa Uchinukenai sports a solid Tybe B while wearing her school uniform. Most of her classmates wear there stockings somewhere below the knee.
Kamen no Maid Guy has Token Mini-Moe Liz wearing this. And she even has the twin pigtails.
These seem to be part of the school uniform in Seitokai no Ichizon. Even when they're wearing swimsuits, the stockings remain.
The default female cadet uniform aboard the Libertad in Soukou no Strain is very definitely Grade A.
Yukino's rival Maho Izawa in Kare Kano. This is actually included in the default winter/autumn uniform of their school, but Maho wears it outside school too.
The girls from I''s. This manga is full of Grade A & B.
Sieglinde Baumgard from Dragonaut the Resonance.
Hitagi Senjōgahara from Bakemonogatari, who would be a Grade S if
Madoka Ayukawa from Kimagure Orange Road tends to use both A and B. Another one who is Girlish Pigtails away from hitting Grade S.
In B Gata H Kei, the protagonist Yamada can be seen showing off Grade A while wearing her cheerleader outfit in the series opening.
Madoka from Metal Fight Beyblade sports Grade A.
Kiara the Amaranthine from There Beyond the Beyond.
Angel Beats!

Yuri sports a Grade B throughout the series.
Shiori Sekine (the bassist) has Grade A.

Shugo Chara

Utau has a Grade A in her black uniform. Add her signature twin tails and her tsundere attitude, and Utau Hoshina is officially a Grade S!

Not to mention her Lunatic Charm costume, as well as Dark Jewel and Seraphic Charm. And Seraphic Charm's supposed to be angelic.

Several of Amu's casual outfits have Grade A as well. [1]
And Amulet Spade, which, instead of a skirt, has short shorts and adds garter belts.
Amulet Diamond had a Grade A and Amu wears pigtails while transformed.
Amulet Clover has a Grade A and pigtails as well.

Sae from Amagami SS often displays this when in her school uniform, as does Kaoru in her waitress outfit (much to the protagonist Junichi's delight during her arc).
Mitsuba and Miku from Mitsudomoe.
Chocola and Vanilla from Sugar Sugar Rune both have Zettai Ryouiki, Chocola with a Grade A and Vanilla with a Grade D.

How much you wanna bet that Pierre stares at Chocola's legs instead of her face?

Soul Eater

Kim got some of this thing going on, specifically Grade A.
Not to mention Blair, who has a Grade A with her thigh high boots and witch dress.
And many variations of Kim's Spartoi uniform feature thigh highs.
Tsubaki has Grade A.

The Korean version of Mazinger Z called Robot Taekwon V gives us Yoon, who wears thigh-high boots and a short skirt. Early example.
Many of the idol singers in EL sport Grade A, though given that this is a Hentai title, it's to be expected.
Kirino from Ore no Imouto ga Konna ni Kawaii Wake ga Nai displays Grade A in the fourth episode of the anime. Varying degrees can also be seen in some of the games she plays, which should come as no surprise given that she's a secret Eroge Otaku.
Bleach

The Arrancar Loly uses the boots plus miniskirt version—Grade A, more exactly. Since she has Girlish Pigtails, the only thing keeping her away from Grade S is being a Yandere instead of a Tsundere.
the Hueco Mundo arc is over and she becomes a senior in Karakura High, Orihime Inoue starts wearing Grade A.
New character Riruka Dokugamine has turned out to be a Grade S.
Anime-only Nozomi Kujo goes between Grades A and C depending on how she's drawn at the moment, but usually is a B.

In High School of the Dead, Rei has Grade A in her uniform and Saeko has Grade A (plus garterbelts) when she borrows Rika's clothes.
Kusakabe Maron, from Kamikaze Kaitou Jeanne, definitely counts. As a matter of fact, it seems this is part of the uniform.
There's a ton in Black Rock Shooter. It would seem that the girls' outfits are designed the way they are so that it would be easier for them to move. Maid Gunner has thigh highs that would have made her a Grade B, but her skirt is too long for her to qualify. It only counts for Zettai Ryouiki when her skirt flies up to, not a panty shot, but high enough that the tops of her thigh highs are visible.
Maria from the Witchblade anime gets these after her personality changes.
All Magical Girls from Puella Magi Madoka Magica except Homura. Madoka is a Grade A in her school uniform and a Grade C in her Magical Girl uniform. Sayaka is a Grade C in both school and Magical Girl uniform. Mami is somewhat between Grades C and B in her transformated uniform, and Kyouko is a Grade A when transformed.
Several characters in Freezing have some form of Zettai Ryouiki, as it seems to be a part of the standard Pandora outfit (even for battle!). The female lead is one of the few that do not, though she certainly attracts attention in other ways. (Underneath it she does have them.) Ganessa Roland is an unequivocal Grade S, however.
Fairy Tail

Erza Scarlett has a few armors that donned this style and in some cover pages.
Lucy on a few cover pages, and the clothes she gets from the Stellar spirit world, usually has this.
Wendy donned this in the Edoras arc and later in the Tenrou Island arc.
Mirajane's

Take Over Satan soul

gives her this in boots.
Juvia has Grade B under her dress as seen during her fight with Meredy.

Sailor Moon

Usagi displays a Grade S in the, well, "S" Movie.
One of the outfits that Minako puts on in the opening sequence gives her a Grade A.

Several girls in Blue Exorcist, but Kamiki Izumo is the only Grade S. She's got the thigh-highs, the deredere personality, and her hair is (usually) in twin tails.
Infinite Stratos

The gym uniform, a swimsuit with stockings, gives all the girls a clear grade A. More like skintight leg-warmers, though; the girls' ankles are also clearly visible. If only they didn't have shoes, they would be able to get the rare Zettai Ryouiki-Foot Focus double-dip.
Houki also has it as a part of her uniform.

Mio Isurugi from MM! has Grade A and a deredere personality, but no twin tails.
Ageha the Shinigami from RIN-NE -- white stockings with a white Sailor Fuku.
Although their outfits change almost every episode in Hime Chen Otogi Chikku Idol Lilpri, Natsuki/Princess Kaguya's standard princess outfit when using the Princess Fairytale card is grade A Zettai Ryouiki (borderline S). Surprising because she's technically wearing a kimono. She also has grade A with thigh-high boots when she's untransformed but then she's somewhere around the age of eight...
Emi Kisaki from Kurogane no Linebarrel. Her black uniform sports long socks that almost touch her little skirt. She is a grade A.
Haqua du Lot Herminium is a grade A bordering on S due to her deredere personality, but lacking the twintails.
Asaka from Cardfight Vanguard sports a Grade B.
Maya Kumashiro from Occult Academy is a perfect example of the deredere and zettai ryouiki as well.
Cite error: <ref> tags exist, but no <references/> tag was found
Community content is available under
CC-BY-SA
unless otherwise noted.