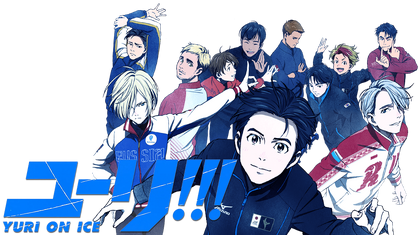 Yuri!!! on Ice is a Twelve-Episode Anime that debuted in the fall of 2016. It has two creators: director Sayo Yamamoto (Michiko to Hatchin) and the head writer and original designer Mitsuru Kubo (Moteki). It was animated by Studio MAPPA.
Yuuri Katsuki, the protagonist, is a promising Japanese skater who has always adored and admired the famous skating star Victor Nikiforov... but at the very beginning of the story, he's NOT having a good time. Not only he BADLY messed up during the Grand Prix Final in Sochi, but he had a verbal spat of sorts with the very cocky Russian junior champion, Yuri "Yurio" Plisetsky. As a result, Yuuri falls into a massive depression and returns to his family home in the onsen town of Hasetsu, thinking that he should probably stop skating altogether...
However, Yuuri is in luck! He's filmed perfectly imitating one of Victor's skating programs, the clip goes viral, and none other than Victor Nikiforov himself takes note of it. He's so impressed that he decides to visit the Katsuki family, speak to Yuuri and offer him the chance to be his coach from then on; Yuuri accepts, logically, thinking that this is HIS chance to gather what's left of his talent and then reach stardom. The whole skating world is thrown into quite the turmoil over Victor's sudden decision to retire and take Yuuri under his wing, starting with Yurio who does NOT want to stay behind now that the guy he once verbally slapped around is starting to recover under the wing of his idol... plus many other skaters decide to join the prospect "battles" and see what the Katsuki / Nikiforov team has to offer!
The page is under heavy construction!!!
Tropes used in Yuri On Ice include:
---
Community content is available under
CC-BY-SA
unless otherwise noted.