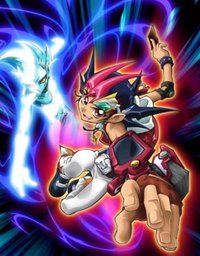 The fourth series in the Yu-Gi-Oh! franchise. (The title is pronounced "zay-al" in the Japanese version and "zek-sul" in the English dub.)
The story takes place in the futuristic city of Heartland, possibly in a future after the events of the previous series. The star is Yuma Tsukumo, a 13 year-old middle school student who tackles life and dueling with everything he has, despite lacking skill. While his duel skills aren't impressive, his love for Dueling can't be matched.
One day, Yuma is forced to duel the local rising Dueling ace, Ryoga "Shark" Kamishiro, and in the middle of their duel, a mysterious blue person, Astral, appears before Yuma, invisible to anyone else, and directs Yuma to victory against Shark. Astral has lost all of his memories but Yuma's card Number 39: Utopia (as well as the other Number Cards that seem to be oddly falling into other people's procession) are the key to getting them back. Astral is also connected to the pendant Yuma wears, which was a gift from his archeologist parents. With Yuma's passionate heart, and Astral's brilliant dueling skills, the two work together to get back Astral's memories, all the while as Yuma begins to grow as a Duelist (and a person.)
Replacing the D-Wheels of the previous series and Duel Disk models are the brand new D-Gazers and D-Pads, an eyeglass piece along with the new model of Duel Disk for Augmented Reality duels, which allow for more visual destruction of the environment, giant score cards for life points, and an overall enhanced dueling experience. They still use real cards, instead of virtual ones, for some reason.
The dub is being produced by 4Kids! Entertainment (despite the little tiff between the two companies) and airs on The CW 4Kids Toonzai in the U.S. A subtitled version is also available on Toonzaki.
---
 Astral: Observation #11: Somehow Yuma doesn't seem to be able to understand girls' feelings.
Community content is available under
CC-BY-SA
unless otherwise noted.