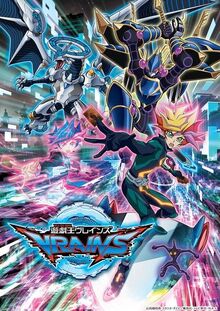 Yu-Gi-Oh! VRAINS (rhymes with "brains") is the sixth series in the Yu-Gi-Oh! franchise. It will begin airing in May 10, 2017 as part of the Spring 2017 Anime lineup. A TV special, Yu-Gi-Oh! LABO, aired in April 5 to May 3 introduce its characters and setting. There is a city where network systems have evolved: Den City. In this city, with the advanced network technology developed by the corporation "SOL Technology", a Virtual Reality space called Link VRAINS has been developed, and in this VR Space, people became excited over the latest way to Duel. They are called Charisma Duelists. However, in Link VRAINS, a mysterious hacker group that hacks via Dueling has appeared: The Knights of Hanoi. Their goal is to annihilate the AI World known as Cyberse that exists somewhere in the depths of the Network. However, there is one Duelist who stands against the threat to Link VRAINS. His name is Playmaker. He has become famous in the Network World for crushing the Knights of Hanoi in fierce Duels, without mentioning his name. But the true identity of Playmaker is an Ordinary High-School Student and a hacker named Yusaku Fujiki, who doesn't like standing out. He pursues the Knights of Hanoi that appear in VRAINS in order to find out the truth of an incident that happened in the past. And amid this pursuit, Yusaku manages to capture a mysterious AI Program being sought after by both SOL Technology Inc. and the Knights of Hanoi. In doing so, the gears of fate is starting to turn.
---
Villain With Good Publicity:Implied with the SOL Technology Inc. They are a Mega Corp. whose main source of power comes from the
You Gotta Have Blue Hair:Most of the characters hair are coloured into these.
Your Mind Makes It Real:Taking too much damage in Link VRAINS will have adverse effect on a Duelist's physical brain that could potentially them a brain-dead vegetable. An average duel might not cause that much damage, but falling off a D-Board in a Speed Duel could prove to be fatal.
White and Grey Morality:Playmaker and Akira's Duel in a nutshell. Akira stands in Playmaker's way, promises to bring a closure to the Lost Incident/Hanoi Project, and attempts to convince him to give up on the idea of revenge, let go of his past hurts and enjoy his present, normal life in happiness. Playmaker, on the other hand, bears no mal intent towards Akira and doesn't hold it against him for being dismissive of the idea of revenge, but he refuses to relent regardless and will do anything to get back at those responsible for said ten-year old incident.
Community content is available under
CC-BY-SA
unless otherwise noted.