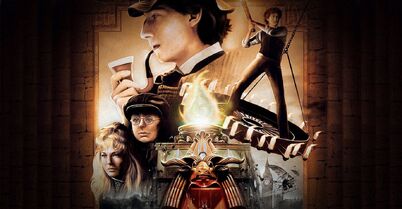 A 1985 mystery/adventure film directed by Barry Levinson, produced by Steven Spielberg and written by Chris Columbus, it was based on characters by Sir Arthur Conan Doyle. The movie depicts a young Sherlock Holmes (Nicholas Rowe) and John Watson (Alan Cox) meeting and solving a mystery together at a Boarding School with the help of a local retired professor's cute niece, Elizabeth Hardy (Sophie Ward)
It was the first film produced by Amblin Entertainment to receive a PG-13 rating. The film is notable for including the first fully computer-generated character, a knight composed of elements from a stained glass window. The effect was created by Lucasfilm's John Lasseter, who is now chief creative officer at Pixar Animation Studios and Walt Disney Animation Studios. The SFX earned the film an Academy Award nomination, and was beaten by Cocoon.
Tropes used in Young Sherlock Holmes include:
This film is an example of:
Community content is available under
CC-BY-SA
unless otherwise noted.