The cast for You're Under Arrest! is actually fairly compact, comprising of a few major characters backed with recurring extras despite being a relatively long-running series. Below is a list of characters with regular appearances.
Main Characters
Natsumi Tsujimoto
One of the two protagonists of the series, Natsumi is a police officer stationed in the Traffic Section of Bokutou Police Station. A friendly, fun-loving and easy-going person, Natsumi is also a very passionate officer who takes her work seriously and can be rather brash and impulsive when it comes to apprehending criminals, relying mainly on her instincts and near-superhuman strength to get herself through difficult situations. Her methods, while occasionally getting her into trouble with her superiors, serve as a foil and actually complement that of her partner Miyuki, leading many to describe her partnership with Miyuki as the "Super Combo".
While Natsumi is shown to be infatuated with older men (such as the Section Chief or Inspector Tokuno), her attention shifted to Shouji Toukairin in the anime adaptation after his appearance, more or less making him her Love Interest for the rest of the series.
---
Miyuki Kobayakawa
The other protagonist of the series, Miyuki is also a police officer stationed in the Traffic Section of Bokutou Station. Unlike her partner Natsumi, Miyuki is a calm, collected and mild-tempered person, although she is also equally passionate about her work as Natsumi. Not as strong as Natsumi, Miyuki prefers to use her intellects to solve cases. An expert in anything mechanical or electronic, she is the one who drives and maintains the patrol car which the duo uses. Coupled with her excellent planning skills, she forms a great partnership with Natsumi.
Miyuki is the first major character in the series to have a definite Love Interest, with her fellow colleague Ken Nakajima, although any romantic progress between the two of them is very slow due to their shy personalities.
---
Officers of Bokutou Station Traffic Section
Ken Nakajima
A motorcycle patrol officer stationed in Bokutou Station Traffic Section, Ken is one of the best biker in the series, which enables him to stop most traffic offenders single-handedly. Strong, tough and handsome, he is popular among his colleagues in the Traffic Section and is good friends with most of them, especially with Miyuki, of which he has romantic feelings with. However, like Miyuki, he is extremely shy when it comes to expressing feelings and thus their romance progresses at a very slow pace.
Ken is the only major character in the series whose family members make a regular appearance.
---
Yoriko Nikaidou
Originally a dispatcher who is later assigned as a patrol officer with Aoi as her partner, Yoriko is an incorrigible gossip who likes to poke her nose in anything that happens in Bokutou Station, although her tendency to misinterpret events often lead to embarrassment and complications. As if to complement her habits, she is excellent in gathering data which turns out to be useful in cracking several cases. A cheerful but nonetheless clumsy person, Yoriko is not as active in chasing criminals like Natsumi or Miyuki, focusing instead on providing community service, though her extraordinary luck sometimes get her involved in cases which she normally avoids.
---
Futaba Aoi
A police officer who is transferred to Bokutou Station during the start of the 1st season of the anime adaptation, Aoi is depicted as a male officer who had crossdressed as part of an undercover operation and ended up "going native", although as the series progresses, it is heavily implied that she is transgender and not simply a crossdresser. Due to her past experiences, she excels in undercover operations, although being in the Traffic Section, her abilities are rarely employed. An extremely feminine person, Aoi also excels in many traditionally feminine skills, such as flower-arrangement and cooking, which led Natsumi and Yoriko to comment that she is more feminine than them. She becomes fast friends with her fellow colleagues after they got over their initial confusion over her gender identity, especially with Yoriko who she is partnered with.
In the anime adaptation, Aoi is depicted as an accomplished basketball player during her high school days and frequently employs her skills whenever she gets into action in the field.
---
Section Chief
The section chief of Bokutou Station Traffic Section, addressed simply by his title Kachou, is the direct superior of the protagonists in the series. A calm and gallant person, the Chief is fairly lenient of his subordinates and is willing to let them do as they please, so long as they do not neglect their duties as police officers. He is very proud of them and places great faith in their capabilities and is in return well-liked and respected by them.
---
Other Officers
Saori Saga
Initially a disaffected high school student with no clear direction in life, Saori became inspired by Natsumi and Miyuki after a chance encounter with them and aspired to be a police officer thereafter. She succeeded and joined the Traffic Section in Bokutou Station during the start of the 2nd season. An energetic and enthusiastic person, Saori was initially disappointed when the Traffic Section did not live up to her expectations, although she quickly got over that when she realised that police officers are still humans after all and that their work is indeed generally mundane. Nevertheless, she remains very serious about her work and looks up upon Natsumi and Miyuki as her role models.
Saori was transferred out of Bokutou Station by the 3rd season (Full Throttle), and is currently working with the anti-cyber crime unit in Jouhoku Station.
---
Shouji Toukairin
A mountain rescue specialist from Toyama Police Department, Shouji is a senior police officer who made his first appearance late in the 1st season when he got involved in the Tokyo Tower incident and was later temporarily assigned to Bokutou Station as a rescue instructor. A handsome and laid-back person, he had a friendly rivalry with Natsumi once it became apparent that he is the only person capable of surpassing her in terms of strength and appetite, which eventually blossomed into love.
His passion for mountain climbing and the nature of his work meant that he is often on the move, although he will provide useful assistance whenever he is in or around Bokutou Station.
---
Inspector Tokuno
A senior detective stationed in the Criminal Investigation Section of Bokutou Station, Inspector Tokuno is good friends with the section chief of the Traffic Section and will often stop by the Traffic Section, either to visit the chief or to request for logistical assistance in whatever cases he is handling at the moment. Like the chief, Inspector Tokuno recognizes the capabilities of Natsumi and Miyuki and is generally willing to allow them to participate in cracking his ongoing cases.
He is the only police officer in Bokutou Station known to be married.
---
Takao Arizuka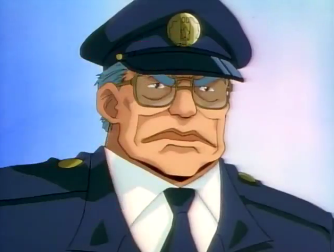 An officer from the Tokyo Metropolitan Police Department Headquarters in charge of conducting inspections in every station under its jurisdiction, Senior Superintendent Arizuka is feared by station chiefs and their subordinates alike for the thoroughness of his inspections, which earned him the nickname "King of Hades". In reality however, he proves to be willing to overlook minor infractions of regulations among police officers as long as they display actual performance. In particular, he became impressed by Bokutou Station after witnessing the performance of its officers and would occasionally recommend it to handle cases which are usually outside its jurisdiction.
---
Kaoruko Kinoshita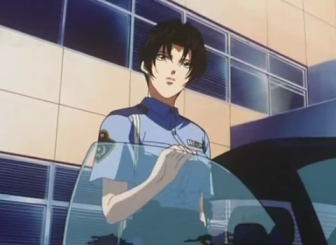 Another officer from the Tokyo Metropolitan Police Department Headquarters, Assistant Inspector Kinoshita usually appears in Bokutou Station to relay information on cases or orders from the headquarters. Like Senior Superintendent Arizuka, she appears as a cold and no-nonsense officer who adheres strongly to rules and regulations, although it is just simply her way of taking her work seriously and she is sincerely concerned about the well-being of the officers under her.
---
Civilians
Daimaru Nakajima
The father of Ken, Daimaru is a motorcycle enthusiast who still regularly rides his bike with great skill despite being in his mid-sixties. During the 1st season, he moved to Tokyo to open a motorcycle shop and to stay closer to Ken. When he first met Natsumi and Miyuki, he initially thought Natsumi was Ken's Love Interest until he realized that Miyuki was the better choice. As a widower, he met Sena Wakabayashi during one of his biking trips and became romantically involved with her and eventually married her.
He currently runs a motorcycle shop named "Zapper" with Sena in Sumida Ward where Bokutou Station is located.
---
Sena Nakajima, née Wakabayashi
A car enthusiast who enjoys driving along coastal highways, Sena met Daimaru in one of such trips and became attracted to him and eventually marrying him. She is genuinely concerned about the well-being of her step-son Ken and had strove to make a good impression with him during their initial meeting. She quickly detected the relationship between Ken and Miyuki and will often attempt to further their relationship.
She currently runs the "Zapper" motorcycle shop with Daimaru.
---
"Fox" Monk
A former police officer turned Shinto priest[2], he manages a shrine in Sumida Ward and still keep in contact with the officers in Bokutou Station, offering friendly advice or assistance when needed. Incidentally, he is the uncle of the Traffic Section Chief.
---
Strike Man
A costumed self-proclaimed defender of justice, Strike Man often loiter around Sumida Ward, using baseball-related items to exact his brand of "justice" against (generally) minor violators of law, such as humiliating people who litter on streets or deflating tires of illegally parked vehicles. The police in Bokutou Station generally sees him as a nuisance as he tends to obstruct their duties. He has a certain fixation with Natsumi after she repeatedly "defeated" him by deflecting his baseball attacks, and calls her "Home-Run Woman" as a result.
---
Scooter Lady
A middle-aged lady who is often seen riding a 50cc motor scooter, the Scooter Lady is obsessed with sales and discounts and will use every means to reach her desired stores, even if it means flouting every traffic regulation in the book, much to the annoyance of the officers in the Traffic Section, who calls her "Bokutou's specialty".
---
Community content is available under
CC-BY-SA
unless otherwise noted.