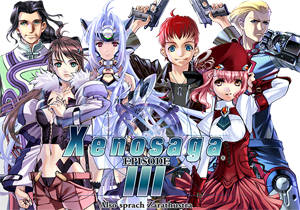 Xenosaga is a series of three Eastern RPGs for the Play Station 2, all named after books written by Friedrich Nietzsche. They are, in sequential order, Der Wille zur Macht (The Will to Power), Jenseits von Gut und Böse (Beyond Good and Evil (no, not that one)) and Also sprach Zarathustra (Thus Spoke Zarathustra). Other games in the series include: Pied Piper, a cellphone game, Xenosaga Freaks, a Fan Service game also for the Play Station 2, Xenosaga I&II, a remake of Episode I and Episode II for the Nintendo DS, and A Missing Year, a Flash game describing the events between Episode II and Episode III. Unlike the main trilogy, these games have not been released outside of Japan.
There's also an anime based off the events of Episode I titled Xenosaga: The Animation.
Known for throwing around heavy amounts of religious symbolism, literary references and Techno Babble. Xenosaga is a sort of spiritual successor to its Play Station predecessor, Xenogears (In fact, it was originally going to be a prequel, with Xenogears itself being number five in a six-part series). There is also a Spiritual Successor called Xenoblade for the Wii. It's also notable for being one of the few RPGs to have a female lead.
In the distant future, mankind has colonized space, but Earth (or as it's referred to in the game, Lost Jerusalem) has disappeared from the map. The protagonist, Shion, is the head of the first R&D division of Vector Industries, and her team is developing an android superweapon called KOS-MOS.
Disaster strikes when the Gnosis, intangible (but deadly) beings from another dimension attack the ship. The rest of the story involves the Gnosis, the search for their source and the events that passed fourteen years prior on the planet Miltia - which of course has close ties to Shion's past.
Music for Episode I was composed by Yasunori Mitsuda. Music for Episode II was composed by Shinji Hosoe and Yuki Kajiura. Music for Episode III was composed solely by Yuki Kajiura.
Tropes used in Xenosaga include:
A Billion Is A Statistic: For being a series that does like to go over the topics of What Measure Is a Non-Human? and the worth of human life itself, it's odd that the game barely made us care at all for the planet Ariadne, which was one of the reasons why the Woglinde was sent out; to search for said planet. Despite a brief mention here and there, it eventually gets lost in the crowd, so to speak. An in-game quote nicely summed this up:
  Margulis: What's one and a half billion people to us?
Community content is available under
CC-BY-SA
unless otherwise noted.