| | | |
| --- | --- | --- |
| | In an empire of a million worlds, how much can one man truly matter? Only one being is truly essential to its continued existence, hail his name, the Master of Mankind. And he has not spoken in ten thousand years... | |
The Imperium of Man, ruled from Holy Terra, is The Empire of Warhammer 40,000, and a particularly brutal and dystopian one at that. After the collapse of galactic civilization, a being known only as The Emperor of Mankind led his Great Crusade to reunify humanity in an enlightened new order. But just when a new golden age seemed imminent, the newly-forged Imperium was wracked by civil war as half of the Emperor's sons turned against him. The Horus Heresy was ultimately quashed, but at a terrible price: countless worlds were left in cinders, untold trillions were dead, and the Emperor himself was mortally wounded and forced to "ascend" to the Golden Throne, an arcane life-support machine.
Ten thousand years later the Emperor is venerated as a God, the Imperium's technology has barely progressed, Witch Hunts are commonplace since every rogue psyker is a potential gateway to the Legions of Hell, each day thousands of souls are sacrificed to power the psychic navigational aid known as the Astronomican, planets deemed tainted beyond salvation are subject to Exterminatus, and the sheer size of the Terran bureaucracy means that entire planetary populations can be forgotten due to filing errors.
Though it is by far the largest and most powerful faction in the galaxy, the Imperium is nonetheless an empire under constant siege from the rival powers of the galaxy. But its greatest threats come from within, in the form of heretics undermining the authority of High Lords of Terra or Ecclesiarchy, recidivists who understandably want to get the hell out from under the heel of such an oppressive government, or mutants and rogue psykers who threaten the purity of the human race itself. This siege mentality makes the Imperium a paranoid and superstitious place, but also keeps much of the populace in line—though it is a far cry from the Emperor's original vision, it is the only thing standing between mankind and extinction. At least, that's what the various higher ups like to believe...
---
Tropes associated with the Imperium
The Emperor of Mankind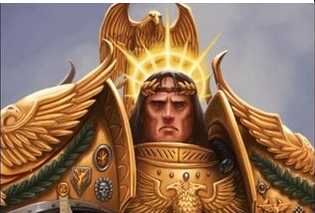 | | | |
| --- | --- | --- |
| | | |
At the center of the Imperium of Man is a being known only as the Emperor of Mankind. The mysterious ruler of the Imperium, and a seemingly immortal being of incredible scientific knowledge, psychic powers, and charisma, the Emperor emerged from out of nowhere at the end of humanity's Age of Strife. Gathering a massive army of Super Soldiers, the precursors to the future Space Marine legions, he reunited an Earth that had fallen into pointless civil war, then led humanity back out into the galaxy once more, seeking to reclaim all of the worlds that humanity had settled before the Age of Strife. With the aid of twenty Primarchs, Super Prototype versions of the Space Marines, he conquered untold thousands of worlds for mankind, and it looked as if humanity would, indeed, claim the entire galaxy for themselves. Then, ten thousand years ago, came the Horus Heresy, in which half of his Primarchs, under the leadership of Horus, his most trusted son, went rogue and swore themselves to the Dark Gods of Chaos. The Emperor killed Horus, but was mortally wounded and placed on his Golden Throne, and has been suspended at the brink of death ever since.
---
Notable tropes include
A Father to His Men: Subverted. Monstrously. With the Thunder Warriors. The forebears of the later Adeptus Astartes Legions and the very soldiers the Emperor created in order to aid him in his 'unification' of Earth, despite their genuine and often fanatical loyalty to him, the Emperor decided that their violent tendencies and short life-spans made them a liability to his later plans of galactic conquest. And thus had all of them slaughtered to a man, aside from a few survivors

who have managed to work around the quick expiration date

.
Age Without Youth: The Golden Throne has kept the Emperor alive for ten thousand years, but he's gone from a mortally wounded man to a shriveled, mummified husk.

Though he kept his youth back before the Horus Heresy.

Alternate Character Interpretation: As the most mysterious and enigmatic, and yet vitally important figure, to the setting, he invites a lot of this. Was he a Physical God? An emissary from the future intended to lead humanity to a golden age? A unique mutant who further obscured the truth through his incredible psychic powers and mastery of lost technology? A gestalt embodiment of every human psyker to have existed before the birth of the Chaos Gods?[1]

Even after the Emperor's entombment in the Golden Throne, these questions still persist. Is he still watching over the Imperium to this day, casting his mind into the warp to defend human souls from damnation as the mainline Ecclesiarchy dogma claims? Or did he "die" centuries ago and the Golden Throne is only maintaining the appearance that he has some semblance of life? Does the Golden Throne empower him in ways he could not be while he walked among men? Or is it limiting his potential by keeping him shackled to his mortal shell instead of ascending to true godhood?

And I Must Scream: The Emperor is trapped mere inches from death, and has been that way for ten thousand years, his once-glorious physique withering into nothing more then a skeletal carcass intricately intermeshed in a mountainous machine-throne, his psyche locked within his skull and unable to communicate with the outside world. If fate was merciful, he would be oblivious to everything going on in the outer world. As this is Warhammer 40000, he's more likely perfectly aware that the Imperium has descended into a nightmarish techno-barbaric theocracy... and all of its madness and evil is done in his name.

He is said to be shedding microscopic tears for each man who dies in his service. The Custodes collect them in tiny vials.

And It Worked: It's true that during his life he killed a ton of people, and made highly objectionable decisions, but the Imperium he left behind is the only place Chaos can't completely defile,[2] allows trillions to live unmolested, and even allows for something resembling a heaven of sorts.
Authority Equals Asskicking: The Emperor became Emperor because he had the mightiest armies, and he acquired many of those armies because of his own incredible physical and psychic strength.
Badass: Say what you will about the Emperor, but he was Badass.

Badass Boast: Many, but the creation of the Space Marines deserves a mention.
| | | |
| --- | --- | --- |
| | They shall be my finest warriors, these men who give themselves to me. Like clay I shall mould them and in the furnace of war I shall forge them. They will be of iron will and steely muscle. In great armour shall I clad them and with the mightiest gun shall they be armed. They will be untouched by plague or disease, no sickness will blight them. They will have tactics, strategies and machines such that no foe will best them in battle. They are my bulwark against the terror. They are the defenders of Humanity. They are my Space Marines...and they shall know no fear. | |
Belief Makes You Stupid: The Emperor believed this, in part because he knew that all gods were ultimately tied to Chaos, and ruthlessly pushed a secular worldview on the budding Imperium in hopes that it would starve the Chaos Gods. This might have worked in the long wrong if anything hadn't gone to hell. Or it might have failed epically. We don't know for sure.
Big Good: The Imperium viewed him as this, and still views him as this. At best, though, he's a case of Good Is Not Nice.
Bling of War: His armor during the Great Crusade was golden Terminator armor.
Bodyguarding a Badass: He is far more powerful than his guards.
Canon Discontinuity: The original Chaos sourcebooks for Warhammer and 40K, "Slaves to Darkness" and "The Lost And The Damned", gave the Emperor an origin as the gestalt embodiment of a thousand powerful human psykers who had existed before the coming of the Chaos Gods, who realised that the dawning gods were consuming or corrupting all of their fellow Shamans and so ritually sacrificed themselves to create a single mighty Warp entity in human flesh that would be able to protect against and eventually defeat the Chaos Gods. This has been subtly Retconned out with the passing of the editions, most notably the recent emphasis that Chaos came into existence during the war between the C'tan and the Slann, making all of the Gods (bar Slaanesh) older by far than the human race. Presumably the intention is to make the Emperor even more enigmatic, unknowable and alien.

The same sourcebooks also introduced the concept of the Star Child—in essence a nascent God created when the Emperor was struck down by Horus and comprised of his positive attributes; compassion, love, tolerance, understanding, etcetera. Closely interlinked with this were the Illuminati, a secret cabal of daemonhosts who had been freed from their possession but retained incredible psychic powers and an immunity to all subsequent daemonic possession, and the Sensei, mutant offspring fathered unknowingly by the Emperor during his years amongst humanity, who were immortal, sterile, untouchable by Chaos and invisible to their father. The Illuminati were gathering the Sensei together, planning to sacrifice them in order to fuel the birth of the Star Child into a fully-fledged God to lead humanity to safety and glory once again. In the third edition corebook, the Star Child and its attendent Illuminati and Sensei was stricken from the setting, in universe, by noting that the "Star Child Cult" was a minor Tzeentchian cult that was hunted down and destroyed utterly by the Inquisition.

The concept of the Sensei as ultra-pure anti-Chaos warriors with a bond to the Emperor even stronger then that possessed by the Space Marines may, however, have eventually inspired the creation of the Grey Knights.
However, the Inquisition has fair cause to think that they're just being manipulated by Tzeentch.

Daddy Had a Good Reason For Abandoning You: The first time was because the Chaos Gods had the Primarchs scattered to the stars. The second time was when he left the Great Crusade to begin working on an Imperial Webway. If he had bothered to tell the Primarchs this, he might have avoided (or at least delayed) the Horus Heresy.
Dark Messiah: For all his good intentions, even during the Great Crusade, the Emperor racked up a greater bodycount then every one of Earth's dictators combined.
The Dreaded: It's implied that he is this for Chaos Daemons, if not the Chaos Gods themselves.

Of course, to other daemons, such as a certain one from Dawn of War, he's just a 'corpse on a throne, who cannot protect anyone', so possibly subverted.

The Emperor: Obviously.

Emperor Scientist: Was a genius, as the Astronomicon, the Primarchs' creation, the Webway project, and a whole bunch of stuff can attest. The Adeptus Mechanicus doesn't worship him, but they do revere and venerate him for reasons besides not being purged by the Imperium for heresy.
God-Emperor: Tried to deny this during the Great Crusade, but cults deifying him were constantly springing up during the Great Crusade and, after the Horus Heresy, the Imperium became a theocracy dedicated to him as its god-figure.

Fantastic Racism: While somewhat justified in that many alien species did oppose or literally prey upon humanity when it encountered them, the Emperor and his armies did encounter numerous civilisations where humans and aliens were peacefully coexisting... and promptly slaughtered them all.
Flaming Sword: Shown as having one in the Horus Heresy artwork he appears in, though it may be a force sword he's powering with his psychic powers.
God Is Good: To an extent. While he was still lived, his goal was to keep humanity from destroying itself in the same way that the Eldar empire did. His methods were what was morally questionable. He's still at least much more benevolent than the Chaos Gods. Though arguably much, much weaker.
Heroic Sacrifice: According to The Outcast Dead, the Emperor went into the duel with Horus well aware that he was going to die.
Heroic Willpower: The Emperor's body is all but dead, and he's more than ready to die. The only thing keeping him alive? His own determination and love of humanity...and being fed one thousand psykers a day. Mostly the thousand psykers.
Horrible Judge of Character: While the Emperor sometimes provided a bit of a push towards it, ultimately, he was perfectly willing to recruit and fight alongside many individuals who not only sold themselves to Chaos, but were such utter psychopaths that the Dark Gods made them immortal in reward for being so insane.
Humanoid Abomination/ Physical God: The Emperor is/was definitely one of these, depending on how you look at it. John Grammaticus once made psychic contact with the Emperor and had a panic attack just thinking about the experience two centuries later.
Hypocrite: In The Last Church, he claims that religion is evil because deeply held beliefs lead to violence. And he cites certain historical examples such as the Crusades to argue the point. He has no qualms with leading a genocidal campaign of destruction based on the belief that Humanity Is Superior, though and called said campaign 'the Great Crusade'. Bonus points in that he was called out on it in the same story.
Uriah: Didn't you just tell me about the bloodshed perpetrated by the crusades? Doesn't that you make you no better than the holy men you were telling me about?
The Emperor: The difference is that I am right.
Uriah: Spoken like a true autocrat.
The Primarchs
| | | |
| --- | --- | --- |
| | Each of us carries part of our father within us, whether it is his hunger for battle, his psychic talent or his determination to succeed. | |
The children of the Emperor [dead link], created from his very own DNA. Each of the Primarchs was the pinnacle of humanity, a posthuman demigod who commanded the full might of a Space Marine Legion. However, half their number fell to Chaos, and the repercussions of this betrayal led to Warhammer 40K becoming the Hell-universe we know and love.
---
Notable tropes associated with the Primarchs include
Malcador the Sigillite
Serving the Emperor at civilian level was Malcador the Sigillite, the Regent of Terra and first Master of the Adminstratum, Grand Master of Assassins, and First Lord of the Council of Terra. Affecting the simple robes a regular Terran Administrator, Malcador was the Emperor's right hand man. While the Emperor managed the military and technological innovation that made the Imperium, Malcador crafted the bureaucracy that would one day be the Adeptus Terra. A powerful psyker, Malcador was also the founder of the Inquisition and the Grey Knights. During the Siege of Terra, Malcador took the Emperor's place on the Golden Throne, but the strain of the effort wore him out, causing him to turn to dust as soon as he was disconnected.
Malcador was first mentioned in early background materials, but has become a major character in the Horus Heresy series, appearing across multiple books.
---
Notable tropes include
---
The various Imperial Factions are:
Space Marines
| | | |
| --- | --- | --- |
| | And They shall know no Fear. | |
Ten thousand years ago, when the Emperor led his Great Crusade to reunify humanity, he did so at the head of twenty legions of genetically-engineered super men: the Adeptus Astartes, also known as the Space Marines or the Angels of Death. Each of these legions was based off of and led by one of the Primarchs, the Emperor's clone-sons who were blessed with the strength, wisdom, and charisma to become great leaders of men. But in the hour of mankind's greatest triumph, fully half of these legions turned upon the Emperor, and nearly undid all that he had accomplished. After this grand betrayal, the loyalist legions were reorganized into thousand-man strong organizations called chapters, and new ones were founded to help protect the Imperium. Today there are around a thousand chapters of Space Marines, either based on specific homeworlds, ruling entire regions of space, or patrolling the stars in formidable fleets. Recognizing no authority other than the Emperor himself, Space Marines either lead their own crusades to fight the enemies of mankind, or answer petitions for assistance. They stand apart from the Imperium despite serving it, just as they protect humanity despite transcending it.
The Space Marines are the iconic faction of 40K; they are power armored, genetically-engineered Super soldiers, and fanatics to the Imperial creed to a man. Fear and doubt are cast aside, and pleas of mercy and terror-inspiring battle cries alike fall on deaf ears. They will never compromise, never surrender, never tire; the Emperor demanded the galaxy be his, and the Space Marines have fought for the past ten thousand years to make it so. They have become figures of religious awe and terror: the Emperor's Angels of Death. "The enemies of man fear many things," goes the Imperial slogan. "They fear discovery, defeat and death. But most of all, they fear the wrath of the Space Marines!"
The Space Marines can be split in terms of style among their founder legions:
| | | | | | |
| --- | --- | --- | --- | --- | --- |
| Chapter | Armor color | Primarch | Institutionally: | Specialties | Chapter Master |
| Dark Angels | Dark Green | Lion El'Jonson | Paranoid | Fast Attack, Terminator armor, Hunting Renegade Angels | Azrael |
| White Scars | White | Jaghatai Khan | Mobile | Fast Attack, Warbikes | Jubal Khan |
| Space Wolves | Gray, Yellow and/or Red Pauldrons | Leman Russ | Viking | Assault | Logan Grimnar |
| Imperial Fists | Yellow | Rogal Dorn | Fortified | Siege warfare | Vladamir Pugh |
| Blood Angels | Red | Sanguinius | Vampiric | Close Combat, Deep Striking | Dante |
| Iron Hands | Black and Silver | Ferrus Manus | Mechanical | Bionics | Kadran Stronos |
| Ultramarines | Blue | Roboute Guilliman | Institutionalized | Generalists | Marneus Calgar |
| Raven Guard | Black | Corvus Corax | Tricky | Precision Attacks | Unknown |
| Salamanders | Green, Black Pauldrons | Vulkan | Forging | Close-Quarter Fire-Fights, Protecting Civilians, Kill It with Fire | Tu'Shan |
| Grey Knights | Unpainted Ceramite | N/A | Pure | Battling Chaos | Kaldor Draigo |
| Black Templars | Black, White Pauldrons | Rogal Dorn | Crusading | Close Combat | Helbretch |
| Deathwatch | Black, Silver Pauldron | Various | Xenocidal | Battling Aliens, Special Ops | Unknown |
| Blood Ravens | Red, Bone Pauldrons | Unknown[4] | Knowledge-Seeking | Psychic Powers | Gabriel Angelos |
| Soul Drinkers | Purple, Gold, Bone | Rogal Dorn | Rebellious | Assault, Deep Striking, Boarding | Sarpedon |
| Lost Legions | Unknown | Unknown | Gone | RECORDS DELETED | None |
| Legion of the Damned | Black with Flame and Skeleton imagery | Roboute Gulliman | Doomed | Appearing in the nick of time | N/A |
Some other notes regarding the chapters:
Almost two thirds of the Space Marine chapters are descended from the Ultramarines.
There are two Legions that have apparently been stricken from all records, and nobody knows what happened to them.
The Black Templars are an offshoot of the Imperial Fists.
The Grey Knights are the chamber militant of the Ordo Malleus of the Inquisition, and owing to their specialization, have no successor chapters.
The Deathwatch is the chamber militant of the Ordo Xenos of the Inquisition, composed of Marines from various chapters and used against alien invasions.
Many chapters do not have their primarch identified in game materials; indeed, some, such as the Blood Ravens, canonically do not know which founder legion they came from.
Depending on which version of fluff you read, they can be invincible gods of war or just gene-enhanced elite soldiers.
On the tabletop, Space Marines are a well-rounded and forgiving army. They are a very popular starting army, coming in the box sets and with a decent ten-man squad coming in at £19.95/$35. The average Space Marine is very effective in both ranged and close combat, not to mention as well-armed and -armored as most armies' elite soldiers. Needless to say, elite Space Marine soldiers are terrifying prospects to face, be they veteran marines in hulking nigh-invulnerable armor, or critically-wounded soldiers entombed in a walking tank. However, this makes Space Marines expensive in terms of point costs, so they are almost always outnumbered by their opponents. Not that this should particularly worry them...
---
Notable Space Marine tropes include
| | | |
| --- | --- | --- |
| | "The uniforms of the Imperial Guard are camouflaged in order to protect their wearers by hiding them from sight. The principle is that what the enemy cannot see he cannot kill. This is not the way of the Adeptus Astartes. A Space Marine's armour is bright with heraldry that proclaims his devotion to his Chapter and the beloved Emperor of Mankind. Our principle is that what the enemy can see, he will soon learn to fear..." | |
| | | |
| --- | --- | --- |
| | "Death or healing! I care not which you seek!" | |
See also Blood Angels, Space Wolf, Ultramarines, Grey Knights, Soul Drinkers, Blood Ravens, Imperial Fists, Salamanders, Dark Angels'
Space Marines Chapters By Founding
If a space marine chapter and all/most of its successors share a trope, just put the trope into its founder's category and say that both them and its successors have it. Doing this for tropes shared by all space marines is unnecessary.
First Founding
These chapters have been around since the Great Crusade, but back then they were known as Legions. A chapter was a part of a legion, just as a Battalion is part of a field army.
Dark Angels
White Scars
Space Wolves
Imperial Fists
Blood Angels
Iron Hands
Ultramarines
Salamanders
Raven Guard
Second Founding
Thirteenth Founding
Twenty-First Founding (The Cursed Founding)
Tropes By Chapters of unknown founding
Tropes By Chapters of unknown founding
Death Watch is not a chapter. It works in units composed of members of various chapters who get together to serve the inquisition.
Imperial Guard
| | | |
| --- | --- | --- |
| | For every hero commemorated, a thousand martyrs die, unmourned and unremembered. | |
The Redshirt Army. The Space Marines hog all the glory, but since there is less than one Space Marine for every world in the Imperium, it is the untold billions of the Imperial Guard that do 99% of the fighting. Individually, a Guardsman is your average Joe, going up against Super Soldiers and Eldritch Abominations. He's got a set of basic flak armor that can withstand outdated small arms fire; a lasgun that, while capable of blowing off limbs, is among the weakest weapons in the setting; training full of propaganda and blatant lies; commanders willing to sacrifice millions of men and machines in decade-long campaigns; and commissars ready to summarily execute cowards and deserters. His odds are not good, but the guard has trillions like him, and millions of tanks and artillery pieces.
Thematically, the Guard is a melting pot of inspiration from every army in history, and then some. The Catachans are both sides of the Vietnam War. Valhallans are grim but determined ice worlders reminiscent of Soviet infantry hordes. Tallarns are pious and wily desert raiders. Cadians are taught to field-strip a lasgun before they learn how to walk. The Praetorians wear pith helmets and red coats. The Mordians are Prussian-esque soldiers always in dress uniforms. The Death Korps of Krieg are everything scary and callous about the First World War ramped up to eleven. The Steel Legions of Armageddon look like WW 2 German paratroopers and fight like panzer grenadiers. The Tanith First-And-Only are scouts and woodsmen beyond compare. The Elysians are heavily-armed and armoured pastiches of every elite airborne regiment ever with Nerves of Steel and no tank or artillery support. Traditionally the Imperial Guard were depicted as being used in human wave attacks or trench warfare right out of World War I, but a recent series of novels has seen the Guard re-tooled into a sophisticated and highly-trained war machine combining infantry, armor, and air support into a fighting force the equal of any modern army. Considering what they're up against, it isn't always enough.
Few armies can field as many soldiers as the Imperial Guard, which is fortunate, as they are comparatively lightly armored, and have morale that's highly contingent on there being a commanding officer (or commissar) nearby. On the other hand, few armies can bring as many weapons to bear in a single Shooting phase as the Imperial Guard, so while a single lasgun is unlikely to get results, fifty or sixty firing in salvos will (unoffically referred to as 'the laser light show'). The Imperial Guard is also famous for their tanks which are unsophisticated and unsubtle metal monsters, deployed in numbers bordering on the absurd, and very, very good at shooting things. But the key to the Imperial Guard's popularity may be that they're basically normal people forced into unimaginably bad situations, but who can prevail with luck, faith in the God-Emperor, and overwhelming firepower.
There's also an Imperial Navy that fights battles in space and transports Guard troops, which follows similar protocol to the Guard and has a similar chain of command but separate leadership.
---
Notable Imperial Guard tropes include
See also Gaunt's Ghosts, Ciaphas Cain, Imperial Guard, The Last Chancers, Only War.
The Inquisition
| | | |
| --- | --- | --- |
| | When passing sentence, always err to the side of harshness. Remember: there is no such thing as innocence, only degrees of guilt. | |
State Sec with a side of Church Militant, Inquisitors are some of the most powerful individuals in the Imperium, working behinds the scenes to keep everything from going (further) to Hell. They can command civil authorities, the Imperial Guard, the Navy, agents of the Officio Assassinorum, even the Astartes (though they are wise enough to tread carefully in the last case, usually requesting their help instead of just ordering them around). They have the power of Judge, Jury, and Executioner over individuals or whole worlds. They are fully competent in the Jack Bauer Interrogation Technique, using any method possible to root out the Imperium's enemies, though their readiness to use the "Nine Actions" varies greatly. Though presented as a unified if extremely intimidating front to the Imperium at large, in reality the Inquisition is a hotbed of backstabbing and intrigue, as patient detectives rub shoulders with frothing religious zealots, Puritans hunt Radicals foolish enough to try and turn the weapons of the enemy against them, and a variety of philosophical outlooks struggle amongst themselves for dominance.
Inquisitors fall mostly into three orders, each with a specific preferred enemy and a Chamber Militant best suited for fighting that enemy.
The Ordo Malleus, or Daemonhunters, fight Chaos directly, and work with the Grey Knights, Chapter 666 of the Adeptus Astartes, the people even normal Space Marines consider Badass in comparison, with holy armour and sanctified psychic weapons.
The Ordo Hereticus, or Witch Hunters, fight heresy against the Imperial faith, mutant scum, and unlicensed psykers. Originally established to police the Ecclesiarchy, they are closely associated with the Adepta Sororitas, or Sisters of Battle, warrior nuns armed and armoured almost as well as the Space Marines, and typically spearhead Sororitas forces. The Battle Sisters are the military force of the Ecclesiarchy, formed to get around a ban on the Church fielding "men under arms". Psykers are banned from their ranks, but they can tactically invoke minor miracles. They loooove flamethrowers.
The Ordo Xenos, the Alien Hunters, still haven't received a codex. They are more scholarly than the other orders, studying alien races for weaknesses, and undermining and destroying those that present a threat to the Imperium. This doesn't remove their secret-police role, as they often investigate and stop alien political and religious influence on the fringes of Imperial space. Their military backup is the Deathwatch, a force consisting of Space Marines from various chapters who are especially adept and/or experienced at battling xenos. Now they have a game of their own!
---
General Inquisitorial tropes include
| | | |
| --- | --- | --- |
| | "I carry with me an Inquisitorial Seal. It is a small, unassuming object contained in a neat box of Pluvian obsidian. It is a modest thing. Relatively plain, adorned with a single motif and a simple motto. Yet with this little object I can sign the death warrant of an entire world and consign a billion souls to Oblivion." | |
If an Inquisitor has good cause, they can demand service from anyone, be it a lowly citizen to a High Lord of Terra. The only people officially exempt from this are the Adeptes Custodes, the people guarding the Emperor on the Golden Throne. In practice, though, most Inquisitors are usually smart enough to say please when they require service from the Space Marines. Those who don't...well, there was nothing in their head anyway, so removing it wouldn't really be such a bad thing.

Boxed Crook—A common background for Inquisitorial retinue members. Some intrepid Radicals employ boxed Daemons.
Church Militant—In a nutshell.
Cold-Blooded Torture—Occasionally used by the Inquisition, but much less often than their reputation would suggest. They find information extracted under such duress to be of questionable reliability. Typically, they find it easier just to have a psychic interrogator forcefully extract the information from the subject's mind.
Drop the Hammer—Daemonhammers are consecrated warhammers that are especially potent against Warp-spawn. They are favored by agents of the Ordo Malleus, which translates to Order of the Hammer.
Evil Is Not a Toy—The Xanthite faction, a Radical faction, holds that the best way to defeat Chaos is to use Chaotic artifacts and bound daemonhosts against it. A lot of them (but not all) end up getting killed by said artifacts and daemons.
Fate Worse Than Death—Some heretics or blasphemers may be ordered to undergo the rites of Arco-Flagellation as an extreme act of repentance. This involves lopping off the condemned's hands and replacing them with power flails or other nasty weapons, sticking the guy's back full of combat drug dispensers, and lots of mental conditioning. The result is a wasted, wiry cyborg who wears a hood displaying calming religious images, but with the right command word the visor retracts, the stimm-packs activate, and the former heretic goes berserk.
Great Big Book of Everything—The Inquisition has an extensive library of banned, heretical, and downright dangerous musty tomes.
He Knows Too Much—Inquisitors are known for requisitioning Imperial Guard regiments, and sometimes ordering the grunts killed after being exposed to whatever it was they were called on to help deal with.

Though they're pretty cautious about doing this when Space Wolves are within earshot.

Inspector Javert—The less unstable and pugnacious Inquisitors sometimes end up in this role, pitted against the rare well-intentioned rebels like the Soul Drinkers, or more often Imperial servants with conflicting orders.
Jack Bauer Interrogation Technique—The "Nine Actions", nine stages of intensity used in interrogating suspects. The farther you go down, the more brutal the interrogation.

It's implied that if they choose to go as far as the Ninth Action, they have given up trying to get intel or get admittance of sin, and simply want the subject to suffer a horrific, weeks-long death.

Judge, Jury, and Executioner—The Inquisition's motto is "Innocence Proves Nothing." And few dare question if an Inquisitor decides someone is just guilty enough for a dangerous but high-paying retinue position, a Fate Worse Than Death, or a simple bolt round to the head.
Jumping Off the Slippery Slope—Occupational hazard for any enforcer with a blank check, but far more common than betrayal or simple abuse of power as a villainous Inquisitor's Start of Darkness.

Also the reason for the saying "Every Inquisitor starts off a puritan and becomes a radical." The idea being that the more an Inquisitor learns about the nature of the universe, the more sacrifices they have to make to secure the Imperium, the more compromises they make to get what they need, the more radical they become. A big source of Right Hand Versus Left Hand in the Inquisition is disagreements about where the edge of that slope is, and how far down it is too far.

Kill It with Fire -- "Burn the Heretic, Kill the Mutant, Purge the Unclean."
Nice Hat—Inquisitors of the Ordo Hereticus are often show wearing rather Badass-looking capotains, in addition to Badass Longcoats.
No Kill Like Overkill—The Inquisition will go to any extreme to ensure that threats to the Imperium are defeated, up to and including killing untold billions of innocents by subjecting the planet in question to Exterminatus.
Omnicidal Maniac:

The Monodominant faction, a Puritan faction, which maintains that the only way humanity can survive is to wipe out everything that isn't human. While this isn't an unreasonable idea given what is lurking in the galaxy, the Monodominants take it a bit further than necessary, up to and including the psykers and mutants that the Imperium needs to continue functioning.
The Recongregation faction, a Radical faction, take this one step further. They include the moderate factions, the other radical factions, the Ecclesiarchy, most of the Cult Mechanicus, the Arbites etc... The Departmento Munitorium, Officio Assassinorum and Adeptus Astartes are just about the only things they don't want dead, although they would like to "streamline" these groups.

Only Sane Employee:

Inquisitor Amberly Vail of Ciaphas Cain fame shows noticeable self-awareness about the Inquisition's lack of...restraint in discharging their duties.
On a larger level, the Amalathian faction, a Puritan faction, who attempt to keep the established structure of the Imperium running as well as possible, rather than seeking change or trying to impose a draconian standard of purity. You'd think a group that believes the Imperium at present is perfect would be off their rocker, but they actually encourage cooperation, instead of the bureaucratic infighting so common with the Imperium.

Ragtag Bunch of Misfits—The members of an Inquisitorial entourage will be...interesting, to say the least.
Reincarnation—The premise of the Thorian faction, a Puritan faction, which holds that the best way to save the Imperium is to bring about the reincarnation of the Emperor of Mankind.
Right Hand Versus Left Hand—You've got your standard turf wars between the three Ordos; open violence between Radicals and Puritans; wrangling between the Thorians, Amalthians, and Monodominants; and battles by proxy between Inquisitors who don't know that they're working on the same case.

Supplemental materials indicate that this is actually something of a check and balance on Inquisitorial power. As an Inquisitor wields absolute authority up to and including the obliteration of entire planets, they are necessarily accountable to other Inquisitors. All the infighting, or simple potential for infighting, forces Inquisitors to use a degree of restraint in that authority, and keeps any one Inquisitor from acting unilaterally.

Social Darwinist—Inqusitors of the radical Istivaanian school of thought believe that the Imperium grows stronger through conflict. If a particular sector of the Imperium has had it too easy, they might arrange a conflict to hit it, just to make sure it stays on its toes. In an lot of cases, they might set up a "crucible of fire" just to ensure that only the strong survive it. They will carefully observe such conflicts for potential strong candidates that they can groom for positions of influence to further strengthen the Imperium. That said, they prefer to keep such conflict limited and controllable. After all, their goal is to strengthen the Imperium, not batter it down.
To the Pain—Stage two of the Nine Actions involves meticulously explaining in worrying detail what the next seven stages will involve. This is often enough to get captives to cooperate.
Token Evil Teammate / Hero Antagonist—On a faction level. No one in the Imperium is squeaky clean, but if someone who should be an ally is going to oppose the protagonists of a 40K story or be too extreme for them, it will be an Inquisitor.
Utopia Justifies the Means—The Radical Recongregator faction is defined by this, spending as much time plotting to reshape the Imperium, whether world-by-world or from the top down, as they do investigating threats. Their methods may range from involvement in political intrigues to fostering the same rebellions other Inquisitors are trying to prevent.
Well-Intentioned Extremist—And this is one of the more pleasant ways to describe them.

Within the context of the Inqusition itself, this is practically the definition of a "Radical", an Inqusitor who uses means to secure the Imperium that other Inqusitors would find questionable. There is a lot of room for Grey and Gray Morality in this. For example, a Radical Inqusitor might use Human Sacrifice to form a Daemonhost bound to them to eliminate a critical threat. This is obviously a break from mainline Imperial dogma and methods, but what if they alternative is purging the entire planet so-threatened? At this point, which approach is more "extreme" is a matter of some debate, In-Universe.

You Have Outlived Your Usefulness—Overlaps with He Knows Too Much. It is very hard to simply retire from an Inquisitor's retinue.
Tropes specific to the Officio Assassinorum
Tropes specific to the Sisters of Battle include
See also Eisenhorn, Ravenor, Dark Heresy.
Adeptus Mechanicus
| | | |
| --- | --- | --- |
| | In ancient times, men built wonders, laid claim to the stars and sought to better themselves for the good of all. But we are much wiser now. | |
Mankind's golden age is long past, and many of its technological secrets have been lost. When the Emperor was reuniting humanity, he found on Mars a strange priesthood devoted to the preservation of what knowledge remained. This Adeptus Mechanicus became a vital part of the Imperium, providing technical expertise, planet-wide factories known as Forge Worlds that produce everything from lasguns to civilian goods, and incredible weapons such as the Titan Legions. They are theoretically subordinate to the Imperium, and their highest-ranking member is one of the twelve High Lords of Terra, but the Machine Cult has its own specialized army, the Skitarii, and run the aforementioned Titan Legions, standing slightly apart from the Imperium of Man despite propping it up.
The Adeptus Mechanicus are not just humanity's last source of technological knowledge; they actively worship machinery, and venerate the Emperor as an aspect of an entity they call the Omnissiah. They believe that all devices have a "machine spirit" that must be placated in order for it to function properly, and therefore the Machine Cult's maintenance rituals involve a lot of incense, sacred oils, and chanting. This is a bunch of ignorant superstition that should have no effect on how devices function... but nonetheless, it seems to help. They also hold that for humans to perfect themselves they must take on more aspects of the machine, and therefore undergo voluntary cybernetic "upgrades," be they mechadendrites or other artificial limbs, or replacing the illogical half of their brain with a computer. Calling a Techpriest "more machine than man" is a compliment, and most Imperial citizens find the Priesthood of Mars hard to relate to, yet necessary.
While gifted mechanics and craftsmen, Adeptus Mechanicus orthodoxy holds that all technological advances have already been discovered, and they therefore place more emphasis on reverse-engineering or recovering old knowledge than they do on experimentation or upgrades. Thus, the Adeptus Mechanicus has kept mankind's technology working for ten thousand years, but has made little to no technological progress in that time. In fact, they have actually regressed, making some starships or weapons or other devices irreplaceable because the Tech-Priests don't know how to build them any more. They are a parallel to medieval craftsman's guilds in the way they preserve skill but quash innovation with a monopoly on technology. The Adeptus Mechanicus has no official tabletop army, but their influence is felt in the form of Tech-Priest Enginseers in the Imperial Guard, or the Techmarines of the Adeptus Astartes. The Aforementioned Titan Legions do make an appearance in the form of Forge World (the company) produced Titan models, which can be used in Apocalypse games.
---
Notable Adeptus Mechanicus tropes include
Abhumans and Mutants
| | | |
| --- | --- | --- |
| | Twisted flesh, twisted soul. | |
The Imperium does not simply worship the Emperor, but also the holy human form. Part of the Manifest Destiny of the Imperium states that humanity has a right to rule the galaxy. However, the simple fact is that after thousands of years on other worlds, various human populations have evolved into different types of humans. These are referred to as Abhumans or Mutants, variously; Abhumans are fairly minor, stable strains of mutation that are effectively the result of natural evolution caused by different environments, while Mutants are far more bizarre in form and stem from the wide variety of genetic degeneratives at loose in the galaxy at large—radiation, genetic warfare, toxic chemicals, et cetera. While the Imperium officially disdains them, some are useful or even necessary. In the time of the Emperor, the view of Abhumans and Mutants was more lenient, but after ten thousand years, the Imperium has taken a more draconian approach.
In the background, the most important of mutants are the Navigators, families who were genetically engineered in the distant past to navigate the Warp with psychic powers. Collectively, they form the Navis Nobilite, wealthy families who are necessary for the Imperium to survive. On the tabletop, certain Abhumans are useful to the Imperial Guard for specialist skills. Mutants, in the background and to an extent on the tabletop, are typically executed on sight for their genetic damage or kept as slaves—as a result, they are eager worshipers of Chaos, aided by the fact that Chaos tends to both cause mutation in its followers and treats those bearing mutations as being blessed by the Gods.
---
Notable Abhuman and Mutant tropes include
Squats
The lost army. Dwarfs IN SPACE. Bug chow.
The Squats were a race of abhumans—an offshoot of the human species that had adapted to subterranean life on high-gravity worlds near the galactic core. Separated from mainline humanity for tens of millenia, they grew shorter and, well, squatter, eventually coming to resemble the traditional fantasy dwarf in both appearance and temperament. Due to the difficulty of living on barren planets with radioactive surface conditions, the Squats developed extremely reliable food production systems, armor, and other technology, but also had a fatalistic attitude toward life. Over time, they made contact with the Orks and Eldar and gained a reputation for their high-quality tech, shrewd business dealings, and potent military defense. Eventually they were rediscovered by and reabsorbed into the Imperium, as their tech fascinated the Adeptus Mechanicus and made them a welcome addition to the Imperial armed forces, but they maintained a high degree of autonomy.
As a game faction, the Squats were never popular, nor did they fit very well in the increasingly Grimdark setting. They were included back in the days when 40K was a transparent In Space version of Warhammer Fantasy Battle and every race in the latter had to appear in the former, but as the setting matured the Squats felt more and more out of place. Game designers never really decided on a "tone" for the army, and depictions of them wavered between goofy space dwarfs and miniature biker dudes. In 1994, they were discontinued with the explanation that the newly arrived Tyranids had descended upon their Homeworlds and stripped them clean of all life (like they do). A handful of embittered Squats still survive spread across the vast Imperium, but as a faction they are absolutely, positively never coming back. In fact, it's Games Workshop's official position that they won't even be mentioned.
Though the Squats are extremely dead, the "space dwarf" concept itself may be in for a comeback. Games Workshop has introduced a race called the Demiurg as a member species of the Tau Empire in the 40K spinoff Battlefleet Gothic, a species that practically never leaves their rugged Stronghold-class starships, makes a living as deep-space miners, are technologically-advanced enough to introduce ion cannon technology to the Tau, and closely resembles the Squats to boot. At the moment the only Demiurg models created have been for Gothic, where they are the only faction said to be too small and isolationary to field actual fleets, and there are no plans to make a tabletop army for them, but only Tzeentch knows what the future holds...
---
Notable Squat tropes include
Community content is available under
CC-BY-SA
unless otherwise noted.