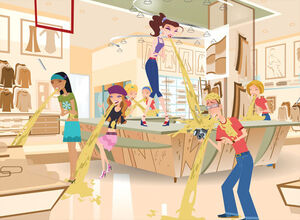 And then Frank lost it, too, joining the chunk-blowing chorus, the barf brigade, five men in a tossing boat who might have reasons to kill each other, but who, for the moment, could think about nothing except when the next retch would come, and what it would bring up.
When one character barfs, soon everyone else starts barfing as well.
This is Truth in Television, since vomiting has been known to inspire vomiting, as part of a prehistoric instinct: if someone from your same tribe vomits because he ate something harmful, chances are you ate the same thing and therefore it's best if you hurl it too.
For the one person version, see Vomit Indiscretion Shot. Contrast Vomit Discretion Shot. A small version of Disaster Dominoes. A form of Brown Note.
Examples of Vomit Chain Reaction include:
Film
Literature
Live-Action TV
Video Games
Web Original
Western Animation
Community content is available under
CC-BY-SA
unless otherwise noted.