In General
Emperor Zarkon and his entourage
Emperor Zarkon
Voiced by: Neil Kaplan and Kevin Durand (original), Idzi Dutkiewicz (Mexican Spanish)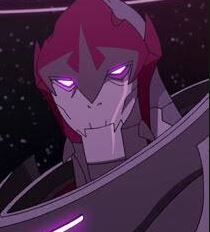 High Priestess Haggar
Voiced by: Cree Summer and Lily Rabe (original), Laura Torres and Sarah Souza (Mexican Spanish)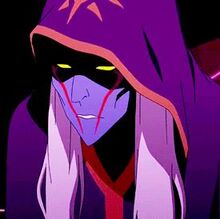 Adaptational Attractiveness: The original Haggar was really ugly, but when this one's face is fully seen, she's a haggard but not too unattractive old lady.
Bigger Bad: Of Season 7. Her influence is only felt and it's retroactively revealed that Sendak's

invasion of Earth

was him operating under her command. In fact, literally everything can be traced back to her Quintessence experiments that were the catalyst for her going from a Hot Scientist to a crazy one.
Broken Bird: This woman's life has been truly and genuinely terrible (and in no small part, due to HER own actions)... and as of Season 8, she fits in near perfectly in this trope. Bad thing, due to her anger and despair she ALSO is one Hell of a Woobie, Destroyer of Worlds.
Composite Character: She's a mixture of the original Haggar from GoLion and Voltron and Sincline's mother from GL.
The Dark Side Will Make You Forget: This woman has been so consumed by her experiments with Quintessence, she has all but forgotten everything else.
Dark Magical Girl: She can be seen as an older one who never got better.
Dark Messiah:

After Lotor's death, she goes to the Altean colony and reveals their blood link to them, making them switch to their side and effectively becoming this to them.

Dead Person Impersonation: "Haggar" is not her original name. The real "Haggar" was

a Galra doctor that tended to her in the past, and then she killed.

. Mind you, she's not pretending to be this woman, she just took the name. Additionally, this is also her ultimate plan in the perfect Alternate Universe: replace her dead counterpart and live with that Zarkon and Lotor, so she can recover the family that she lost and still deeply misses.
Death Equals Redemption: Barely. Her actions were horrendous, but she does willingly sacrifice herself alongside Allura to correct them at the end. Maybe she didn't fully understand the error of her ways, but at least she took responsibility and decided to do what she could to fix what she did..
Despair Event Horizon: She already wasn't the poster lady of sanity, but she definitely crossed it when

the alternate Lotor rejected her as not being his mother.

Didn't Think This Through: In her master plan, she never paused to consider that

the alternate Zarkon and Lotor might not accept her right away.

The Dragon: To Zarkon. Goes into Dragon Ascendant after his death.
Dragon-in-Chief: Lotor is technically in charge in Season 3, but everyone defers to her.
Even Evil Has Loved Ones: She once had a very beloved husband,

Zarkon

. Even now, she cares for him

and their son Lotor

in a very twisted, desperate, insane way. The Lotor case is rather interesting: before he was born Honerva really wanted to be a mom... but having been addicted to Quintessence during pregnancy AND having gone through a very risky and traumatic childbirth, as Haggar she completely forgot about her past life as Honerva - and that included forgetting Lotor, who was raised by Dayak instead. When she finally remembers him, he's already dead due to his Quintessence overexposure, and she goes the Woobie, Destroyer of Worlds way.
Evil Counterpart: To Allura, since both are women with magical skills who support a faction in an intergalactic war.

The parallels become more pronounced after she remembers she's really Honerva.

Evil Sorcerer: The most deadly magic user in the universe.
Fallen Hero -> Tragic Villain: She used to be a Happily Married, very kind Hot Scientist named

Honerva

... but her

addiction to Quintessence

completely twisted her body, mind and soul. Heck, one can see her as a rare adult version of a Dark Magical Girl, in a way - a good part of her drive and motivation at the end is her looking to recover the family she lost, and destroying whole universes in her anger and despair to get them back.
Fatal Flaw: Season 8 reveals it to be a Control Freak mixed in with Never My Fault.

Since the Galra (not her Quintessence experiments) ruined her family and she couldn't control her son, she'll start again in a new reality.

Hollywood Postpartum: A particularly horrific example. After losing her memory due to a traumatic childbirth, she forgot ever wanting a child and demanded he be kept away from her, leaving him to be raised by an abusive father and a tough governess.
Humanoid Abomination: By Season 8.
Hypercompetent Sidekick: Zarkon's Villainous Breakdown would likely have been even faster without her.
Hypocrite: In Season 8, she brands all Galra as monsters. Doesn't stop her from using Galra resources, technology, and personnel to achieve her goals.
It's All About Me: If she doesn't get her Happily Ever After, then there shall be no multiverse.
Imperiled By Pregnancy: Already suffering from Quintessence poisoning while pregnant with Lotor, culminating in a very difficult and traumatic childbirth.
Karma Houdini: She ripped holes in, and doomed, several Alternate Universes to be with her husband and son. When they reject her, she decides to destroy the Multiverse. Allura then forgives her before she joins Zarkon and Lotor in the afterlife, getting her happiness at the expense of Allura's Heroic Sacrifice. To be fair though, she is a Fallen Heroine and Tragic Villain that led a truly tragic life (and in no small part, due to HER own flaws) and had begun to repent at the end.
Lady of Black Magic: She may be a Wicked Witch, but she's still NO slouch in the battlefield. Anyone who believes this lady cannot pack a magical punch will suffer.
Loony Fan: Lotor's in Season 8. Pretty much the only person who has any fondness for him at that point.
Mad Scientist: On one hand, she uses lots of magic. On the other, she isn't adverse to using Galra tech if it's needed.
Mike Nelson, Destroyer of Worlds AND Woobie, Destroyer of Worlds:

Once upon a time, Honerva was a perfectly ordinary Altean alchemist who only sought to expand the knowledge of her people. By the end of her life, she's destroying the multiverse out of a mix of petty spite and genuine pain.

Never My Fault: When she remembers how she and Zarkon were Abusive Parents to Lotor, she decides that it was the Galra who led to Lotor's death. Not that his parents pushed him to strike out on his own and tear down the old order or anything like that.
Pragmatic Villainy: In the first four seasons.
So Proud of You: Tries this on Lotor in Season 6

in an attempt to rekindle their bond as mother and son. He tells exactly where she can shove it

.
Squishy Wizard: Has reality bending powers, but is about as durable as she looks. Good luck getting close enough to DO damage to her, however.
Teleport Spam: A favoured tactic of hers.
Trauma-Induced Amnesia: Her

addition to Quintessence

made her TOTALLY forget her past as Zarkon's wife and Lotor's mother, Honerva. Heck, she cannot even really remember her own name - "Haggar" is the one coming from a doctor that she killed! When she finally remembers... she crosses the Despair Event Horizon and becomes a Woobie, Destroyer of Worlds.
Undying Loyalty: For all her many flaws, no can argue with her genuine devotion to Zarkon. It's more literal than most examples as she Came Back Wrong and retains her loyalty.
Unfortunate Names: Haggar sounds very similar to "haggard." It's also a Meaningful Name.

Honerva can sound like someone slurring their pronunciation of "unnerving."

Again, a Meaningful Name.
Commander Sendak
Voiced by: Jake Eberle (original), Arturo Mercado Jr. (Mexican Spanish)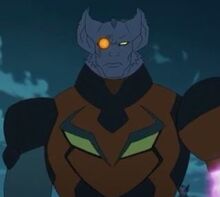 Commander Prorok
Commander Throk
Commander Morvok
Voiced by: David W. Collins (original), Víctor Ugarte and Tommy Rojas (Mexican Spanish)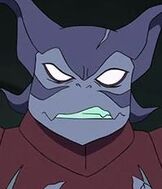 Beware the Silly Ones - Bunny Ears Lawyer: For how silly he comes across, he is a commander (making him equal to Sendak) and nearly

condemned a whole race to extinction

out of sheer pettiness.
Dirty Coward: Makes a grand speech about the glory of the Galra and hops in an escape pod. Then again, this might make him the most sensible Galra ever. Before that, he tries to squirm out of facing Voltron by saying he can bring Zarkon valuable resources.
Evil Is Petty: There was no real benefit to

condemning the Taujeer

but he did it anyway.
The Napoleon: The shortest Galra officer.
Professional Butt-Kisser: Not that it helps with Zarkon.
Small Name, Big Ego: In his own little world, he's Zarkon's BFF. In reality, Zarkon, if at all possible, seems to hate him even more than he does Lotor.
What Happened to the Mouse?: Disappears after

his failure with the Taujeer

, save for a fantasy appearance in The Feud.
Lieutenant Thace
Voiced by: Mick Wingert (original), Héctor Moreno (Mexican Spanish)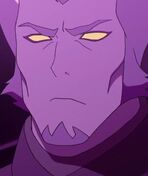 Warlord Ranveig
Quartermaster Janka
The Druids
Prince Lotor and his entourage
In General
Crown Prince Lotor
Voiced by: Anthony Junior "AJ" LoCascio (original), Héctor Emmanuel Gómez (Mexican Spanish)
Acxa
Voiced by: Erica Luttrell and Anika Noni Rose (original), Reyna López (Mexican Spanish)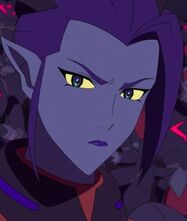 Zethrid
Voiced by: Jamie Gray Hyder (original), Kerygma Flores (Mexican Spanish)
Ezor
Voiced by: Kimiko Glen (original), Fernanda Robles (Mexican Spanish)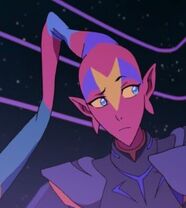 Narti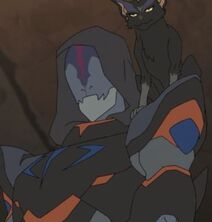 Others
Cova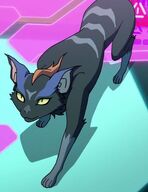 Dayak
Voiced by: Mary McDonald (original), Enriqueta "Queta" Calderón (Mexican Spanish)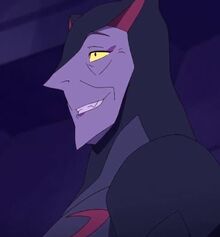 Varkon
Voiced by: Fred Tastaciore (original), Dafnis Fernández (Mexican Spanish)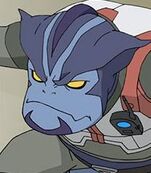 Heel Face Turn: Not that he was much of a heel in the first place but he's seen playing with Voltron action figures.
Near Villain Victory: After Sendak (who succeeded), he came closest to capturing the Paladins (well four of them). One can imagine the military embarrassment that would occur if he'd caught them.
Right for the Wrong Reasons: Pursues the Paladins because they're criminals... but he thinks they're Space Pirates.
Voiced by: Lily Rabe (original), Sarah Souza (Mexican Spanish)
The Archivist
Luka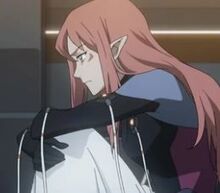 Voiced by: Kari Walhgren (original), Alondra Hidalgos (Mexican Spanish)
Community content is available under
CC-BY-SA
unless otherwise noted.