Team Voltron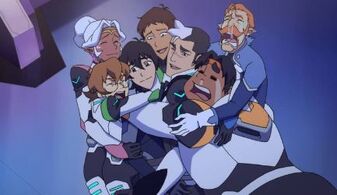 In General
Princess Allura of Altea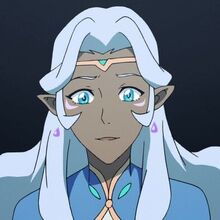 Voiced by: Kimberly Brooks (original), Mariana Ortiz (Mexican Spanish dub)
Like in the original, Allura is the Princess of Planet Altea. Unlike the original, Altea was wiped away 10.000 years before the series begins, and she survived after her father King Alfor stashed her into a cryogenization pod before sending the Lions away and dying at the hands of the Galra Empire.
When the Blue Lion brings the soon-to-be Paladins and they awaken her and her few remaining companions (her Parental Substitute Coran and the Space Mice) from their slumber, she sees that they're The Chosen Many and officially makes them the Space Paladins, so they can fight back against the Galra Empire and protect the universe. Initially she's the Mission Control of sorts, piloting their base (the Castle of Lions), but later she becomes the Blue Paladin and fights with the others.
Takashi "Shiro" Shirogane
Voiced by: Josh Keaton (original), Ricardo Tejedo (Mexican Spanish dub)
The field leader of Team Voltron, and pilot of the Black Lion. Originally a talented and well-loved Galaxy Garrison pilot, he became a member of the Kerberos space exploring team, only to be captured with his companions by the Galra Empire. He spent a year there, fighting for his life in Gladiator Arenas, until he found the chance to escape to Earth. As the future Paladins retrieve him and they become the pilots of Voltron, he does his best to guide and help them out.
Keith
Voiced by: Steven Yeung (original), Óscar Flores and Carlo Vásquez (Mexican Spanish dub)
The pilot of the Red Lion, and later of the Black one. He was one of the Galaxy Garrison's star recruits but also had severe attitude problems, until Shiro managed to reach out for him. After Shiro's disappearance he angrily confronted the higher-ups upon what he saw as them abandoning his beloved friend, and was kicked out as a result. He spent the following year tracking any signs that could lead him to Shiro, which actually led him to finding the Blue Lion herself. After he and the others properly rescue Shiro, they become the Voltron Paladins; this leads Keith to find out lots of things about his own self.
Adaptation Species Change: He was human in the original (or half-human/half-Arusian depending on what one takes as canon) but here he's half-human/half

Galra

.
Always Second Best: Feels this way with regards to Shiro, and greatly fears being "left behind" by him.
Ambiguously Bi: See Ship Tease below.
Beauty Is Never Tarnished: A sort-of Rare Male Example. Later in the series Keith has his left cheek scarred

after his fight with Kuron/Shiro's clone

, but said scar runs cleanly on his skin and arguably makes him even more handsome than he used to be.
Because You Were Nice to Me: During his first days in the Garrison, Keith was a prickly and hard to get along with loner. Shiro was the first person in a long time to fully believe in him, however, and as a result he became fiercely devoted to him.
Brooding Boy, Gentle Girl: A same-sex version, with Shiro.
Bunny Ears Lawyer: Keith may have been as asshole early on, but he was and still is a truly skilled pilot. Still got him kicked out of the Garrison due to behavior issues.
Character Development: Goes through a massive amount in

the Quantum Abyss

. Best shown when

the Paladins reunite with the Garrison: Season 1 Keith would have flipped the bird at the Garrison people, but Season 7 Keith is respectful to Iverson and openly admits what a jerk he was in his youth.

Commuting on a Bus: From Seasons 4 to 6, due to Steven Yeun's work commitments.
Embarrassing Nickname: He doesn't like it when Lance calls him "Mullet."
Failed a Spot Check: How many hints did this guy miss about who

Krolia

was?
The Friend Nobody Likes: In Seasons 1 and 2, Shiro is his Only Friend. A good part of his development is realizing that he isn't alone any longer, and that he can reach out for other people who are willing to help and care for him. His vlog has him admitting he invokes the trope, as he pushes people away rather than risk their rejection.
Friendless Background: Due to his inability to connect with other people. Flashbacks show him as constantly sitting apart from other kids, and at the Garrison his temper and surly attitude didn't earn him many points with his classmates. His vlog reveals that this was more or less intentional: "Maybe...instead of accepting people, I push them away before they have a chance to reject me. Guess I have some walls up."
Half-Identifying Hybrid: Half-human/half-

Galra

. First on account of his ignorance of his heritage, then on account of them being... the Galra. He later embraces both sides of his heritage.
Never Be Hurt Again: Per Word of God. Again, as time passes he begins to open up to others.
Not So Above It All: He's quite aloof, but can sometimes be as adorkable as the others.
Parental Abandonment: His firefighter father

died in the line of duty when Keith was a child

and his mother was a Galra Action Girl who had to leave him few after his birth, and couldn't meet up with him until many years later.
Out of Focus: In seasons 4 and 5 due to Steven Yeun's poor availability. A bit in season 1 as well.
Pretty Boy: A slender young man with long dark hair, pale skin, and large, expressive eyes.
Raven Hair, Ivory Skin: A pale-skinned and dark-haired young man, with quite the Pretty Boy looks.
Ship Tease: With Shiro and Acxa. Arguably, also with Hunk and Lance.
Strong Family Resemblance: To both of his parents. On one hand he inherited his dad's hair/skin/eyes color. On the other, near everything else comes from his mother

including the Galra heritage.

Too Much Alike: A factor in his antagonism with Lance. They're both Hot-Blooded, fiercely independent, and regard themselves as The Lancer to Shiro's The Hero. They eventually grow out of it.
Troubled but Cute: After losing his parents, he had no real friends growing up and his school teachers wrote him off as a troublemaker not worth giving a chance, and he knows his problems at school/the Garrison were his own responsibility because he cultivated that persona to avoid being hurt again. Then when he finally did make a friend in Shiro, he was declared dead after a disastrous space mission. His past, plus the events of the series, led to him breaking from stress and having to leave the team for a while to find himself. He gets better when he finds his Missing Mom and has the chance to properly bond with her and work through his issues.
Undying Loyalty: Towards Shiro, sometimes going straight up into Always Save the Guy.
Vitriolic Best Buds: With Lance.
You Are Not Alone: The crux of his arc throughout the story as he learns to open his heart and trust others.
Lance
Voiced by: Jeremy Shada (original), Luis Fernando Orozco (Mexican Spanish dub)
The pilot of the Blue Lion, and later of the Red one. Lance is among those who kicks off the whole action, as after a failed mission he and his friends Hunk and Pidge find out about his idol Shiro being locked away by the military and urges the other two to go rescue him. As a plus he pretty much falls for Princess Allura after meeting her, and while he's quite the Comic Relief of the group, he later begins to unlock his own potential and properly grow up.
Katie Holt aka Pidge Gunderson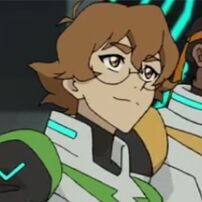 Voiced by: Bex Taylor-Klaus (original), Angélica Villa (Mexican Spanish dub)
The pilot of the Green Lion. Katie Holt was a prickly but very intelligent normal teen girl... but on a fateful day, her father Sam and her brother Matthew, who were Shiro's companions in the Kerberos mission, disappeared with him. She angrily tried to get replies regarding their fate from the Galaxy Garrison, and when that didn't work she decided to infiltrate the Garrison via disguising herself as a young man named Pidge Gunderson. She spends around a year like this, and then becomes a member of the Voltron Team - while still being determined to find out what actually happened to her lost loved ones.
Hunk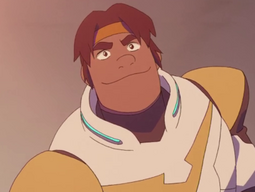 Voiced by: Tyler Labine (original), Abraham Vega (Mexican Spanish dub)
The pilot of the Yellow Lion. A gentle, pudgy and a bit cowardly young man, he initially seemed to be ill-suited for the Galaxy Garrison itself and maybe for his Voltron spot, but pulled through and started to develop his own inner and outer strength through their adventures.
Team Voltron's Closest Allies
Coran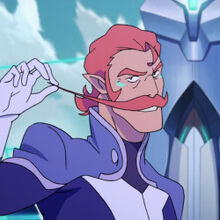 Voiced by: Rhys Darby (original), Moisés Iván Mora (Mexican Spanish dub)
Once King Alfor's closest advisor in the Altean court, his boss and leader also froze him in stasis before Altea was wiped out. After he, Princess Allura and the Space Mice are awakened and then Voltron is formed, he joins Team Voltron's cause.
Romelle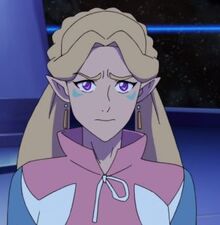 Voiced by: Mimi Dávila and Lacey Chabert (original), Xóchitl Ugarte (Mexican Spanish dub)
A young lady who, with her younger brother Bandor, is a descendant of a group of Alteans who escaped the destruction of their planet because they were on trading businesses in these days, went into hiding thanks to their Master of Disguise abilities,  and eventually found sanctuary in Lotor's "hidden colony" destined to preserve Altean culture. Around season 6, the siblings are hit by a terrible tragedy and it's up to Romelle to search for someone able to strike back at the culprit, which leads her to find Keith and then the Voltron Team...
The "product" of a secret project carried by Haggar, who arrives to the plot in Season 3. His name is Kuron and he is a clone of Shiro made by Haggar and her associates, then sent out after Shiro dies in Season 2. This young man has been mindwiped and brainwashed into believing himself to be the real Shiro, and once he's located by Keith he's taken in by the Voltron Team and believed to be Shiro as well, the only apparent difference being how he cannot pilot the Black Lion for a while. But around Season 6, Haggar speeds up her "master plan" and starts using him directly against his companions, especially Keith...
Team Voltron's Animal Companions
The Space Mice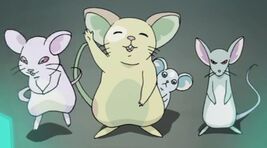 Allura's pets and closest friends, who snuck into her cryogenic pod right before the Altean destruction and as such survived it with her and Coran. The yellow one is Platt, the pink one (and only girl) is Chuchule, the smallest and shyest one is Chulatt, and the leaner and more skittish one is Plachu.
Kosmo
A space wolf that Keith adopts in Season 6.
Kaltenecker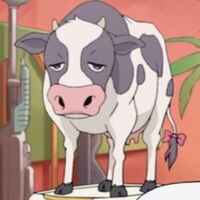 A cow that was stolen from Earth and then given to the Voltron Team in the space mall in Season 2.
Community content is available under
CC-BY-SA
unless otherwise noted.