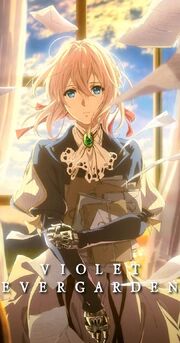 Violet Evergarden (ヴァイオレット・エヴァーガーデン Vaioretto Evāgāden) is a Japanese
Light Novel
 series, written by Kana Akatsuki and illustrated by Akiko Takase. It won the grand prize in the fifth Kyoto Animation Award's novel category in 2014, the first ever work to win a grand prize in any of the three categories (novel, scenario, and manga).
Kyoto Animation
 published the first light novel on December 25, 2015, under their KA Esuma Bunko imprint, and it also aired a 13-episode anime television series adaptation AND an OAV in 2018. A spin-off film will premiere in September 2019, with another anime film scheduled to premiere in January 2020.
The protagonist is the titular Violet, an ex Child Soldier from the fictional continent of Telesis, who seeks to reintegrate herself into society after a massive war that costed her her innocence, her arms, and the first person who was kind to her: her superior in the army, Major Gilbert Bouganvillea. There are people known as the Auto Memory Dolls, who have mastered the art of ghost writing (writing for others), and Violet joins a business based on this (the CH Postal Company, led by Gilbert's old friend Claudia Hopkins) to find out what to do from now on. As a plus, she also wants to comprehend the Famous Last Words that Gilbert told her before disappearing from her life: "I love you"...
Tropes used in Violet Evergarden include:
Community content is available under
CC-BY-SA
unless otherwise noted.