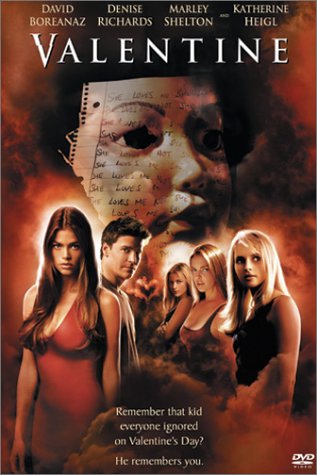 Roses are red... violets are blue... they'll need dental records to identify you!
One of the contemporary Slasher Movies that rode on the coattails of Scream's success, e.g... I Know What You Did Last Summer. As with most of said contemporary slashers, it's pretty formulaic and crummy.
At a junior high school prom in 1988, a bespectacled loser named Jeremy Melton asks several girls - Shelley, Lily, Paige and Kate - to dance, only to be cruelly shot down. Another girl, Dorothy, who at this stage is a little chubby, accepts, but when some boys spot her and Melton making out, she claims he was assaulting her, prompting them to publicly strip and beat him, after which he is sent to a reform school. 13 years later, the girls are all grown up and played by Katherine Heigl, Jessica Cauffiel, Denise Richards, Marley Shelton and Jessica Capshaw respectively. They're now dealing with various boyfriend issues, and Dorothy has since slimmed down. As Valentine's Day approaches, they start receiving threatening Valentines Day cards. Then, a killer dressed in a black coat and cupid mask shows up and starts offing them one by one. Is it Melton, come back for revenge, or someone else?
Oh, and there's no nudity, in case you were curious.
See also My Bloody Valentine, another Valentine's Day-themed slasher flick.
Tropes used in Valentine include:
Community content is available under
CC-BY-SA
unless otherwise noted.