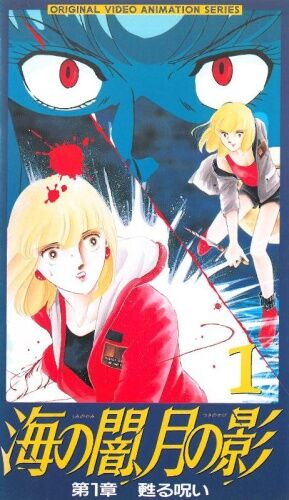 Umi no Yami, Tsuki no Kage (海の闇、月の影, translated as Darkness of the Sea, Shadow of the Moon), is an 18-volumes shoujo manga by Chie Shinohara, the author of Anatolia Story. It ran in Shogakukan's Shoujo Comic magazine in the late 80's, and it had a 3-OAV anime adaptation in 1989.
The twin sisters Ruka and Rumi Kobayakawa are highschool students and both crush on their handsome sempai, Katsuyuki Touma. When Katsuyuki asks the younger twin Ruka out and Ruka hesitates because she doesn't want "betray" Rumi's feelings, Rumi does her best to be supportive of her sister, but it looks like deep down seems to feel kinda betrayed by her.
The girls and the other members of their track team go out to the beach, but are trapped in a cave during a storm in the middle of a party. The place turns out to be an old burial ground, then an odd bacteria is released and all the girls in the group are fatally poisoned by it, save for the twins. . .
The Kobayakawas not only survive, but are "given" strange and terrifying Psychic Powers beyond their imagination. But the worst consequence is then horrible shift in the personality of the once sweet and normal Rumi, who almost immediately transforms into a merciless, spiteful and cruel girl who will stop at nothing to get Katsuyuki for herself - even if she has to eliminate her twin to get him. So the still kind-hearted Ruka must learn how to control her own powers and, with the support of Katsuyuki, try to find a way to stop Rumi and turn her back to the kind girl she used to be.
Tropes used in Umi no Yami, Tsuki no Kage include:
Community content is available under
CC-BY-SA
unless otherwise noted.