For characters from Torchwood: Miracle Day, see that series' character sheet.
Torchwood Three
Captain Jack Harkness
  Have faith: with a dashing hero like me on the case, how can we fail?
Captain Jack Harkness is the man in charge at Torchwood: knowledgeable, immortal, absolutely gorgeous. Originally introduced in parent show Doctor Who, Came Back Wrong after dying, and given a spinoff because of aforementioned reasons. At his core, oscillates between Team Dad and Action Hero. We've definitely seen him be the Science Hero as well, though usually other members of the team (read: Tosh) have that down.
Gwen Cooper

  Oh, bollocks to serenity!
Total Watson and general Audience Surrogate, Welsh Gwen joining Torchwood is where the series begins. Functions as The Chick and/or The Heart, so much so that a coked-up-alien-fish calls her on it. An identical relative of one Miss Gwyneth (as the Doctor gleefully tells her, a "spatial genetic multiplicity"), which may explain her talent for using resurrection gimmicks. Does not take crap from anyone.
Dr. Owen Harper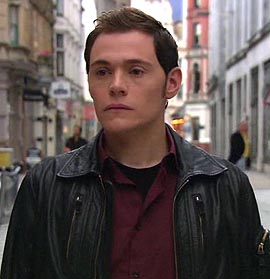 This is Owen's voicemail, don't leave a message.
 Played by: Burn Gorman (2006-08)
Oh, Owen. Torchwood's resident Dr. Jerk medical officer, Owen likes alcohol, sex, and being shockingly intelligent on occasion. Has a very nasty Establishing Character Moment in his first episode when he drugs a random woman and her boyfriend for date rape purposes. From that point on, though, he goes through absolute emotional hell about once every three episodes, and gradually becomes a much more agreeable person. Incredibly Troubled but Cute ("I'M BROKEN, TOSH!"). Also functions as The Lancer.
Anything That Moves: Has a penchant for suggesting wild sex any time the world's about to end. Once propositioned Ianto and Tosh when he thought they only had a few minutes left to live. Spends a lot of time trying to find new Fuck Buddies as well as one night stands.
Bi the Way: Seduces a woman using alien pheremones in his first appearance, until her boyfriend shows up... at which point he promptly seduces him too.
Break the Cutie: Starts the series completely broken, with no sign of "cutie" left. Gradually works his way back up, only to be broken over and over again. Eventually, we catch a glimpse of what he was like before Torchwood, and it turns out that he was a genuine cutie indeed. (In fact, Adam's interpretation of him wasn't even that far off.)
Deadly Doctor: After mid Season 2.
Combat Medic: Owen is the team's doctor, but also does things like swing out the window of a moving vehicle and shoot at cars while driving.
Only Mostly Dead: From mid-series 2.
Our Liches Are Different / Our Zombies Are Different: Take you pick as to which he is. He becomes either a

non-magical lich or a revenant zombie. Seems to be closer to lichdom than zombiedom as his mind is about as unaffected as it can be after coming back from the dead.

Pet the Dog: Owen's introduction was uncomfortably close to date rape, when he used alien pheromones to make two people uncontrollably attracted to him. Two episodes later, he gets to experience the feelings of a woman being raped through telepathy, and promptly does a complete Heel Face Turn on the issue. In the episode "Out of Time", he actually falls in love with someone, is dumped days later, and as a result (and after a period of violent mourning) generally becomes a nicer person.
Too Spicy for Yog Sogoth: After he

turns undead

, Weevils are scared shitless of him, to the point

they worship him like he was a god.

He eventually gets Genre Savvy to this and weaponizes it.

Death personified also avoids him like the plague (he's already dead and there's nothing for it to feed on)

, and the Nostrovites (carnivorous shape-shifters) won't touch him because he, "smelled a bit off."

Trauma Conga Line: Gets a new trauma every couple of episodes. Starts out broken, breaks more throughout season 1 and eventually

kills Jack

. Breaks again in season 2 and becomes

a suicidal zombie

. And from that point on, It Gets Worse.
Toshiko Sato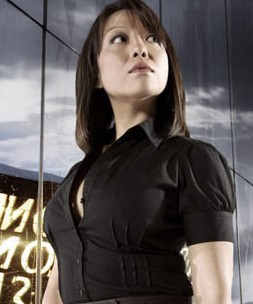 I'm going to have to dig down into the system memory and see if I can find any remnants of deleted or temporary files. Completely illegal, of course.
 Played by: Naoko Mori (2006-08)
The first member of Torchwood to appear in the Whoniverse, Tosh first met the Doctor in London. She's Team Torchwood's resident brainy chick. Tosh has just about Your Answer to Everything, and can wield a gun to boot. A great example of Intelligence Equals Isolation, or maybe simply I Just Want to Have Friends, made even more heart-breaking by her epic unrequited love with Owen.
Ianto Jones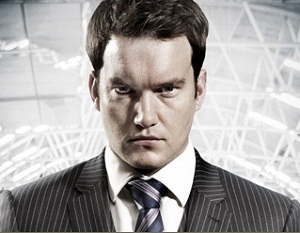 I clear up your shit. No questions asked and that's the way you like it. When did you last ask me anything about my life?
 Played by: Gareth David Lloyd (2006-09)
The Ensemble Darkhorse, due to much fan noise early on in the series. Responsible for getting the Torchwood team where they need to be, Ianto also can make a mean coffee and looks great in a suit. Started out as The Big Guy, but eventually was revealed to have a Dark and Troubled Past in his own right. Was initially part of Torchwood London and witnessed the Battle Of Canary Wharf. Becomes Jack's fuckbuddy after a while, and his exclusive boyfriend in season 2. Gets to meet the Doctor.
Other Recurring Characters
Rhys Williams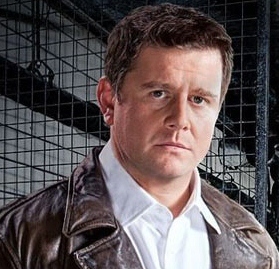 [Singing along] Who'd you trust to transport your goods? Harwoods! You won't be sorry with a Harwoods lorry!
 Played by: Kai Owen (2006-present)
Gwen's boyfriend. A regular sweet Welsh lad who drives a lorry. Gwen tries to keep Torchwood a secret from him, which of course backfires spectacularly.
Sergeant Andy Davidson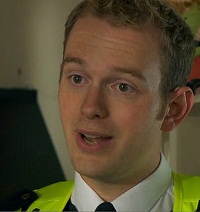 If she's anti-terrorist, I would not mind being Uncle Terrorist.
 Played by Tom Price (2006-present)
Gwen's friend (and ex) at the Welsh police who's a bit miffed when she suddenly leaves the force for Torchwood. Is very fond of Just Following Orders and a bit snarky.
Lois Habiba
 Played by: Cush Jumbo (2009)
An office girl who has a very confusing first day when her job suddenly involves aliens. Goes off to investigate and quickly gets mixed up with Torchwood.
Alice Carter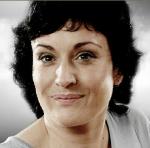 Played by: Lucy Cohu (2009)
A perfectly normal middle-aged woman with a perfectly normal young son, Steven. Spent much of her life in the witness protection program. Tries to cope with Jack, her father, as best as she can.
Recurring Villains
Suzie Costello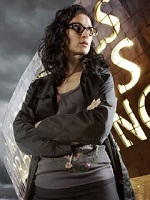 Played by: Indira Varma (2006)
Bilis Manger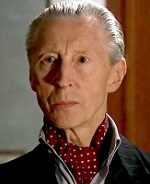 Played by: Murray Melvin (2007)
Captain John Hart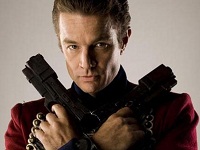 Here's what's going to happen: everything you love, everything you treasure, will die. I'm gonna tear your world apart, Captain Jack Harkness, piece by piece. Starting now.
Jack's former boyfriend of five years, also from the 51st century. A member of the Time Police, and -- like Jack used to be before meeting the Doctor -- a bit of a con man. Has a flair for the dramatic and wears cowboy gear for no discernable reason. Also shares Jack's love for standing on top of buildings.
John Frobisher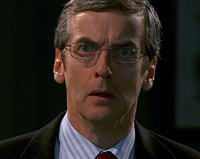 Bridget Spears: If ever you think of John Frobisher, just remember that it wasn't his fault.
 Played by: Peter Capaldi (2009)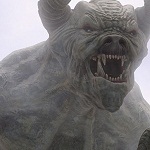 Abbadon (2007)
Gray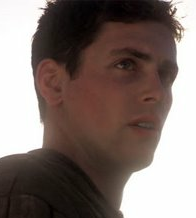 Young Gray played by: Ethan Brooke (2008)

Adult Gray played by: Lachlan Nieboer (2008)
The 456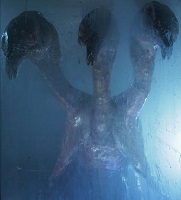 You will die. And tomorrow, your people will deliver the children.
 Voiced by: Simon Poland (2009)
Community content is available under
CC-BY-SA
unless otherwise noted.