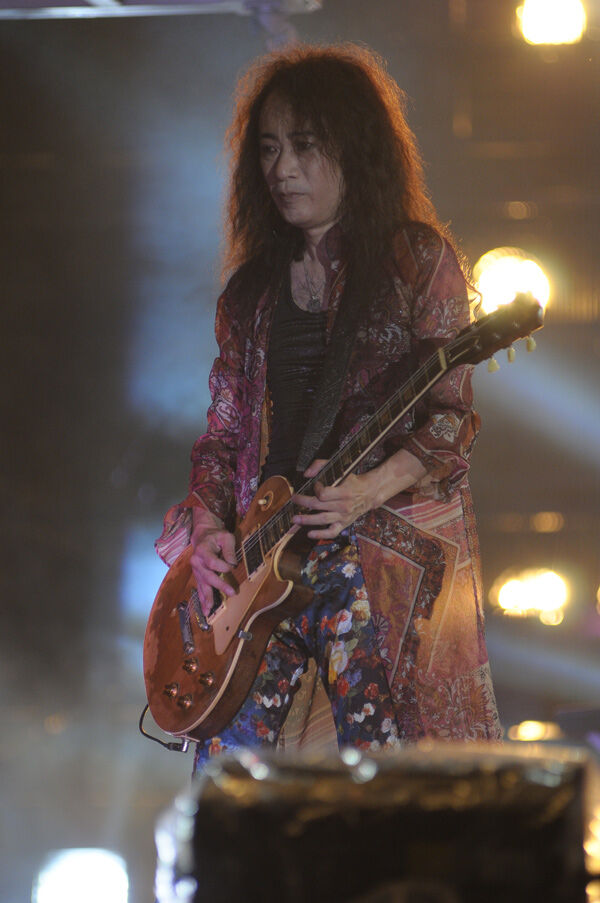 Tomoaki Ishizuka (best known by his stage name of "Pata," either chosen by himself or bestowed upon him by other bandmates because of how he reminded them of the character in a manga) is a Japanese rock guitarist best known for being the second guitarist of the band X Japan. Before his days with X Japan, he had his own band, "Judy" which he had asked Yoshiki to join, an offer which was turned down. Later, when one of X's guitarists took ill, Yoshiki asked Pata to join X Japan, he accepted, and the band's most recognizable lineup was in place.
Pata began a solo career in 1993, with the Pata's Bootleg concert and self-titled album "Pata." When X Japan lead guitarist hide began his solo career, Pata often played as one of his supporting guitarists as a member of Spread Beaver. He also played support for other bands and artists and toured with hide up until 1996.
After hide's death, he organized an alternative-rock band called Dope Headz with X Japan bassist Heath, and he continued to play with Heath in Dope Headz until the dissolution of the band. He would go on to form his current band, Ra:IN (members Pata [g], Michiaki [b], Tetsu [d], D.I.E. [keyboards, programming, vocals]
He also appeared in the Japanese rock film "Attitude."
---
Discography
Albums
Pata (November 4, 1993)
Raised on Rock (July 5, 1995)
Singles
Fly Away (September 21, 1994)
Shine on Me (January 21, 1995)
P.A.F.
Patent Applied For (March 25, 1998)
PAF.#0002 (February 24, 1999)
Dope Headz
Primitive Impulse (June 6, 2001)
Planet of the Dope (July 24, 2002)
Ra:IN
The Line (November 7, 2003)
Before the Siren (March 8, 2006)
Metal Box (April 9, 2008)
Provides Examples Of
Community content is available under
CC-BY-SA
unless otherwise noted.