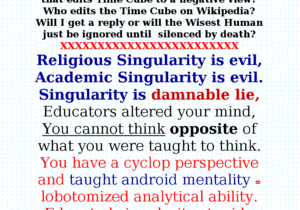 All are lunatics, but he who can analyse his delusions is called a philosopher.

—Ambrose Bierce
Internet crackpots have never been in short supply, from free range trolls of many different subspecies to rampaging fundies to shippers with upsettingly poor judgement.
And then there is Time Cube.
"Time Cube" refers to the "scientific" "theory" proposed by Gene Ray, self proclaimed "Cubic Phenomenologist", "Doctor of Cubism" and "Wisest Human", which espouses the concept that time is cubic. This meaning that Earth's two hemispheres are not fixed geographic points on a round planet, but two separate metaphysical spheres that rotate independent of each other and cancel each other out as antipodes.[1] As a result, four 24-hour days (or alternately, one 96-hour day) takes place in what we perceive to be one standard 24-hour day. He has also stated that nothing is able to exist without an exact and polar opposite. These theories have been described by some physicists as, in very technical scientific terms "being wrong". Yet other physicists counter that "wrong" is a too charitable description of the site.
"Dr" Ray's website (viewed here) has been a target of internet humor, mostly for his rambling writing style, incoherent beliefs and blatant racism, anti-semitism, homophobia and just plain hatred for humans in general. He has stated that the refusal of any institute of higher learning to accept his theories is the result of a massive conspiracy, and that anyone who rejects or remains ignorant of his ideas should be killed and is doomed to Hell (always the sign of a credible scientist). It is perhaps significant that Gene Ray is a diagnosed paranoid schizophrenic, a fact which he has announced publicly on several occasions.
Tropes used in Time Cube include:
 "Beware of the change when your brain is free from induced 'Word World' enslavement - for you could find that the natural "Real World" has been destroyed."
Notes
↑

At least, that's our best guess as to what the Time Cube theory espouses. It's difficult to find the actual theory amid all the ranting.
Community content is available under
CC-BY-SA
unless otherwise noted.