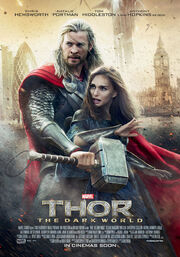 Thor: The Dark World is the 2013 sequel to Thor and the eighth film in the Marvel Cinematic Universe, directed by Alan Taylor of Game of Thrones fame.
Following an assault on Asgard by Malekith the Accursed and his dark forces, The Mighty Thor teams up with his disgraced brother Loki, still imprisoned for his actions in The Avengers, and a possessed Jane Foster to breach the eponymous Dark World (a.k.a. Svartalfheim) and take the fight to their enemy.
Stars Chris Hemsworth as Thor, Tom Hiddleston as Loki, Natalie Portman as Jane Foster, Anthony Hopkins as Odin and Christopher Eccleston as Malekith the Accursed.
Thor will return in Avengers: Age of Ultron.
Tropes used in Thor: The Dark World include:
Community content is available under
CC-BY-SA
unless otherwise noted.