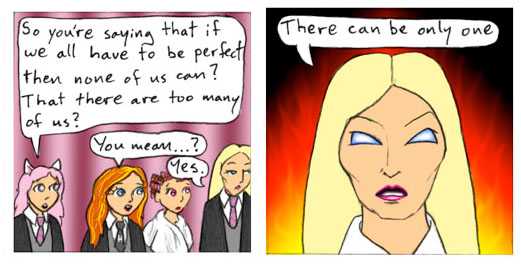 Mary Sue is legion. She has many forms, each more terrible than the one before. And she breeds.
Some authors, through either myopia, self-absorption, or the fact that they're writing the story with or for a group of their friends, don't stop at just one. They pile the Sue on. "Let's see, Purity Sue for the heroine, of course. Plus a Relationship Sue for her love interest. Villain Sue pitted against her, because my villain should be cool, too. Wait, people might think this is stereotypical, let's put her friend Anti-Sue in there to show everyone I'm a serious author. And hey, while I'm at it, why don't I make the Ensemble Darkhorses the heroine's best friends? They are SO underrated... and they can all have adventures in my Mary Suetopia!"
And then there are authors who don't want anyone stealing the limelight from the surrogate, so they pile every single Sue trait onto one character, creating a sort of... Hive Sue. On the other hand, authors that are slightly more fandom-savvy may forgo making original Sues and turn all their favorite canon characters into Possession Sues instead in order to fall under the Mary Sue Hunter radar.
Parody Sue is usually this done deliberately, although it can become hard to tell it was supposed to be a joke. Parodies of multiple types of Sue tend to turn into a bloodbath (see page picture), as there's usually only room for one. And the above example raises a kind of interesting question: When everyone is a Mary Sue, would they cancel each other out? Or would the universe implode? The idea that they cancel each other out is one of the major rationales behind this trope. After all; if everyone is a Sue who can complain?
No examples please, this just defines the trope.
Community content is available under
CC-BY-SA
unless otherwise noted.