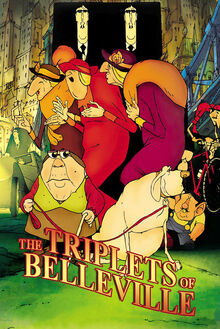 AKA Les Triplettes de Belleville or Belleville Rendez-vous. A 2003 French animated film by animator and writer Sylvain Chomet that, for all its quirky twists and turns, ultimately becomes an introspective character study rather than simply a piece of popular entertainment. Basically, a cartoon for adults. Also tied together by some truly fantastic jazz and period-inspired music by Benoît Charest.
Madame Souza lives with her recently orphaned grandson Champion, who appears understandably depressed. In an effort to cheer him up, she buys him a dog, Bruno, and (after discovering his love of cycling) a tricycle.
Twenty years later, Champion has become a ferocious cyclist under his grandmother's stern training regimen. Bruno has gotten enormously fat (except for his legs) and lives to eat and bark at the trains that pass perilously close to their ramshackle house.
Champion enters the Tour de France, but is kidnapped partway through by mysterious mob thugs. Madame Souza, with Bruno's help, follows them by truck, on foot, and by boat, winding up in the fanciful city of Belleville.
Here, she encounters the titular triplets, aged former Vaudeville stars now living out their days going bombing for frogs and playing trios on the newspaper, refrigerator, and vacuum cleaner.
Together, the motley crew must use their quick wits and bizarre skills to outfox the mob and rescue Champion.
By the way, it's (almost) silent.
Tropes used in The Triplets of Belleville include:
http://fr.wikipedia.org/wiki/Yvette_Horner
Community content is available under
CC-BY-SA
unless otherwise noted.