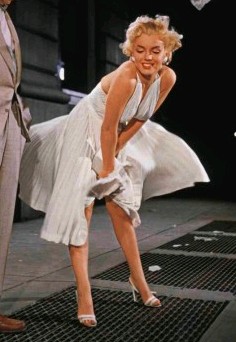 "When something itches, my dear sir, the natural tendency is to scratch."
The 1955 Billy Wilder-directed film that marked the arguable high point of Marilyn Monroe's popularity - and a fair contender for the title of the most famous American film you've probably never seen.
Richard Sherman (Tom Ewell) is a wealthy book publisher who lives with his wife and young son in a large apartment in the Gramercy Park neighborhood of New York City. It gets so hot one summer that the wife and kid decide to take a vacation up to Maine, with Richard staying behind to hold down the fort.
Richard has been having disagreements with his wife lately, and feels repressed. Even so, he agrees (at first) not to smoke, drink alcohol, or eat meat for the duration of his time alone. But one evening, as he is returning home from dinner at a vegetarian restaurant, he slips on one of his son's roller skates, hits his head....and, in the form of the blonde, curvy Girl (guess who), Hilarity Ensues.
Actually based on a 1952 stage comedy in which Ewell also appeared - and which included an actual extramarital affair between Richard Sherman and The Girl, which was censored out in the film version.
Also is famous for popularizing the Marilyn Maneuver, which is discussed in more detail below.
---
This film provides examples of:
 Tom MacKenzie: What blonde in the kitchen?

Richard: Wouldn't you like to know! Maybe it's Marilyn Monroe!
 Narrator: The island of Manhattan derives its name from its earliest inhabitants - the Manhattan Indians. They were a peaceful tribe, setting traps, fishing, hunting. And there was a custom among them. Every July when the heat and the humidity on the island became unbearable, they would send their wives and children away for the summer, up the river to the cooler highlands, or if they could afford it, to the seashore. The husbands of course, would remain behind on the steaming island to attend to business - setting traps, fishing, and hunting. Actually, our story has nothing whatsoever to do with Indians. It plays 500 years later. We only brought up the subject to show you that in all that time, nothing has changed.
 Richard: Let me tell you, Helen loves me.

Tom MacKenzie Sure, she loves you!

Richard: She loves me because I'm sweet and gentle and worried, and nervous and shy and tender! (knocks him out)
 Richard: I can explain everything: the stairs, the cinnamon toast, the blonde in the kitchen!

Tom Mackenzie: Wait! Wait a minute, Dicky-boy! What blonde in the kitchen?
Community content is available under
CC-BY-SA
unless otherwise noted.