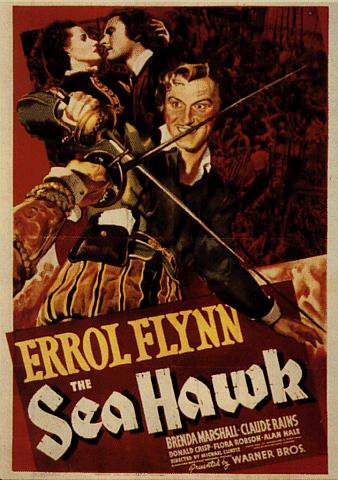 The Sea Hawk is a 1940 Warner Brothers Swashbuckler of piracy in the age of Elizabeth I, directed by Michael Curtiz, and starring Errol Flynn, Brenda Marshall, and Flora Robson; notable minor roles were sustained by Donald Crisp, Alan Hale, Sr., Henry Daniell, and Claude Rains. Though the film took its and its main character's names from the 1915 novel by Rafael Sabatini, it featured an almost entirely original screenplay by Howard Koch and Seton I. Miller, based loosely on the life of Sir Francis Drake and the story of the Spanish Armada. (It shows some influence from the 1937 Armada film Fire Over England, which also starred Flora Robson, as well as a young Laurence Olivier and Vivien Leigh.)
Sabatini's picaresque novel had already been filmed as a silent in 1924, a version that hewed much more closely to the book. The 1940 film was deliberately designed not only as an adventure film, but also as a call to rally to the defense of Britain, then threatened by the Nazi juggernaut. The film was originally intended to end with a shot of England's modern-day battle-fleet; as it is, it ends with a speech by Robson denouncing "ambition of one man" who threatens peace for all -- the parallel between Philip of Spain and Adolf of Germany being all too obvious. It was, indeed, this timely message, delivered before America had entered the war, that caused this film to be ranked, along with Lady Hamilton, as one of Winston Churchill's favorite films.
Errol Flynn plays a much more controlled, subdued character as Captain Geoffrey Thorpe than in his previous swashbucklers; Thorpe is a man driven solely by his patriotic duty. Olivia de Havilland having rejected the part of Doña Maria for fear of type-casting (she was, moreover, at odds with the Warners' management over her insistence on playing the part of Melanie in Gone with the Wind), was replaced by Brenda Marshall, who made a lusciously raven-haired, sloe-eyed, aristocratic Spanish lady. Similarly fearing to play to type, Basil Rathbone rejected the part of the scheming Lord Wolfingham, and was replaced by the icily evil-sounding Henry Daniell. Montague Love took the part of King Philip II, and Claude Rains played Maria's Satanic-appearing but ultimately rather sympathetic uncle.
The eminent Austrian composer,Erich Wolfgang Korngold, who had been driven from his home by the Nazi Anschluß, having already produced outstanding scores for two previous Flynn swashbucklers, Captain Blood and The Adventures of Robin Hood, undertook to score The Sea Hawk as well. The resulting score was a lush Late Nineteenth Century evocation of the spirit of the sea, of adventure, and of romance, characterized by Wagnerian themes and Leitmotifs, and seasoned with hints of Spanish rhythms and Elizabethan lute-songs (Maria sings the original song, "Stood a Maiden at Her Window," accompanying herself on a lute.). The music garnered Korngold an Academy Award nomination for Best Music Score (losing to Alfred Newman's Tin Pan Alley) and has been considered a classic of film music ever since.
Other notable talents engaged for the film included fencing master Fred Cavens to choreograph the duels. Unfortunately, Henry Daniell, though an outstanding actor, was absolutely hopeless as a fencer -- so, for the climactic Duel to the Death between Thorpe and Wolfingham, Cavens had Errol Flynn progressively snuff out with his rapier the candles lighting the scene, conveniently hiding the fact that Cavens himself was standing in for Daniel except in close up shots.
Synopsis (Spoilers Follow)
 In the late sixteenth century, King Philip II of Spain (Montague Love), seeking to dominate Europe, finds his way blocked by "one stubborn little island, as barren and treacherous as her queen." He instructs his ambassador, Don José Alvarez de Cordoba (Claude Rains), to depart for England, to lull all suspicions there. The ambassadorial galleass, however, on its way is captured and sunk by the Albatross, the privateering ship of Captain Geoffrey Thorpe (Errol Flynn), who plunders the vessel and frees the English galley slaves rowing her. He resolves to take Don Alvarez and his lovely niece, Maria (Brenda Marshall), who is to become one of Elizabeth's ladies-in-waiting, to their destination in England. Thorpe is obviously smitten with Maria, but she responds coldly, until she sees he has restored her jewelry to her and considers his kindness to the former slaves. Back in England, Queen Elizabeth I (Flora Robson) presides over a divided council; some, like Sir John Burleson (Donald Crisp), wish to build a fleet to oppose the great Armada Philip is building, while the treacherous Lord Wolfingham (Henry Daniell) dissuades her. When Don Alvarez arrives, the Queen accepts Maria, but smilingly puts off Don Alvarez's requests for compensation for the depredation of "the Sea Hawks," the English privateers plundering Spanish ships and towns. When Thorpe arrives at court, she severely reprimands him for his activities in public; privately, however, she reveals that she is sharing in his plunder, and encourages him in his plan to attack the Spanish treasure caravan in Panama. Wolfingham's suspicions are aroused when his spy, Kroner, cannot get Thorpe to admit where his ship is headed; he and Don Alvarez deduce from an ornament on the unmarked chart of the Albatross that Panama is his objective, and they plot to capture him. Maria, who has fallen in love with Thorpe, hurries to Dover to warn him -- and arrives just too late. The trap is duly sprung; Thorpe and his men are taken prisoner, and condemned to be galley slaves. Meanwhile, Elizabeth, threatened by Don Alvarez with open war if she does not accede to the arrest of the Sea Hawks, reluctantly agrees. Thorpe and his men manage to escape, and seize the very ship that is bearing secret orders to Wolfingham, as well as returning Don Alvarez to Spain; Maria has chosen to remain in England. When Thorpe arrives at Dover, he hides in Maria's carriage; she agrees to smuggle him in to see the Queen, but he is meanwhile recognized by Kroner, who orders the palace guard to prevent any access to the Queen. Meanwhile, Thorpe runs into Wolfingham, they duel, and Thorpe kills the traitor -- whereupon he is attacked by the palace guard, until the Queen, warned by Maria, orders them to stop, and reads the dispatches revealing the dead lord's treachery. On board the Albatross, Elizabeth knights Thorpe for his services to the country, and vows to build a fleet to defend England and Europe against the insane ambition of King Philip. The film ends with Thorpe's crew cheering, "To England and the Queen!"
---
This film provides examples of:
Community content is available under
CC-BY-SA
unless otherwise noted.