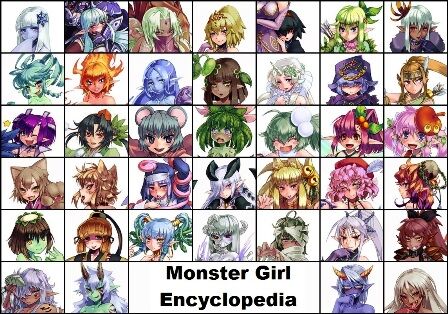 Imagine your typical RPG-style fantasy world, filled with monsters and adventure. Now replace all of said monsters with Cute Monster Girls, and throw in huge amounts of Fan Service and outright sex. The Monster Girl Encyclopedia is Exactly What It Says on the Tin, a bestiary dedicated to cataloguing all the different kinds of Cute Monster Girls in the world. Naturally, the entries are filled with Fetish Fuel, and the text (and sometimes the art) of most are Not Safe for Work.
A compilation of translated entries for the Encyclopedia canon and canon settings books can be found here (needs registration in order to view the contents). New monster species are being added on a regular basis by the original creator, and this site is where the translated info is first posted (there are 217 profiles at present). One can also go to either Danbooru or Gelbooru for the newest additions to the list ( which may not even be translated into English yet), though some of what they feature may be outdated or inaccurate.
Also see Living With Monster Girl for a Doujinshi series with similar content.
Also, good news for English speaking countries: Seven Seas Entertainment has licensed the Monster Girl Encyclopedia. The two existing volumes of MGE entries are now available to buy in English. It is as yet unknown if Seven Seas will translate the settings books as well.
Another Story of Fallen Maidens, a game set in the MGE world and featuring the adventures of the hero Eristia as she explores various monster transformations, has been translated and can be purchased here WARNING: NSFW.
Note that due to the material having gone through a number of translators over the years, and an increasing amount of understanding from the English fanbase (and communication with Kenkou) regarding the best/intended ways to translate, one may find multiple translations for various terminology (for instance, the types of mana, namely monster mana and essence, were for some time always translated as demonic energy and spirit energy respectively, and continue to be on the MGE wiki, but not on Monster Girls Redux). This wiki will when possible use the terminology as translated by Seven Seas, since they are the ones who have been able to work most closely with Kenkou Cross.
Tropes used in The Monster Girl Encyclopedia include:
Community content is available under
CC-BY-SA
unless otherwise noted.