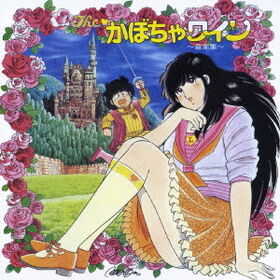 The Kabocha Wine (Theかぼちゃワイン The Kabocha Wain, trans. The Pumpkin Wine) is a Japanese manga series written and illustrated by Mitsuru Miura. It was serialized in Kodansha's Weekly Shōnen Magazine from 1981 to 1984, and had 18 volumes. It also received the 1983 Kodansha Manga Award for the shōnen category. There were two sequels: a 2006 oneshot known as The Kabocha Wine - Sequel (The かぼちゃワイン sequel, lit. "The Pumpkin Wine - Sequel"), and a six-tome seinen manga named The Kabocha Wine - Another (The かぼちゃワインAnother, lit. "The Pumpkin Wine - Another") that ran from 2007 to 2009.
There was a 95-episode anime by Toei, aired from 1982 to 1984. It even had its own sequel in 1984: the movie The Kabocha Wine: Nita no Aijou Monogatari (Theかぼちゃワイン ニタの愛情物語 The Pumpkin Wine: Nita's Love Story). And last but not least, there was a live-action movie in 2007 based on the Another sequel.
The premise is more or less like this: A very short and snarky young man named Shunsuke Aoba transfers to Sunshine High School, and in what he thinks it'll be his first day there (it's a holiday, he got the dates wrong), he meets a very pretty new girl named Natsumi Asaoka. When he sees her standing up for the first time, he realizes another detail... she. is. HUGE. As in, much taller (and boobielicious!) than the average Japanese girl. She, a SL (Super Large) girl, is used to people looking at her like a weirdo... but Shunsuke breaks these rules, and treats her like a normal gal. Natsumi appreciates this very much and soon she becomes fond of Shunsuke, who finds himself being kind to her even when he doesn't always intend to...
See also Lovely Complex, about another couple with a short dude and a tall lady.
Tropes used in The Kabocha Wine include:
Community content is available under
CC-BY-SA
unless otherwise noted.