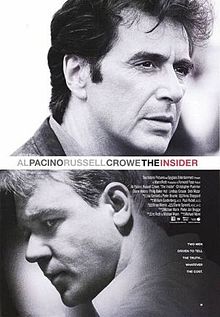 The Insider is a 1999 film starring Russell Crowe, Al Pacino and Christopher Plummer. It tells the true story of Jeffrey Weigand, a researcher at Brown & Williamson tobacco company. After Weigand is fired from B&W he goes to 60 Minutes and producer Lowell Bergman to spill the secrets he knows about the tobacco industry. Weigand's and Bergman's attempts to reveal the truth about Big Tobacco lead to resistance from B&W--and, surprisingly, from their own network.
Nominated for seven Oscars but didn't win any. Mike Wallace of 60 Minutes, who didn't like Plummer's unflattering portrayal of him, took some pleasure in that.
---
This film contains examples of:
 Bergman: (to hotel manager) I want you to tell him, in this - in these words: "Get on the fucking phone!"

Hotel manager: I can't say that.

Bergman: No, you can. Tell him to get on the fucking phone!

Hotel manager: He told me to tell you to "Get on the...fucking phone!"

(Wigand grabs the phone)
Community content is available under
CC-BY-SA
unless otherwise noted.