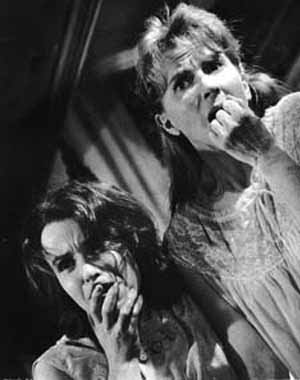 The ultimate example of less-is-more in horror cinema. Eleanor "Nell" Vance (Julie Harris) has volunteered for a study on paranormal activity conducted by Dr. John Markway (Richard Johnson), with two other participants: Luke Sanderson (Russ Tamblyn), who stands to inherit Hill House, where the study's being held, and Theo (Claire Bloom) a woman with ESP skills. Turns out the doctor's suspicions about the existence of ghosts are correct. There's something in the house with them. But what?
Made in 1963 and directed by Robert Wise, it was based on the book The Haunting of Hill House by Shirley Jackson.
Remade in 1999 with Liam Neeson, Lili Taylor, Owen Wilson, and Catherine Zeta Jones.
---
This movie contains examples of:
  You'll be sorry I ever opened the gate.
  I'm Theodora, just Theodora.
The Remake has these additional tropes:
 Nell: Well, I've come home Grandpa. And you--you can go straight to Hell!
Community content is available under
CC-BY-SA
unless otherwise noted.