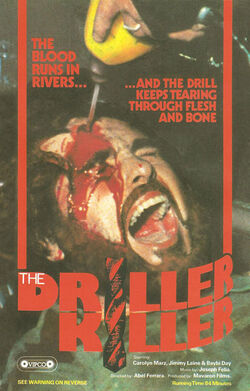 As the drill finds its victim... the blood runs in rivers... and the drill keeps tearing through flesh and bone.

—Tagline
| | | |
| --- | --- | --- |
| | "Even the word 'sleaze' wouldn't fuck this movie!" | |
The Driller Killer is a 1979 horror movie directed by and starring Abel Ferrara. It is Ferrara's debut film.
By day struggling artist Reno paints to survive. Sharing the seamy squalor of his New York City pad are Carol and Pamela. Reno tries hard to keep them happy. The pulsating paranoia of the city squirms and crawls in his psyche. The feverish shadoworld of the lower east side seeps into his subconscious. Rape, Murder, Terror. His mind splits under the strain.
By night, armed with a portopack electric drill Reno commits his first drill killing. His homicidal half spills the brains of innocent victims over the sidewalks of the city.
Carol abandons him. Rock rouser Tony Cocacola and the Roosters move into the apartment below and begin blasting his brain to oblivion. His art dealer criticizes his latest work. Reno responds with a fast finger on the trigger of his killer drill!
The screen releases the dream of an energy black as night and blood as real as love! Plug into terror with the driller killer!
Initially released on home video in 1982 by Charles Band's Wizard Video in the United States, the film was praised in the United States but lambasted in the United Kingdom as a Video Nasty and banned there for nearly two decades before finally being released there in 2002 (a censored version had previously been released in 1999). It has since fallen on the Public Domain.
---
This film contains examples of:
Community content is available under
CC-BY-SA
unless otherwise noted.