The Bad Guy Wins is usually a definitive ending to a story.
This story, however, is when an alternate future, alternate timeline or parallel universe exists when the villain won.
Thus, this trope differs from The Bad Guy Wins in that it's a scenario that could have happened, rather than a scenario than has happened. In the regular timeline/universe, the villain in question has been defeated (or at least has yet to suceed at Taking Over The World).
A staple of this trope is taking the meekest and/or most laidback member of the main cast, and make him/her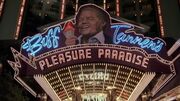 the battle-scarred soldier leading the resistance.

While this is often a Bad Future, as this can also involve parallel universes, this is just as often a Bad Present.
Examples of The Cutie Remark include:
Anime and Manga
Trunks comes from an alternate future when Android 18 and Android 17 took over Earth and killed most of the Z Fighters.
Comic Books
Age of Apocalypse is an alternate universe when Apocalypse took over Earth because of Charles Xavier's death in this universe, so Magneto leads the X-Men in the fight against Apocalypse
Days of Future Past is an alternate universe when Sentinels have taken over the Earth and exterminated most of the superpowered population
Future's End is an alternate universe when Brother Eye took over Earth, and most of the population suffered from Unwilling Roboticisation.
Animated Film
Live-Action Film
Live-Action Television
In the Power Rangers Mystic Force two-parter "Dark Wish", Imperious get ahold of Jenji's lamp. Despite Jenji being a Benevolent Genie, he still has to grant Imperious' wish, creating an alternate timeline when Imperious took over Earth.
Western Animation
The Trope Namer is the My Little Pony: Friendship Is Magic episode "The Cutie Remark" . Due to Starlight Glimmer travelling back in time to prevent Rainbow Dash's first Sonic Rainboom, several alternates timelines are created: one where King Sombra won, another where Queen Chrysalis and the Changelings won, another when Nightmare Moon won, another when Discord won, and another when the Flim Flam Brothers won
An episode of Gargoyles shows an alternate future when a cybernetic David Xanatos took over Earth.
An episode of Xiaolin Showdown showed an alternate future when an older Jack Spicer took over Earth because Bumi wasn't there to stop him.
Community content is available under
CC-BY-SA
unless otherwise noted.