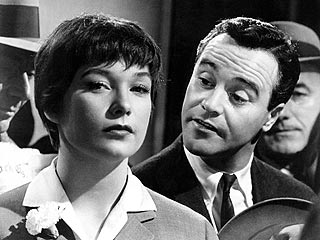 J.D. Sheldrake: Ya know, you see a girl a couple of times a week, just for laughs, and right away they think you're gonna divorce your wife. Now I ask you, is that fair?

C.C. Baxter: No, sir, it's very unfair... Especially to your wife.
The Oscar-winner for Best Picture of 1960, The Apartment stars Jack Lemmon and Shirley MacLaine, and was directed, produced, and co-written by Billy Wilder.
A lowly office drone, C.C. "Bud" Baxter, has just found the solution to getting up the corporate food chain: let the corporate bigwigs use his apartment for their extramarital affairs. His boss, J.D. Sheldrake finds out, and promotes Baxter on the condition that he lets him use the apartment for his own affair. Naturally, Baxter accepts the condition, but he reconsiders when he finds out his crush, Fran Kubelik, is Sheldrake's other woman. Things turn very complicated when he finds her close to death on his bed.
Tropes used in The Apartment include:
 Baxter: You're not going to bring anybody to my apartment.

Sheldrake: I'm not just bringing anybody; I'm bringing Miss Kubelik.

Baxter: Especially not Miss Kubelik.
Grew a Spine: Baxter eventually refuses to loan his apartment to Sheldrake again, and quits instead.
 Sheldrake: What's gotten into you, Baxter?

Baxter: Just following doctor's orders. I've decided to become a mensch. You know what that means? A human being.
Interrupted Suicide: Miss Kubelik tries to kill herself when she realized Mr. Sheldrake didn't really love her back. Baxter prevents her from becoming an example of Driven to Suicide.
Last-Name Basis: Bud and Fran always refer to each other as "Miss Kubelik" and "Mr. Baxter".
Maybe Ever After: "Shut up and deal."
The Mistress: Miss Kubelik.
Moral Myopia: The other executives -- who are cheating on their wives and depriving Baxter of his home whenever it suits them in order to do so -- get outraged and act as if they're the ones being wronged when Baxter finally pulls the plug for them.
Nice Hat: Baxter gets a bowler hat after his promotion.
 "It's what they call the 'junior executive' model."
 Dobisch: No kidding. Buddy-boy and Kubelik having themselves a little toot!

Kirkeby: Toot? More like a lost weekend. Neither of them showed up for work today.
 "Bud begins to deal, never taking his eyes off her. Fran removes her coat, starts picking up her cards and arranging them. Bud, a look of pure joy on his face, deals -- and deals -- and keeps dealing.



And that's about it. Story-wise."
Yiddish as a Second Language: Dr. Dreyfuss encourages Baxter to "be a mensch", while Mrs. Lieberman opines that the bad weather "must be from all that mishegass at Cape Canaveral".
Community content is available under
CC-BY-SA
unless otherwise noted.