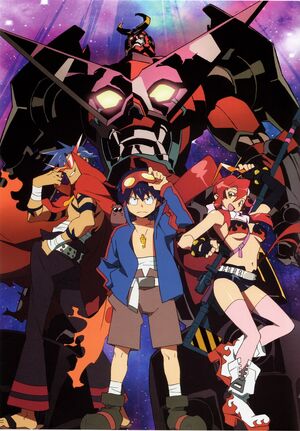 Tengen Toppa Gurren Lagann (roughly "Heaven-Piercing Crimson Face") is what happens when Studio Gainax is asked to create a Saturday Morning Cartoon.
Lonely orphan Simon (pronounced "SHI-mon" in Japanese and "SEE-mon" in the dub) lives in an underground village, digging for ancient artifacts and eating pigmoles. His self-appointed big brother, Kamina, is a hot-headed idiot who dreams of going to the "Surface" as his father did (despite the village elder constantly saying the "Surface" doesn't exist).
Then Simon discovers a strange drill-shaped key -- and, soon after, a pint-sized mecha which responds to the key.
Taking his "brother" to see it, they're interrupted by (in turn) the village elder, the roof of the village collapsing, a massive bestial robotic head, and Yoko, a woman with a very big gun and very little clothing firing at said beast-mecha -- a "Gunmen".[1]
Thus begins a rollercoaster ride of Fan Service, over-the-top fight scenes between mecha, hot-bloodedness, epic sunglasses, massive Badassery, and mind-blowing heroism. The show is loads of fun and doesn't take itself seriously at all.[2] Don't try reading any science into the show; common theory (and near Word of God) says its Universe is governed by Rule of Cool and Rule of Funny. On Mohs Scale of Science Fiction Hardness, Gurren Lagann ranks as one of the softest.
There are two Compilation Movies (with new scenes to help tie things together and provide movie-original climaxes): Gurren-hen ("Crimson Lotus Chapter", titled as Childhood's End outside of Japan) and Lagann-hen ("Spiral Stone Chapter", similarly titled The Lights in the Sky Are Stars). There are also three manga: one is a slightly altered version of the anime, another is a hilariously awesome High School AU, and the third is set in an Alternate Universe focusing on Simon and Nia. A Buddy Cop Show Fan Comic by the name of Double K also exists -- and it is glorious.
Gurren Lagann was originally licensed by ADV Films, but was later lifted from their license list and given to Bandai. The English dub -- under the title Gurren Lagann -- began showing in America on Sy Fy right before Now and Then Here and There and MD Geist.
The entire series is legally available on YouTube, Netflix, and Hulu... at least in the United States and Canada. (On Netflix, it's only available in the US and UK.)
Oh, one more thing: this show is highly quoteable.
---
Late Arrival Spoiler Warning (PLEASE READ): Gurren Lagann was wildly popular on the Internet during its original broadcast in Japan and the months following its end, and said popularity led to Troper Critical Mass (and the insanely long -- and detailed -- page you are about to read). Most of the spoilers below are marked as such, but quite a few aren't. If you possess any interest in seeing the series for yourself without any spoilers, don't scroll down the page. Don't even Google the series name or check out the subpages. The only way to truly enjoy this show spoiler-free is to watch it using the links above!
---
These tropes will pierce the Heavens!
A-H
 "I'm Simon. Dai-Gurren Birgade's Leader, Simon the Digger. If you become a wall that stands in our way, I'll tear open a hole and break through every time! That is...my drill!"
 "Go beyond the impossible and kick reason to the curb!"

Kamina:Your drill is the drill that will pierce the heavens!
  Kamina: A man's stomach knows no limit! Keep 'em on coming!
 Kamina: Wait. That guy was in the show?

Simon: Huh? You forgot him already?
 'Kamina:' "Hey, babe! Come here often?"
  Kamina: A true man never dies, even when he's killed!
I-P
   "BURN IN THE EVERLASTING HELLFIRE OF CREATION! BE UTTERLY ANNIHILATED! DOWN TO THE VERY LAST SCRAP! OF D! N! A!"
Q-Z
 Viral: Why was I dreaming of Kamina!? Well, I guess I'm allowed to have sweet dr-NO, NO! NOT SWEET! NOT SWEET!
  Kittan: "Damnit, let me finish talking!"
 Viral: "It's no good! Our drill can't penetrate it!" [paraphrase]

Simon: "So we need a bigger drill!?" [paraphrase]
---
The lights in the skies are stars... Yeah, they're stars. Stars where our spiral cousins are waiting for us.

Notes
↑ Ganmen in Japanese, meaning "face"
↑ Except at the very end.
↑

Enki looks like one of the angels, while Lazengann looks just like a robotic Evangelion.
Community content is available under
CC-BY-SA
unless otherwise noted.