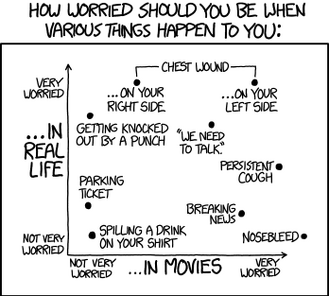 Fiction is not reality. While fiction rarely shows the negative consequences of a trope, reality is not as forgiving. Every trope here can have serious if not fatal repercussions in reality people treat them as if they were true. These may originate as a case of Reality Is Unrealistic. See also Do Not Try This At Home. The result of doing something on this index may well be a Darwin Award.
Unfortunately, this is more dangerous than most people realize. Although most people don't really consider fiction a reliable source of information, people don't even usually remember where they learned stuff from, even just in the broad categories of 'reliable source' and 'unreliable source'. (See Unconventional Learning Experience)
This is an index. A description of why a trope fits here is fine but examples should go on the respective trope pages. Try not to add 300 additional bullet points if it can be helped.
---
Tropes:
↑ Large birds of prey accidentally touching these lines have been known to get roasted to a crisp and have their beaks melt
↑ For example, jaw pain and flulike symptoms are a common combination of heart attack symptoms most people ignore. Any pain in the jaw or arm, alone or in combination with other symptoms, should be treated as a suspected heart attack. Same goes for stroke, which also often presents in less dramatic and sudden ways than a collapse. For instance many heart attack victims are found on the toilet because when your heart stops pumping as hard (only the actual stoppage is sudden, the symptoms come on slowly), the blood pools in the lower extremities, pressing on your intestines and making it feel like you have to use the toilet. (That's why hospitals and rest homes have pull cords by toilets!) This sort of behavior obviously doesn't make for thrilling TV, though, and isn't very obvious when transferred to a visual media.
Community content is available under
CC-BY-SA
unless otherwise noted.