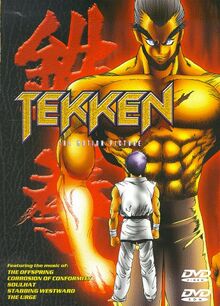 An anime based on the fighting game franchise Tekken, specifically the first two games. Originally released as a two-part OVA, the parts were edited together for the western release as a movie.
Multi-billionaire Heihachi Mishima is having a fighting tournament on the island which is the base of his operations. This attracts many fighters, including the Action Girl Jun Kazama and the policeman Lei Wulong who have come investigate Heihachi's suspected illegal activities. . . and Heihachi's wayward son Kazuya, who wants revenge for being left for dead in the past by him. Jun is firmly convinced of two things: that Kazuya is a young boy that she once met in her past, and that he's been ensnared by a darkness that only she can release him from; from his part, Lei makes a very surprising and disturbing discovery about Heihachi's experiments. . .
Tropes used in Tekken the Motion Picture include:
Community content is available under
CC-BY-SA
unless otherwise noted.