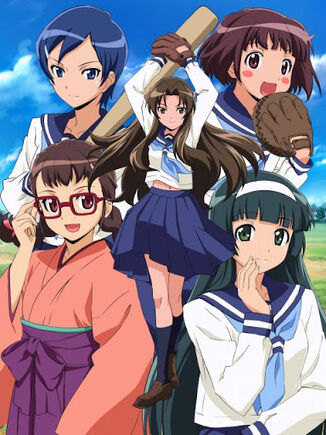 1925, Japan. The Taishou era is nearing its end, an era that increased the Western influence of the Meiji era. Among other things, the now ever-present "sailor uniform" was introduced in 1920. Another sign of the times was the feminist movement, which began to gain traction. However, Japan is still a very patriarchal society, and even running is seen as a vulgar thing for women to do.
It is to this backdrop that Taishou Yakyuu Musume (Taisho Baseball Girls) is set. The rich middle-schooler Akiko Ogasawara is at a party held by her rich father, wherein the subject of feminism is brought up by her arranged fiancé, the also middle-schooler Sousuke Iwasaki. After he voices patriarchal views to Akiko, she becomes angry and decides to prove Iwasaki otherwise by beating him at his own game - baseball. Together with her close friend Koume Suzukawa, she tries to gather an all-girls baseball team called the Ouka-Kai; however, there are many obstacles in the way - finding enough members, learning how to play, continuing in the face of humiliating defeats. . .
Based on a light novel series by Atsushi Kagurasaka. Animated by J.C.Staff. It also had a PS2 game.
Compare with Princess Nine.
Tropes used in Taishou Yakyuu Musume include:
Ahoge: Kyouko and Kochou.
 Noriko: "Oh, I long to shower the lily's calyx with my impassioned feelings..."
Community content is available under
CC-BY-SA
unless otherwise noted.