In General Edit
Taimanins or "Anti-Demon Ninjas". A group of super powered ninjas tasked with dealing with the corruptions created by demons and "evil influenced" people. Each taimanin seems to have their own unique superhuman ability (e.g. Asagi's Super Speed, Sakura's ability to travel through shadows, Yukikaze's ability to generate lighting, and etc.). Most taimanin live in the fictional village of Gokuruma, which doubles as their base of operation. Younger taimanin are trained at Gosha Academy. Usually taimanin are often paired in teams of two when going on missions, sometimes three or more depending on the difficult of the mission. However, more experienced veteran Taimanin have been known to go on solo missions.
Asagi Igawa Edit
This story's main character. The game operates along her point of view. She is one person of the Anti-Demon Ninja. She is a female ninja of justice going against the demon people's heretical doctrine. She lost both of her parents early and now only has her sister. Ingenious at the martial art of fencing, she has speedily excelled her training, and is recognized from her achievements thus far as the strongest of those repelling the demon influence. Her childhood friend, and her love, Kyousuke Sawaki, kept her father company as a pupil of his until he passed away. Above anything else, all female ninjas, like Asagi, walk among the scenes of carnage, and as such, believes that her duties always take priority, thus regards and acknowledges lovemaking as strictly taboo, and as such, Asagi is forced, much too often, to cast away Kyousuke's love.
Ninja Arts: Sword Battle Petal A kind of branching technique. It is able to kill several opponents all at once, sending it out in an arc to hundreds of bodies at its greatest efficiency. Furthermore, its scope reaches one's field of vision, being able to send out in an instant anywhere a delivery, sort of like an aircraft fighter locking on a target. This battle system of ninjitsu is at its strongest when its used in close quarters.
Sakura Igawa Edit
Heroine and Asagi's younger sister. A beautiful girl favoring a winning, vigorous attitude. She holds one side of her sister as being brave and gallant. Much like Asagi, she's endowed with the strong ability of the ninja from heredity, yet her strength is still much at an apprentice level. She wants to use her strength for the benefit of justice, aspiring to become an Anti-Demon Ninja member, opposing evil with Asagi. Nevertheless, she keeps her pursuit of knowledge and training hidden from her older sister.
Murasaki Yatsu Edit
Murasaki Yatsu starts out as a up and coming Taimanin in training at Goshu academy and Kuroi Yatsu younger sister. Despite her youth and inexperience, many veteran taimanin, including Asagi, see great potential in Murasaki. Of course due to her beauty and skills she becomes the idol of Goshu academy, also developing a rivalry/friendship(much to her dismay)with Sakura. Similarly to her brother Kurou, Murasaki's ninja ability grants her a vast Healing Factor which allows her to regrow entire limbs and Super Strength.
Murasaki power basically grants her immortality unless her head and heart are destroyed.
Kurou YatsuEdit
Often referred to as the Blind Taimanin Kurou is a veteran Taimanin and long time friend/subordinate to the Igawa family, He is also Murasaki older brother. Despite not being able to see he makes up for this with *Super Senses.Like his younger sister, Kurou has *Super Strength and a *Healing Factor. His signature weapons are a jack-knife and sub-machine gun.
Yukikaze MizukiEdit
Often referred to as the Lightning Taimanin due to her unique ability to generate and manipulate lightning to power her twin handguns, which controls her lightning attacks. This ability was apparently taught to her by her late father. She is a student at Goshu academy, along with her best friend and senior Taimanin, Rinko Akiyama, and boyfriend, Tatsurou Akiyama. She is also the daughter of Taimanin Shiranui Mizuki, who went missing 5 years before the advents of Taimanin Yukikaze.
Rinko AkiyamaEdit
Often referred to as the Slashing Taimanin due to her skills of swordsmanship with her katana, which is apparently a family heirloom. Like many Taimanins, she attends Goshu academy with her best friend, Yukikaze, and younger brother, Tatsurou. Her ninja abilities are referred to as the "void arts". Some of her abilities include being able to increase her senses so she can see long distances, see at impossible angles, and through walls. She can also create portal that teleport her up to a range of 1 km.
Tatsurou AkiyamaEdit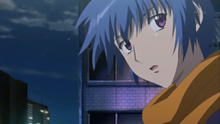 The younger brother of Rinko, and the childhood friend/boyfriend of Yukikaze. Like his sister, his weapon of choice is a katana. He also has the ability to manipulate wind.
Shiranui MizukiEdit
The mother of Yukikaze. Stated to be a powerful and well respected Taimanin. She disappear 5 years prior to the advents of Taimanin Yukikaze during a mission investigated the brothel, Under Eden, located in the lawless town of Yomihara. Her weapon of choose is a spear and her ninja ability is to manipulate water.
Made a Slave: While Shiranui was on a mission at Yomihara, she was capture by Real and the demon, Ryuji Kuroi. For years, Real was tasked with "training" Shiranui, until she became Ryuji's personal slave, for both combat and other...uses. Ryuji occasional "lends" Shiranui to Under Eden, but most of the time she is usually stationed at HijiriOsamu academy.
Making a Splash: Her unique ninja to manipulate water. She can even turn her body into water.
Asuka KokawaEdit
A new Taimanin introduced in Taimanin Asagi 3 and also the second protagonist. She was Asagi's prodigy two years before the event of the third game, and her body had been damaged in battle around that time leaving her limbless. She then mysteriously disappeared after that incident. She shows up two years later in the third game having replaced her limbs with robotic arms and legs making her even more powerful than before.
Shizuru Kosaka Edit
An exceptional smart Taimanin that specializes in missions of infiltration and solitary. She has the ability to manipulate nature and fights with a rose whip. She is sometimes refer to as "Shizuru the Flower". Introduced in Taimanin Yukikaze 2.
Kurenai Shingangi Edit
A half-human, half-vampire/demon Taimanin from the Fuuma clan. Despite her demonic lineage, she has an intense hatred toward demons, due to them harming her clan in the past. Her abilities include the "art of the wind" and being able to become stronger when exposed to blood. The more blood she is exposed to, the stronger she gets. She can also transform into a stronger vampiric version of herself. Her weapon of choice are twin kodachi blades. It would be revealed in her game that she is in fact the biological daughter of Edwin Black and sister to Felicia.
Ayame Makishima Edit
Another Taimanin from the Fuuma clan. An elegant and intelligent woman, who is Kurenai's best friend and loyal subordinate. Her weapon of choose is a sniper rifle, and is a exceptionally skill marksman. She possesses the unique ability of "The eye" which allows her to "read the wind", basically giving her super-human accuracy when sniping foes, bordering the ability of precognition (being able to see in the future). It is also heavily implied that her feelings for Kurenai are beyond simple friendship.
Fuuma Kotarou Edit
A first year student in Gosha Academy like Yukikaze. The current head of the Fuuma clan.Since he hasn't awakened his clan's bloodline magical eye (which makes his right eye closed at all times), he is often scorned as "the Fuuma head with a missing eye". However, he compensates it with a deep knowledge of the Taimanin ninja arts he gained from reading old and secret tomes from the Gosha Academy's library, in turn making him an excellent commander and support.
The main protagonist of the Taimanin RPGX mobile/browser game, his story begins when Gosha Academy was attacked and he along with his half-sister Tokiko were forced to go rogue.