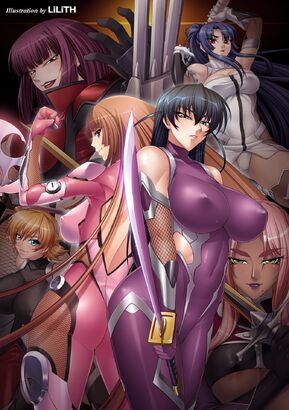 Taimanin Asagi, or Anti-demon Ninja Asagi, is a rather dark four episode Hentai OVA based on a game by Black Lilith.
The main character is Asagi Igawa, a ninja who fights demons but is planning to retire in order to marry her boyfriend Kyousuke. However, Oboro, a demon who Asagi supposedly killed earlier in her career, is back with a vengeance, and kidnaps Asagi and Kyousuke, turning Kyousuke into a monster and forcing Asagi to fight in the Chaos Arena, an illegal fight in which the losers are raped for the crowd's entertainment. Asagi's sister Sakura, also an anti-demon ninja, attempts to rescue them but is captured and also forced to fight.
The show is noted for looking like it was filmed on a shaky handheld camera with focus problems, and for the extreme tentacle and non-tentacle rape.
Thanks to popularity amassed from both the first game and OVA series, the Taimanin series has become Black Lilith's biggest Cash Cow Franchise. Over the years, the series has spawned 2 sequels, several Spin-Offs, a couple manga and live action adaptations, a Prequel/ ReBoot, a currently ongoing Card Battle Game, and (as of now) four more animated OVA adaptation, Hell Knight Ingrid (which is loosely based on the spin-off Taimanin Murasaki), Taimanin Asagi 2, Taimanin Yukikaze, and Taimanin Asagi 3.
An official English release of the first game is schedule to come out in 2019.
The Series in General:
In Taimanin Asagi, the main villains were Oboro and Edwin Black. However, Black chose to take a back seat to these event and watch them unfold. Oboro is skilled enough to defeat an average Taimanin but can't defeat Asagi in a fair fight. She ended up using trickery to capture both Asagi and Sakura. But when the sisters were free to attack Oboro, she didn't last long.
Taimanin Asagi 2 gives us Oboro's clone and Saya as the main villains, while Black once again takes a back seat to the advents. Clone Oboro is

 the same as the Oboro from TA1, meaning she still can't beat Asagi in a fair fight. However, Clone Oboro has more resources than TA1 Oboro and controls an entire city. Saya is stated to be much stronger than Asagi and Oboro, and was able to defeat and capture the Igawa sisters with little issue. But when Asagi was able to tap into her inner demon, she quickly defeated Saya.

Taimanin Murasaki, which takes place between TA2 and TA3, has Kiryuu serve as the main villain. While Kiryuu isn't physically stronger than Saya, he is still a lot smarter than Oboro and more well versed in demon technology.
The main villains in Taimanin Asagi 3 are a

stronger vampire Oboro, Kiryuu's evil(er) mentor Furst, and Edwin Black who has finally taken center stage as an active threat against Asagi and her allies. Black also controls most of the world at this point, and is strong enough to defeat Demon!Asagi.

The Spin-Off series Taimanin Yukikaze has a noticeable shift in villain threat level from TY1 and TY2. The major villains include a brothel operator, a fat Corrupt Politician, and an orc that is

about as strong as a 

Mook

. None of these three can defeat a Taimanin in an actual fight, and only captured Yukikaze and Rinko because they were 

Skilled but Naive

. In the canon storyline, their plan failed before it even began. In TY2, the villains now are much stronger, and have more fighting capabilities. Not to mention, the true main villain in TY2 is apparently almost as strong Edwin Black, and just as cunning.

Spin-Off: Quite a few in fact. Taimanin Murasaki, Taimanin Yukikaze 1, Taimanin Yukikaze 2, and Taimanin Kurenai.
Stalker with a Crush: Murasaki really, REALLY loves Asagi. To the point where she has Sakura steal Asagi's bath towels and seeing her naked gives Murasaki heat flashes.
Super-Powered Evil Side: Asagi gains one near the end of the second game. According to clone Oboro, all Taimanin are capable of having a Super-Powered Evil Side.
Superpowerful Genetics: Taimanin's have various abilities (Asagi can move at light speed, Sakura can travel through shadows, etc). Its actually implied by Oboro that most, if not all, Taimanins have some form of demon lineage.
Super Soldier: Saya. This is what Oboro's clone wants to turn Asagi and Sakura into.
The Syndicate: The NOMAD organization. In an interesting twist on the trope, it's two tiered, with an overt legitimate business conglomerate front and somewhat more covert human criminal organization that engages in a lot of nasty yet mundane criminal enterprises, and the even more hidden yet nastier demonic element controlling the former.

With Edwin Black's death in the true end of TA3, it falls aparts pretty hard, as he was the glue holding it together by force of will, and given how prone certain factions were to backstabbing each other before he died, NOMAD pretty much devolves into rampant self destruction without him to keep them focused

.
Throwing the Fight: A spectator of Chaos Arena accuses to Asagi of losing the fight on purpose.
Took A Level In Badass: Sakura goes from plucky sidekick in the first two games, to a plucky combat instructor for the Taimanin school in the third game.
Token Good Teammate: Ingrid, for the NOMAD organization. She is pretty much the only member that does not indulge in raping or torturing her opponents. In fact, the only thing "evil" about her is that she just works for the organization. Naturally, this makes her a target among the other members.
Twenty Minutes Into the Future: The series takes place in near future, usually the story would label year(s) to be 20XX. Accord to Word of God, the series takes place somewhere between the years 2050-2100.
The Unmasqued World: By the time of Taimanin Asagi 2 the general population becomes aware that demon's live amongst them. Hell, even in the first game there's an Orc named Pig who runs an antique shop!
You Have Failed Me: The losers of fights are severely punished.
You Gotta Have Blue Hair: Asagi: Blue (though usually a subdued blue-black version). Sakura: Yellow. And Oboro: Red-violet. Murasaki: Blue. Ingrid: Pink.
Your Princess Is in Another Castle: Twice in the Taimanin Yukikaze visual novels, although it is more like your "Your Mother is at Another Evil Brothel". No matter what choices the player make, Yukikaze will not be able to save her mother in either game.
Your Size May Vary: The Chaos Arena.
Waif Fu: Asagi is stronger than she looks..
Was Once a Man: A couple of the demons in series were once human, but through some form of dark magic and/or mad science they were turned into monsters. Examples include Kiryuu, Saya, Shigeru, Kyousuke, and possible Oboro (which is debatable considering her true origins).
What Could Have Been: According to a creator's note, Kousuke was original supposed around Sakura's age, and would become Sakura's Love Interest, mirroring Asagi's relationship with Kyousuke. However in TA3, Kousuke was much more younger than Sakura, and became Asagi's Love Interest instead, in favor of Ship Teasing Sakura with Murasaki.
Why Won't You Die?: Oboro proves about as difficult to kill off as The Master from Doctor Who.
Wretched Hive: Tokyo Kingdom, home to terrorist organizations (for example the Ryuumon), unwanted refugees, and lower class demons(Orcs, Kobolds, and goblins ,etc).

Yomihara can also be considered this. Both the Taimanins and the Japanese government has little to no control of this place. It is for the most part, sealed off from the rest of the world with only a few individuals being able to go in or out of the town. Slave trade is very popular in Yomihara. Asagi even considers Yomihara to be much worse than Tokyo Kingdom.
The Second Anime has examples of:
The Third Anime has examples of:
The "Hell Knight Ingrid" Spin-Off Anime has examples of:
The "Taimanin Yukikaze" Spin-Off Anime has examples of:
The Bonus Episode has examples of:
The "Hell Knight Ingrid" Remake Anime has examples of:
Remake: Lilith-Soft's first attempt to remake one of their old OVA series. As explained on ZIZ anime twitter, the OVA is going to update the artwork for older scenes and include both new additional scenes and alternate scenes.
Community content is available under
CC-BY-SA
unless otherwise noted.