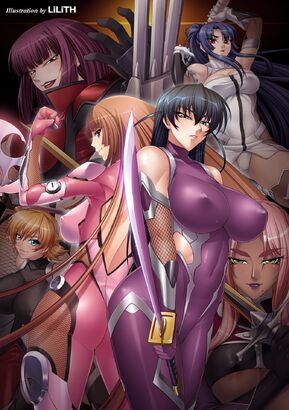 Taimanin Asagi, or Anti-demon Ninja Asagi, is a rather dark four episode Hentai OVA based on a game by Black Lilith.
The main character is Asagi Igawa, a ninja who fights demons but is planning to retire in order to marry her boyfriend Kyousuke. However, Oboro, a demon who Asagi supposedly killed earlier in her career, is back with a vengeance, and kidnaps Asagi and Kyousuke, turning Kyousuke into a monster and forcing Asagi to fight in the Chaos Arena, an illegal fight in which the losers are raped for the crowd's entertainment. Asagi's sister Sakura, also an anti-demon ninja, attempts to rescue them but is captured and also forced to fight.
The show is noted for looking like it was filmed on a shaky handheld camera with focus problems, and for the extreme tentacle and non-tentacle rape.
Thanks to popularity amassed from both the first game and OVA series, the Taimanin series has become Black Lilith's biggest Cash Cow Franchise. Over the years, the series has spawned 2 sequels, several Spin-Offs, a couple manga and live action adaptations, a Prequel/ ReBoot, a currently ongoing Card Battle Game, a mobile Hack and Slash game, and (as of now) four more animated OVA adaptation, Hell Knight Ingrid (which is loosely based on the spin-off Taimanin Murasaki), Taimanin Asagi 2, Taimanin Yukikaze, and Taimanin Asagi 3.
The Series in General:
The Second Anime has examples of:
The Third Anime has examples of:
The "Hell Knight Ingrid" Spin-Off Anime has examples of:
The "Taimanin Yukikaze" Spin-Off Anime has examples of:
The Bonus Episode has examples of:
The "Hell Knight Ingrid" Remake Anime has examples of:
Remake: Lilith-Soft's first attempt to remake one of their old OVA series. As explained on ZIZ anime twitter, the OVA is going to update the artwork for older scenes and include both new additional scenes and alternate scenes.
Action Taimanin
Community content is available under
CC-BY-SA
unless otherwise noted.