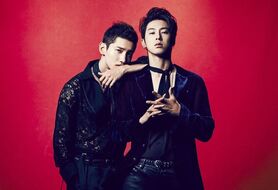 TVXQ (東方神起) is a South Korean pop duo (originally a five-member Boy Band) formed by SM Entertainment in 2003. They later became extremely popular throughout Asia, especially in Japan. Notable for supposedly 1) having the world's largest official fanclub and 2) being the most photographed celebrities in the world.
They split up in 2009 after three of its members (Jaejoong, Yoochun and Junsu) sued SM over money and contract issues. The drama (a blog summary of the condensed version can be found here) culminated in 2011, when the three decided not to renew their contracts with the company. They later signed to C-JeS Entertainment, forming the trio JYJ.
Back then, it wasn't known how good/bad relations between the former members were, but MBC - one of Korea's top television stations - staff freaked out recently over two of them filming around the same place at the same time. Turns out Jaejoong and Yunho are still close to each other, with no ill will.
Possibly because of their acapella background, TVXQ was known as a Boy Band where every member can sing.
TVXQ currently consists of:
U-Know: Real name Jung Yun-ho, the leader, main dancer and main rapper, who usually takes the bass and rap parts in songs.
Max: Real name Shim Chang-min, the main vocal and youngest and tallest member of the group, Changmin sings the highest parts and has a tendency to "scream" during songs (listen to Rising Sun for an example).
The former members are:
Park Yoochun (Micky): the lead rapper, who sings mid-low parts. Also known for getting most, if not all of the weird Engrish lines in songs.
Kim Jaejoong (Hero): the eye candy and lead vocalist of the group.
Kim Junsu (Xiah): the other main dancer in the group, who sings mid-high parts and handles most of the vocal gymnastics.
Despite having split into two separate units - JYJ comprising of Jaejoong, Yoochun and Junsu while Yunho and Changmin continue under TVXQ - they continue to do very well in album sales, and while the number of people in their fanclub has fallen, they are still at least two hundred thousand ahead of the second place.
---
TVXQ provides examples of:
 Yunho: I like someone who can cook.

Jaejoong: I can cook.

Yunho: I like someone with straight hair.

Jaejoong: I have straight hair.
It would just take way too long to list all their Ho Yay moments.
They know about the Ho Yay, which is why the All About TVXQ DVDs include Couple Talk segments.
Lately, there's been an increase of Yunho and Changmin, particularly certain scenes in the "Keep Your Head Down" MV and in the "Before U Go" MV, where Changmin's Berserk Button was pressed when Yunho was shot and the end of the video had Changmin and Yunho driving off into the sunset, rather than with Yunho and his girlfriend.

I Have Many Names: Let's list all of them for fun!

Their group name is officially TVXQ, short for Tong Vfang Xien Qi, which results in some people referring to them as TVfXQ - Yoochun and Jaejoong have tattoos of TVfXQ too. It is pronounced as Dong Bang Shin Ki in Korean, which leads to the acronym DBSK. In Japan, their group name translates to Tohoshinki, which fans refer to in short as THSK.
In Korea, they are referred to as U-Know Yunho, Youngwoong Jaejoong, Micky Yoochun, Xiah Junsu and Choikang Changmin. Youngwoong is Korean for Hero, and Choikang is Korean for Maximum, so the two members are also referred to as Hero Jaejoong and Maximum Changmin.
In Japan, the romanization of some of their names changes. Jaejoong becomes Jejung and Yoochun becomes Yuchun and sometimes even Yucheon.
Finally, there's their real names! Jung Yunho, Kim Jaejoong, Park Yoochun, Kim Junsu and Shim Changmin. Jaejoong is also adopted and his birth name is Han Jaejoon.
Can't believe I forgot to mention this one! Jaejoong, Yoochun and Junsu have formed a sub-unit called JYJ now.

Korean Drama: Yoochun played the male lead in Sungkyunkwan Scandal and one of the main characters in Miss Ripley. Jaejoong is currently playing the second male lead in Protect the Boss.
Lust: What most fangirls feel.
Meaningful Name: Dong Bang Shin Ki translates to "Rising Gods of the East".
Playing to The Fetishes: The MV for Mirotic had many marvelously sexy things in it, not the least of which was Changmin dripping in a tub of water and Jaejoong tied to a wall.
Slash Fic: Yunho/Jaejoong and Yoochun/Junsu are some of the most written slash pairings of the group.
Stalker with a Crush: They are idols. They have the world's largest fanclub. Suffice to say this is a definite.

They even have a nickname for these: "사생 (sasaeng) fans" for "normal" stalker fans and "사택 (sasaeng taxi)" for taxis that capitalize on this.

Stupid Sexy Flanders: Jaejoong. Duh.
Title by Number: 9095 and 9096 from The Secret Code.
Unlucky Childhood Friend: The song "Doushite Kimi wo Suki ni Natte Shimattandarou" ("Why Did I End Up Falling For You"), which is from the point of view of an unlucky childhood friend watching his love get married to another man.
Yoko Oh No: Any woman who has dated, is dating, or is even rumored to be dating any one of the members WILL get bashed by jealous fangirls.
Community content is available under
CC-BY-SA
unless otherwise noted.