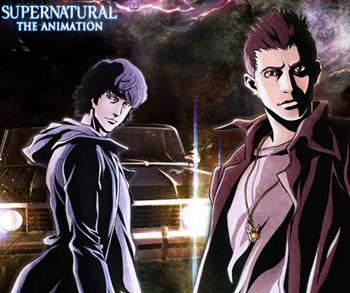 There is more to Supernatural than what is seen in the show. This is the birth of a new anime and you've never seen the characters like this before!
A strange example of an Animated Adaptation being made in a different country than its source material, but still with input from people involved in the original (Namely, Jared Padalecki and Jensen Ackles).
Supernatural: The Animation retells the story of the main series' first two seasons, with some new stories thrown in for good measure for Adaptation Expansion. However, most of the series is at least somewhat based off episodes from the live action show.
---
Supernatural: The Animation provides examples of:
Community content is available under
CC-BY-SA
unless otherwise noted.