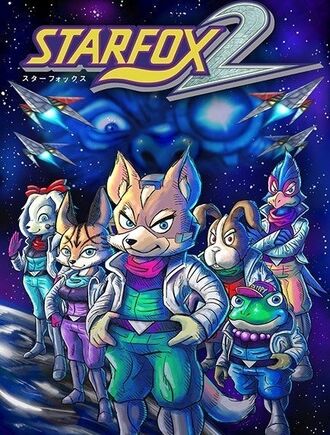 Star Fox 2 was the 1995 unreleased Super NES sequel to the original Star Fox.
Well, not officially released. It was leaked online, then Fan Translated into English. The game was actually fairly complete, lacking only some polishing touches for release, but was otherwise quite playable -- a small Game Mod fixed even this up, and the ROM is fully playable in emulators.
But the unreleased game did not go to complete commercial waste -- two-thirds of its code was recycled for Star Fox 64, and many of 2's gameplay mechanics were reused for Star Fox Command. But whereas reaction to Command was very mixed, the leaked Star Fox 2 ROM was well-received by gamers.
Storywise, 2 continues the 1993 game's Canon, but was the last officially-developed work to do so. In 1997, Star Fox 64 rebooted the game's universe from scratch.
On September 29, 2017, the game is officially released on Super NES Classic Edition (also known as Super Famicom Mini in Japan).
---
Star Fox 2 provides examples of:
Community content is available under
CC-BY-SA
unless otherwise noted.