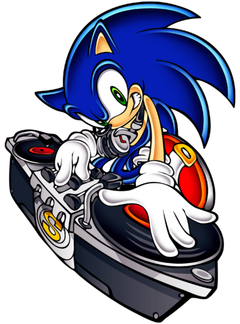 It's no secret. Compared to the Super Nintendo, the Genesis wasn't exactly a killer in the sound department. It was fueled in part by what soundtracks really caught your ear, but for a real classic, you didn't have to look any farther than the Sega mascot.
Everyone's favorite hedgehog speedster has had quite a number of notable themes over the years which cements that although the ride has been rocky with plenty of ups and downs, there's one thing that everyone can agree on, the music is almost always awesome.
And you can now get a lot of this music on iTunes!
Main Games
Sonic the Hedgehog 1, 2, 3&K (Genesis/Mega Drive)
Sonic CD
Where to begin? First, the music shared between both soundtracks: the 'Past' music.
JP/EU soundtrack
NA soundtrack
Sonic Adventure series
Sonic Heroes
Sonic the Hedgehog (2006)
One of the redeemable qualities of Sonic '06 was its phenomenal soundtrack, which ironically was done mostly by Mariko Nanba (Aquatic Base ~Level 1~, an ambient IDM song and White Acropolis ~Snowy Peak~, her doing techno), Tomoya Ohtani (Crisis City ~The Flame ~ Skyscraper ~ Whirlwind ~ Tornado~, a progressive d'nb song, End Of The World, one of the most beautiful tracks in the game) , and Hideaki Kobayashi (Almost all of the event and boss music; most notable would be Mephiles & Mephiles Phase 2, both of which are reminiscent of his PSO works).

While we're at it, His World. Sure, the game it's from sucked, but the song itself? Awesome in a can.
Speaking of Solaris, his first boss theme must be mentioned here.
And I've always been partial to the results screen music too

Silver's theme from '06, Dreams of an Absolution and the remix from none other then Jun Senoue is considered to have the best lyrics of any Sonic song. (It's pretty strange that one of the most unloved characters in the series gets the Crowning Music of Awesome in the game.)
Both Wave Ocean tracks, The Water's Edge and The Inlet are pretty damn cool.
Some Eggman love: The Egg Cerberus music was pretty epic and made even more epic with the Egg Wyvern.

Or how about this eerie tune played during Eggman's plan? Sure it isn't exactly subtle as it builds, but it's still pretty sweet.

Kingdom Valley. Especially the Water part.
Oh how could anyone forget Sonic's ending theme? It was originally the ending song for Sonic the Hedgehog 2 for the Mega Drive; it was called "Sweet Sweet" Sweet" and was performed by the Japanese band Dreams Come True. For Sonic06, they actually did a remix of this song for Sonic's ending, and they did it with Akon! The Japanese version is "SWEET SWEET SWEET -06 AKON MIX-" and the English version is "Sweet Dreams". Pretty smooth tune, even if the English lyrics are disturbing when one thinks about Sonic's, uh, kiss.

Though, it should be added that, while both versions can be listened to in-game, neither one was included on either the official soundtrack or the Vocal Traxx album, for God knows why.

How 'bout some event music? Mephiles' Whisper is supremely creepy, yet epic at the end as well. You Are My Companion (though not totally fitting for Silver's Ending) is a nice piece to set a tone of "I WILL get through the next character's story."
Crush 40's All Hail Shadow Remix from the game. It's one of their better covers of another bands song which actually manages to be better than even the original from Magna-fi just listen here which technically the Crush 40 remix first appeared in this game rather than Shadow the Hedgehog.
This song right here, which plays at the end pf Shadow's story. It was actually part of the track "Showdown with Mephiles," for whatever reason.
Is this troper the only one who will stay on the main menu for hours just listening to the looped menu theme?
Everyone needs to take at least one look at Dusty Desert. Seriously, if you don't listen to any of the other Sonic 06 tracks at all, please take a moment to listen to this one.
Sonic Unleashed
Sonic the Hedgehog 4
Episode II
Sonic Colors
We would say DAMN NEAR EVERYTHING, but that doesn't seem to do this soundtrack justice. Where to begin?
I guess we should begin with the orchestrated rendition of the main theme.
There's the opening theme Reach for the Stars sung by Cash Cash.
The main world map theme.
Tropical Resort-- A suitably catchy first level, with map music to match.
Starlight Carnival-- One of the best map themes, and then this. What more is there to say?
Planet Wisp-- Some lovely map music, and then sheer bliss with an unforgettable piano and a wicked bassline.
Aquarium Park-- The Wutai-styled map music, a fast-paced, yet relaxing Act 1, and a piano-heavy Act 3.
Asteroid Coaster-- Some eerily badass map music, and while Act 3 carries a lot of energy, Act 1 alone is absolute rock, pun not intended.
The final level,

Terminal Velocity

. Perfect for fast-paced endgame action. The second act, while only half a minute long, adds an extra layer.
Three words: Orchestrated drowning music.
There are no words to adequately describe the final boss music. Just listen. Also note that the first phase may very possibly be the only final boss music ever to feature taiko drumming.
Even the Result music is fantastic. Consider it an epic reward for making it through a stage.

And that was just a short rendition of the Title Screen music. That song gives you the thrill that you're about to embark on a grand adventure!

The special stage theme from the DS version.
The boss music for both Tropical Resort and Planet Wisp (Vs. Rotatatron/Refreshinator), as well as for Starlight Carnival and Asteroid Coaster (Vs. Orcan/Skullian).
From the DS version's exclusive Super Sonic final boss there is the

Nega Mother Wisp's

music which is another instrumental version of "Reach for the stars" only this time it plays like old school style game music but that doesn't stop it from being awesome.
Continuing the trend of awesome final boss themes, phase 1, sounding doomier than ever, and phase 2, once again an orchestrated version of the main theme, and sounding more victorious than ever.
Game Land 3, a remix of Starlight Carnival Act 1's music using the Game Gear's chiptune sounds. It definitely sounds like something straight out of that era, and it's beautiful. Not that the other Game Land songs aren't great either.
Sonic Generations
Side Games & Spin-Offs
Dr. Robotnik's Mean Bean Machine (Genesis)
Sonic the Hedgehog 1/2 (Game Gear & Master System)
Sonic Triple Trouble
The Sunset Park Act 3 music from Sonic Triple Trouble, on top of being awesome, caught off guard many players, this troper included, who completed Act 2 and didn't expect the game to immediately segue into Act 3, with no end-of-stage bonus screen or title card in between.
Sonic Spinball
Tails Adventure
Knuckles' Chaotix
Sonic Blast
Red Volcano Zone has a catchy tune with a sweet hip-hop rhythm that was pulled off pretty nicely despite the limits of the Game Gear/Master System sound chip.
Sonic 3D Blast
Genesis/Mega Drive
Saturn & PC
Sonic R
Sonic Shuffle
Sonic the Fighters
Metal Sonic's theme for this game, Never Let It Go, is one of the lesser known and more underrated themes in the franchise.
Lovers sets the player up for a good ol' brawl.
Sonic Advance series
Sonic Advance 2
Sonic Advance 3
Sonic Battle
Shadow the Hedgehog
Sonic Rush series
Sonic Rush Adventure
Sonic Riders series
Sonic Riders: Zero Gravity
Sonic Free Riders
General
Storybook Series
Sonic and the Black Knight
Sonic and the Black Knight's soundtrack brought the return of Crush 40, who didn't fail to impress. Then again, Jun Senoue is the composer and part of the music department for Sega in general, so...
Knight of the Wind is an epic mix of guitars and violins.
Misty Lake-- essentially an all strings version of "Knight of the Wind". With epic violin.
The Zelda-esque Deep Woods theme.
Then we have the insanely awesome Molten Mine music by Tommy Tallarico... which is itself a rearrangement of the "Action Theme" he composed for the completely-unrelated-to-Sonic game Black Dawn. Not that it's a bad thing.
The music used for the transformation into Excalibur Sonic.
Then there's the actual final boss theme with guitar work from ex-Megadeth bandmate Marty Friedman. With Me.
Last, but certainly not least, the credits theme-- another Crush 40 song --Live Life.
Sonic Rivals series
Sonic Rivals 2
Sonic Chronicles: The Dark Brotherhood
Other
General
The medleys that played over the credits of most of the 16-bit games.

This troper has heard numerous themes and countless remixes, but even though it's been over a decade since I first heard them, the original boss themes from Sonic 2, Sonic 3 and Sonic & Knuckles still remain the perennial favorites.

The drowning music.
The Opening Theme to Sonic Mega Collection is a fan favorite and even got rehashed for Generations.
Fan Remixes
  You are now imagining Solaris as an angry little girl spraying fire danmaku everywhere.
Sonic Unleashed: This PERFECT fusion of "Endless Possibilities" and its Final Boss version.

Speaking of, what happens when you mash up the themes for Deep Core and the Egg Dragoon? THIS.

Icecap Zone + Smooth Criminal = orgasmic bliss for your ears.
Someone decided it would be a fun idea to combine Black Knight's main theme, "Knight of the Wind", with the game's Faraway Avalon music. The ensuing mashup works on so many levels.
The entire soundtrack of Sonic 1, rendered in the soundfont of Pokémon Black/White. Who'd have thought?
Reach For The Stars MIDIfied
This remix of Lava Reef Zone, complete with acoustic guitars and a solo.
Here is a rather cool remix of Splash Hill Zone.

Nah...here's a Super Nintendo soundfont remix of Splash Hill!

Oh God. This mash-up of Rusty Bucket Bay and Ice Cap.
Not only did their hit song "Sweet, Sweet, Sweet" get turned into the ending for Sonic 2 for the Genesis, Dreams Come True later took songs that Nakamura composed for the first two games, and turned them into hit songs!
His World has already been acknowledged on this page. But what happens when you mix it... with Final Destination?
PrototypeRaptor's "Open Your Heart" remix is amazing.
The holy union of final boss remixes for "His World," "Endless Possibilities," and "Reach for the Stars."
Olivier Sirois delivers numerous awesome remixes, including the iconic Green Hill Zone and the Final Boss theme from Sonic 3.
For those wondering how the original trilogy's music would have sounded like on the good old NES, Danooct1's 8-bit VRC 6 remixes of Sonic 1 to 3 & Knuckles's OS Ts are about as accurate-sounding as they'll ever be.
What would happen if someone combined Act 1 of Planet Wisp from Colors, with its Sonic Simulator and Generations versions? Let's find out...
This is the best Planet Wisp mashup of all time, and I will fight anyone who claims otherwise.
Wizards of the Sonic by Westbam, a German techno DJ, samples the boss music from Sonic 2 (see above).
This guy has made some fantastic mashups of Wisp power-up musics and level musics. Cubed Asteroid Coaster and Hovering Planet Wisp in particular sound heavenly.
This remix of Doomsday Zone that mashes it up with This Day Aria
This one tells us how Sunset Hill Zone would sound like in Sonic Generations.
People
Crush 40. Full. Freaking. STOP. Also, this troper prefers pretty much every remix the band has done of theme tracks originally done by other artists.
Sonic Team has featured a fantastic set of composers throughout the years. Let's throw a few names in, shall we?

Jun Senoue (Crush 40 guitarist; one of the main composers from Sonic 3 onward.)
Tomoya Ohtani (Sound director for '06 and Unleashed.)
Kenichi Tokoi (Sound director for Colors.)
Fumie Kumatani
Richard Jacques
Mariko Nanba
Yutaka Minobe
Hunnid P. If it's Knuckles, he did it.

Julien-K ("This Machine", "Waking Up")
Bentley Jones is coming out nicely, what with his soothing tunes and remixes.
My Chemical Romance in the City Escape trailer for Generations. Yet more proof MCR are One of Us.

Not to mention Kele in the original trailer.

For shame all of you...all this talk 'bout the love of classic Sonic music, and no one bothers to put MASATO NAKAMURA on this list?! the man who gave us the -original- Green Hill Zone and started a franchise trend for Music of Awesome. Sonic the Hedgehog would not be the same if it weren't for his original compositions for the start of this series.
How in the hell did My Chemical Romance end up on here before Michael Jackson?!
Cash Cash should at least be mentioned for their theme for Colors, as well as their work remixing stuff for Generations. Their auto-tuney power-pop sound fits in the series quite nicely.
Zebrahead provided two versions of "His World".
Non-Game media
Misc
Mashups
Community content is available under
CC-BY-SA
unless otherwise noted.