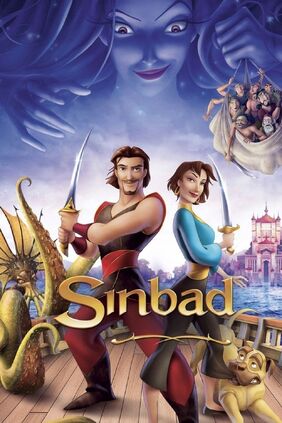 "What could be more perfect than this? A noble prince, a priceless treasure and a black-hearted thief. Oh, this is going to be fun..."

— Eris' Opening Narration
A Lighter and Softer re-imagining of the famous Sinbad stories by Dreamworks Animation, making use of a transitional blend between traditional and 3-D computer animation.
Sinbad - in this version a charming pirate captain - is on a quest to steal the legendary Book of Peace and take it for ransom. However, when he attacks the ship carrying The Book, he runs into his childhood friend Proteus, who is responsible for the book's safety. They are suddenly attacked by a Sea Monster (sent by Eris, Goddess Of Discord, who has her own plans for the Book) and they team up to kill it. After nearly drowning in the ordeal, Sinbad is approached by Eris herself, who strikes a deal with him to steal the Book of Peace, in return for which he gets all the riches in the world.
However, Eris then steals the Book herself and frames Sinbad for the robbery, getting him arrested and sentenced to execution. Proteus takes Sinbad's place in prison, pleading to the Council that Sinbad be allowed to prove his innocence by stealing the Book back from Eris. If Sinbad fails or does not return, Proteus offers himself to be executed instead.
Accompanied by his faithful crew and Proteus' fiance, Marina, who is along to make sure Sinbad keeps his end of the deal, our hero must now journey past the edges of the Earth and into Tartarus, Eris' Realm of Chaos, to retrieve the book and return before Proteus' time runs out...
The film made use of the same blend of 2D and 3D animation seen in Disney's Treasure Planet (released a year earlier), mixing traditionally animated characters with CGI-created creatures, objects and backgrounds in 3D. Although only a mild financial success, the movie, like Treasure Planet, has a good cult following.
---
Provides examples of:
 Sinbad, while climbing the ice cliff: Oh, she couldn't see the bird? Everyone else saw it. It's as big as a freakin' ship! Marina? Marina's looking the other way!
 Marina: [perusing Sinbad's stuff] Stolen from Venezia... From Pompeii... [holds up a bejeweled bra] And from a brothel in Syracuse.

--

Sinbad: A sword at my throat, at my chest, at my--

Random Sailor In Background: PICKLES AND EGGS!

Sinbad: [[[Beat]]] You get the idea.

--

Sinbad: Think of the beaches.

Kale: Beautiful, if you like mosquitoes.

Sinbad: Think of the sun.

Kale: It's monsoon season.

Sinbad: Oh, then the women.

Kale: They're cannibals, Sinbad.

Sinbad: Exactly.
And later, a conversation between Sinbad and Marina:
 Marina: Look, clearly, I can't appeal to your honour. But I have other ways of convincing you.

Sinbad: [hopeful] Really?
 Eris: You're a selfish, unprincipled liar!

Sinbad: Wait a minute. I didn't lie.
 Marina: Clearly I can't appeal to your sense of honour. But I have other ways of convincing you.

Sinbad: Really?

[Sinbad glances up and down on her.]

Sinbad: Uh.. Just how do you expect to do that?

Marina: By speaking your language. *pulls out giant diamond*
 Sinbad: Oh, get a shirt on, before you poke someone's eye out!
Notes
↑

""I cannot believe, I cannot believe I was cheated again!"
Community content is available under
CC-BY-SA
unless otherwise noted.