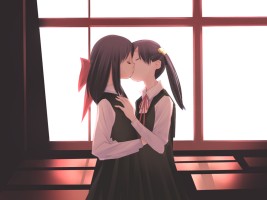 Shojokyuu ~Kurige no Shiofuki Shoujotachi~ is a purely yuri Visual Novel H-game from 2004 by developer and publisher Mini. One should note that for better or worse, the art style makes the characters look younger than they actually are. An Omake for the game was released in 2006 focusing on a couple of side characters.
The player takes on the role of the young schoolgirl Haruna, a third-year middle school student who's a little more than a week away from graduation. Haruna attends a strict Catholic girls' boarding school. Of course, since this is an H-game, temptation for Haruna is soon going to be quite prevalent.
---
Tropes used in Shojokyuu ~Kurige no Shiofuki Shoujotachi~ include:
Community content is available under
CC-BY-SA
unless otherwise noted.