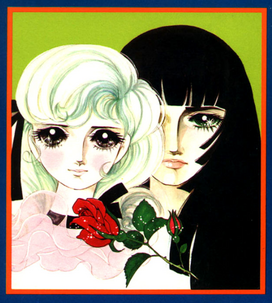 Resine de Poisson is a shy, unassuming French schoolgirl whose (implied to have been very rich) parents died in an accident; now she must live with her aunt, but she believes her to be a greedy woman only interested in the money that she'll gain from taking care of her. To avert this, she takes a fateful decision: to go to the same Boarding School that her late mother attended and graduated from, despite the aunt saying that she's too weak and sensitive to withstand the life there.
Effectively, Resine finds it hard to adapt herself to the school, and especially because of her roommate: Simone D'Arc, the beautiful and rebellious daughter of a very popular actress. Moody, blunt and merciless, Simone does NOT make things easier for Resine since she runs off to meet with boys, mocks and teases Resine, etc. Still, as time passes the two start to slowly warm up to each other, even when Resine has difficulties to truly put her finger on what she feels for Simone.
The first Girls Love manga, Shiroi Heya no Futari (白い部屋のふたり, Our White Room) was written by Ryoko Yamagishi, one of the Year 24 Group (a collective of female manga artists who revolutionized Shojo manga), during The Seventies, and is the source of many common Girls Love tropes.
Shiroi Heya no Futari provides examples of:
Community content is available under
CC-BY-SA
unless otherwise noted.