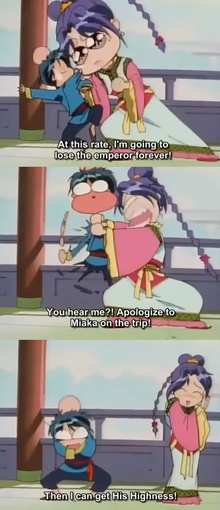 Again, everyone knows the Shipper on Deck. They're the kind of person who spots two people who like one another, thinks they look cute or may be happy, and devotes their efforts to bringing them together... right?
This person is also a shipper, but in other ways. They ship not just with the heart, but with the brains. They have realized that there are other perks regarding this cute potential couple, and they're gonna grab the chance. Maybe it's because the lovebirds are truly good together, or this will let the shipper reap some material benefits, or it'll clear the way for another ship that they like (maybe one including THEM), or (if a parent) it'll bring offspring. There can be as many reasons for shipping as people in the world, yes.
Compare with
Shipper on Deck
AND
Shipping Torpedo
(and can overlap with both, of course). If they're
particularly
active, they may try setting an
Arranged Marriage
.
Examples of Shipper with an Agenda include:
Anime and Manga
Pictured above: In Fushigi Yuugi, Nuriko at first ships Tamahome/Miaka because he crushes on Hotohori, who crushes on Miaka - therefore if Miaka is with Tamahome, Nuriko will have a chance to put the moves on Hotohori. As already seen, it's even the focus of a rather hilarious early anime scene between him and Tamahome.
In Ashita no Nadja, Marianne sees a Nadja/Keith match-up positively, and even admits it in front of Nadja herself. This is because she's in love with Keith's twin brother and Nadja's main love interest, Francis; she believes that if Nadja goes with Keith, whom she's quite attracted to despite loving Francis, then she will have a chance with him.
In Code Geass, before Lelouch learned that Suzaku was working for the Britannians, he shipped him with his younger sister Nunnally so he'd be able to protect her AND for Best Friends-in-Law reasons.
In the Rurouni Kenshin backstory, Kenshin's Big Brother Mentor Katsura realizes that Tomoe has a calming influence on him. He then begins to support a relationship between the two, thinking that she can be "the sheath to his sword" and keep him sane.
In the Shimoneta anime, Saotome ships Tanukichi with Anna because she sees Anna's VERY physical Stalker with a Crush attitude towards him as live-action fodder for her art.
Chamo from Mahou Sensei Negima ships every pairing that he's aware of. This is mostly because he gets oodles of cash every time he brokers a pactio (this series' equivalents to Magical contracts between a mage and a partner), and said pactios are sealed by the Master kissing their partner on the lips...
David from Blue Comet SPT Layzner ships his friends Eiji and Anna for two reasons. One, they ARE good for one another and he wants them to be happy in the Crapsack World they all live in. Two (and probably the biggest one), he's in love with his partner Simone, who also has a crush on Eiji.
In Grimm's Fairy Tale Classics' rendition of Snow White and The Seven Dwarfs, after the first attempt on Snow's life by the Wicked Stepmother, the Dwarves wonder if they should have her marry into their family so they can protect her better. Since the youngest of the Dwarves has a clear crush on Snow, they organize a whole party to kill two birds with a stone.
Akiko Hashou from Kasei Yakyoku is a Rebellious Princess who falls for the up-and-coming Yakuza Takao "Taka" Itou, but is already engaged to the Princely Young Man Saionji. Aware that her beautiful maid and pretty much Only Friend Sara Uchida has a bit of a crush on Saionji, Akiko begins to wonder if she should play matchmaker so they can fall in love and she can find an excuse to break off the engagement and go with Taka...
Yukari from Rosario to Vampire ships Moka and Tsukune, primarily because she simultaneous crushes on both of them and she thinks getting a threesome would be easier if the other two are already together.

Fong-Fong also ships the two of them, mostly because he wants them to join the mafia as a powerful Battle Couple like his parents.

Minerva X from the Shin Mazinger Zero manga ships Kouji and Sayaka for QUITE the reason: in other realities, they become Star-Crossed Lovers and as a consequence, Mazinger goes berserk and turns into an world-destroying Eldritch Abomination. So Minerva, who has witnessed all of these worlds' deaths and is horribly traumatized as a consequence, will NOT let that happen again, and the first step is to ensure that Sayaka and Kouji will survive together.
Sousei no Onmyouji (Twin Star Exorcists) has Arima Tsuchimikado, the leader of Japan's Exorcists, who gets the protagonists Rokuro Enmado and Benio Adashino (the title's Twin Stars) into an Arranged Marriage because it's said that their future child will be the most powerful Exorcist ever.
In Taishou Yakyuu Musume, Yae and Youjirou Suzukawa want Koume to marry Saburou because he works at their restaurant and that would be good for the Family Business. It helps that she and Saburou hit it off well.
Comic Books
Fan Works
Film
Literature
Live-Action TV
In Glee, Kurt tries to hook up his widow father Burt with Finn's also widowed mother Carole so he'd be able to spend more time with Finn. The fact that Burt and Carole pretty much fell in Love at First Sight helps quite a bit.
Religion and Mythology
According to some Jewish lore, the whole deal with Jacob, Leah and Rachel came from this. Leah was originally destined to marry Jacob's brother Esau, who was far less meritorious; she was understandably overwrought and prayed to God for help, who arranged things so she could marry Jacob as well.
Video Games
In the Castlevania series' Sorrow games, everyone ships Soma Cruz and Mina Hakuba despite their protests. One of their friends,

Julius

, comes off more as this... with good reasons. As a member of the Belmont clan, Julius knows that Dracula went down the Evil path after losing his two loves, Elisabetha and Lissa; since Soma is the newest incarnation of Dracula but hasn't fully awakened as such (and doesn't want to), Julius bets on him also going down that road if Mina dies too. (Which does happen in the Bad Endings)
In Dragon Age: Origins, the Warden can turn themself into this depending on their actions in the Landsmeet, - all so the Succession Crisis in Ferelden will be solved.. i.e, a Warden of either gender can hook up

Queen Anora and her brother-in-law and legitimate heir to the throne, Alistair

, a human noble Female Warden can

marry Alistair and become Queen Consort (or be his mistress)

, and a human noble Male Warden can

marry Anora and become King Consort (provided he doesn't execute her father Loghain)

.
The main character of Yandere Simulation, Ayano "Yandere-chan" Aishi, can try hooking up her prospect love rivals with other boys so none of them will be an obstacle to her and her Sempai's. It's certainly a quite more benign alternative to killing, bullying, crippling, etc. any of them. . .
Visual Novels
Western Animation
Community content is available under
CC-BY-SA
unless otherwise noted.