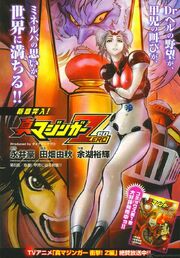 Shin Mazinger Zero
is a manga that was released at nearly the same time as the anime
Shin Mazinger
in the magazine Champion Red. Despite the similar titles, it has no connection to the anime. However,
it DOES have a connection to the original Mazinger Z anime, as Minerva X is shown to be a Reincarnation of the robot with the same name from that show.
The authors are Yoshiaki Tabata and Yugo Yuuki of Akumetsu and Wolf Guy Wolfen Crest fame. It certainly explains not just the beautiful artwork, but how MASSIVELY Darker and Edgier it is compared to the TV series.
Provides examples of:
Community content is available under
CC-BY-SA
unless otherwise noted.