Wiki Targeted (Entertainment)
Play Sound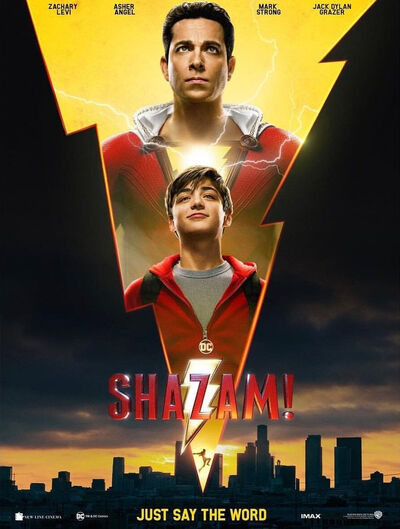 The seventh entry in the DC Extended Universe after Aquaman, based on the DC/Fawcett comic book, Shazam is centered around Billy Batson (Asher Angel), a young kid born to a single mother who desperately seeks to reunite with said mother after she abandoned him in a carnival. After an ill-conceived attempt to fool the police, he is put in a foster home, with a large foster family consisting of the foster parents, Víctor and Rosa Vásquez (Cooper Andrews and Martha Millan) [themselves foster children back in their childhood] and several foster siblings, all homeless children like Billy.
One day, when running away from bullies, Billy is transported to the Rock of Eternity, where the Wizard Shazam (Djimon Honsou) gives Billy the Intelligence of Solomon, the Strength of Hercules, the Lightning of Zeus, the Durability of Atlas, the Fighting Skills of Achilles, and the Speed of Mercury. Now, whenever Billy speaks the word "SHAZAM", he is magically transformed into an older version of himself (Zachary Levi) who is also super-strong, super-fast, super-smart, invulnerable superhero who can control lightning.
Little does Billy knows that the nefarious Thaddeus Sivana (Mark Strong) has found power of his own, and he is ready to use that power to wreck havoc on the city...
Tropes used in Shazam include:
Community content is available under
CC-BY-SA
unless otherwise noted.