The Shishido siblings
Saori Shishido (the Player Character)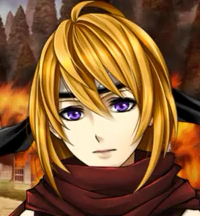 Kaname Shishido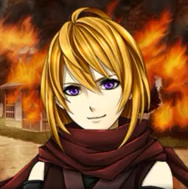 The Nagasaki Vigilantes
In General
Makoto Nakagawa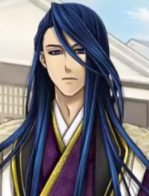 Ambiguously Bi: Stealthily implied in his Epilogue. He deliberately makes a Clingy Jealous Girl believe that "Kaname" is his boyfriend, and when an embarrassed Saori points it out, his reaction is basically a "who cares...?"

As mentioned below, Ukyo also seems to think Makoto is bi, or at least more prone to fall for someone's personality than their gender.

Beautiful Dreamer: Played straight when he falls asleep on Saori's shoulder, subverted later when she finds him sleeping but he wakes up almost immediately.
Belligerent Sexual Tension: Surprisingly, it's played rather straight when he's the chosen boyfriend. One of Saori's most important missions there is to pose as a girl and as his girlfriend

after he blows her cover

and he quite enjoys getting under Saori's skin as it happens.
Berserk Button: He really, really doesn't like it when people lie to him. He's not very happy when he realizes that Saori is a Sweet Polly Oliver in his route, and it's only when she tells him the truth behind it that he lets her stay.
Big Good: He's no frontline fighter, but leads the Nagasaki Vigilantes very well.
Childhood Friends: Makoto and Asagi have been friends for a long, long time, since their families are allies from quite a while ago.
Cooldown Hug: Saori gives him one in his route, to prove him that she believes in him even after he's become the biggest suspect of being a Serial Killer.
Combat Pragmatist:

When he and Toru fight, he resorts to kicking his brother away when it's needed much to Toru's surprise. It's very, very needed since Makoto is not a good fighter and he's clearly aware of it.

Hidden Depths: He's an amazing artist, and he built the Meiko Salon with the money he got for his beautiful artwork. Saori once watches him paint and is pretty much entranced at the sight.

In his own route, Saori realises that the deal with his Aloof Big Brother Toru causes him lots of sorrow.

Toru

's route also delves quite a bit in Makoto's mind and POV, revealing that he's The Unfavorite in the Nakagawa clan compared to his brother and has suffered quite the emotional damage for it.

Reasonable Authority Figure: He's the owner of the Meiko Salon and leader of the group. He does very well at both tasks.
The Stoic: Always carries himself with cold serenity, trying not to let any emotions get in the way of his huge responsabilities. Logically, he comes off as more emotional in his route and in

Toru's

.
Tall, Dark and Handsome: Very tall, with dark-blue hair, very good-looking.
Tall, Dark and Snarky: In his own route, he develops a penchant for snarking at Saori a LOT and for almost anything. Even his True Feelings mini-events are full of sarcastic remarks.
Team Dad: Whether he's not the main love interest or not, he often displays a quite fatherly concern for his subordinates and for Saori.

It's especially glaring in Kagura's route, since he's the one who saved Kagura's life.

Weapon of Choice: In the very few times he actually fights, he favors shorter katanas.
Asagi Himuro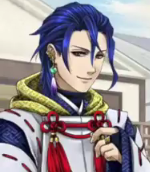 Ukyo
Eduard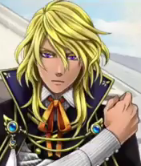 Yuzuki Hirano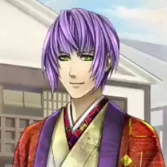 Shintaro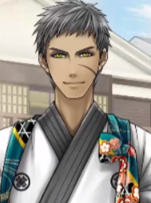 Kagura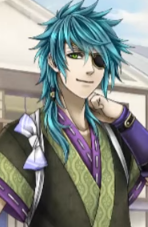 The Anti-Shogunate Revolutionaries
In General
Toru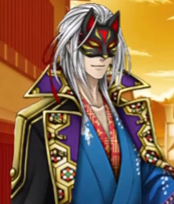 Tsubaki Kusunoki
Zeyo Sakamoto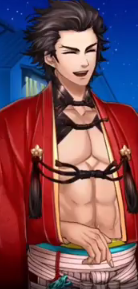 The Shinsengumi
In General
Toshi Hijikata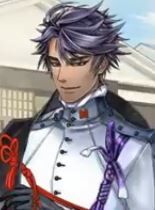 A Day in the Limelight: He and Soushirou get a Spin-Off story for themselves, depicting what they were doing as they got ready to be the Shogun's bodyguards AND how they met

Zeyo

Amazon Chaser: He at first tells "Kaname" "You Got Spunk!", but when Saori openly confirms to him that she's a woman (he had noticed before, but wanted her to tell him herself), he's even more impressed. In his own words: "I like women who are bold"
Ambiguously Brown: He's quite more dark-skinned than the average character of this game.
Ascended Extra: From being a background character in Tsubaki's route and

Makoto's secondary one

, to also getting his own.
Belligerent Sexual Tension: Probably one of the straightest examples here, and lampshaded more than once.
Berserk Button: He doesn't like being teased, and especially not about his more superstitious side.

More seriously speaking, he really hates anything and anyone who is a threat to the Shogunate and the peace. Especially if his boss, the Shogun, is involved. This is why he reacts so badly to

Zeyo's

presence: he's been on the man's tracks, believes him to be a huge potential terrorist, and will do near anything to stop him and his plans.

Brutal Honesty: This man has no brain-to-mouth filter and always says what's on his mind, and at times Okita has to pull him back.
Bunny-Ears Lawyer: If the That's what I call Summer Event is to be believed... for such a serious-looking military man, he seems to be quite into fortune telling. He's VERY embarrassed when teased about it.
The Comically Serious: He comes off as this in more slice-of-life situations, like when Makoto has him and Okita help out at the Meiko Salon.
For Want of a Nail: Hijikata's path starts with him and Okita dropping by the Meiko Salon right when "Kaname" is about to choose a mentor, and then by Hijikata directly telling Makoto to let him guide "this man".
Hair-Trigger Temper: Hijikata is extremely prone to get flared up and jump into conclusions.
Healthcare Motivation: Someone in his circle of friends

(later confirmed to be Okita)

is seriously ill, but Japanese doctors cannot help them. Hijikata has learned that Western meds may be able to do something, so he's desperately looking for a specific medicine... and Tsubaki has a big dose handy, which he tries to use to sway Hijikata to his cause. Hijikata doesn't take the bait, but he admits to Saori that had she not appeared and slapped him to interrupt him, he would've been very tempted to accept.
Heterosexual Life-Partners: He and Okita are very good and close friends.
Seppuku:

Mentioned for laughs in That's what I call Summer, as he tells Asagi "disembowel yourself!" when the other man teases him too much. His profile has the trope as one of his "likes" (according to his companion Okita) and mentions that he's a skillful kaishakunnin (again, according to Okita). This Okita phrase sums all up: "Just so you know, Toshi's hobby is ritual suicide, so be careful, Saori."
According to Hijikata himself in his own route, the Shinsengumi has a set of very strict rules. If a member of the group breaks them, he is to commit seppuku on the spot.
This reaches Overly Long Gag levels in the event story From Winter with Love, where he becomes immensely grumpy due to the cold and pretty much threatens almost anyone he talks to with forcing them to go through it.

Shipper on Deck: In Okita's route, he's implied to be this to him and Saori. One of the most meaningful talks he has with her is the one where he asks Saori to become his Ill Boy best friend's "reason to live".
Sympathetic Inspector Antagonist: Both he and Okita are introduced this in Tsubaki and Zeyo's paths, since they've been on the latter's track for a while already. In the

latter

's route he even has to defend Saori from him, since Hijikata mistakes "Kaname" as one of his accomplices and attacks her.
Tall, Dark, and Handsome: Justified, the real Hijikata was very good-looking.
Training From Hell: He thinks "Kaname" is weak but spirited and plans to shape "him" into a tough warrior in all senses.
Those Two Guys: He and Okita tend to be this when they show up in other routes.
You Got Spunk: When he angers Saori by calling her weak at the beginning, if the player makes her stand up for herself, he'll like her spirited reply. He says that only Okita has been combative towards him and praises "Kaname" for standing her ground.
You Gotta Have Blue Hair: Dark purple hair, more exactly.
Soushirou Okita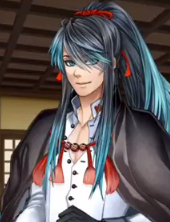 Ichi Saitou
Isamu Kondou
The Kyoto Vigilantes
Yahiro Kyougoku
Seiya Himuro
Seiji Himuro
Hayato
Ryunosuke, aka Ryu
Asuka, aka Yuugiri
Mashiro
The Shadow Vigilantes
In General
Gin Shinonome
Haku
Sanosuke Sarutobi
Toya
The White Roses
In General
Hades
Cerberus
Griffon
The Puppeteer Brothers
In General
Kou
Sou
Tou
The Tokugawa Shogunate
In General
Nobuyoshi Tokugawa
Kunihiro Matsudaira
Miyabi Hattori
Risui
Other Love Interests
Ritsu
Freudian Excuse:

Ritsu's younger brother, whom he raised after their parents' deaths, was killed by the Vigilantes for having seen their faces and potentially being able to reveal who they are. Ritsu is deeply angry and resents them for it, plus he feels guilty for not having done enough for his brother' sake before his death.

Guile Hero: Ritsu is a mix of Intrepid Reporter and Knowledge Broker who really, really want to play this role. His biggest goals are to expose Suetsugu's evil and find out the identities of the Vigilantes.
Heroic Build: When Saori takes a ride on his back, she realizes that underneath his clothes, he's really freaking ripped.
Intrepid Reporter: He makes yen as the editor/owner/reporter of a local tabloid.
Knowledge Broker: If there's someone who knows about lots of vital info in Nagasaki, it's generally him.
Locked Out of the Loop: He is friends with the members of the Vigilante group and also a pupil of Shintaro's dojo, yet he doesn't know about the Vigilantes' identities. Him finding out could be a very, very bad thing, since the honor code of the group would mark him for death

like it happened to his (Ritsu's) little brother

, and logically it becomes a huge issue if the player chooses him as the Love Interest. In the end of his route, he finds out and collaborates with them, then he joins the group after realizing that they have the same goals and desires. He hasn't fully forgiven them, but he acknowledges that they're Not So Different.
Muggle Best Friend: He's a pretty good friend of Shintaro and Ukyo, and eventually befriends Saori, but he doesn't know that they're Vigilantes... aka the ones he despises the most, aside of Suetsugu.
Piggyback Cute: Once he does this for Saori when she hurts her ankle... Ironically, this happens after he almost catches her and the Vigilantes, and Saori has just dressed up as a girl to protect herself.
Sympathetic Inspector Antagonist: He hates Suetsugu as much as the Vigilantes do, but he also has a very cynical impression of the Vigilantes themselves since he also considers them murderers

after they silenced his brother

, and aims to make justice within the law. Hence why he chases after the group.
You Gotta Have Blue Hair: Bright green, in his case. TWO shades of green, even!
Yoshiyuki Shingu
Oboro
Kasumi
Non-Associated Antagonists
Willem
Saburo Suetsugu
Other Chararacters
Haru
The Edo Vigilantes
Mokuren Himuro
Tadateru Nakagawa
Hazuki, Asahi and Yusagi Hirano
Yoichi and his Master
Shimmon
Kaede
Community content is available under
CC-BY-SA
unless otherwise noted.