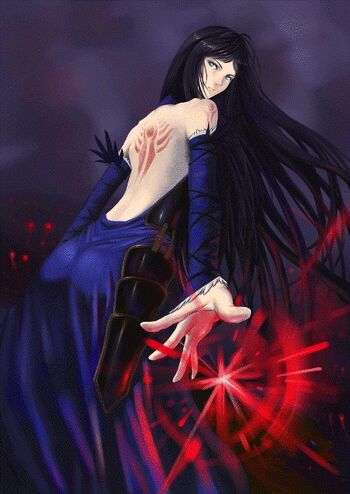 Backless outfits used for Fan Service. Ever since the 1920s and much of the 1930s popularized the backless dress or top, whether bias-cut, halter, spaghetti-strapped or strapless, it has been a nice way of showing a little skin (fair, olive, dark or tanned) without getting too raunchy; a deeply cut dress can show the entire back and maybe a bit more, and makes it clear that the lady is not wearing a bra. At the same time, it can be more elegant and mature than Bare Your Midriff or some of the other Fanservice Costumes. Or not.
The "elegant evening dress" version may come with Opera Gloves. Whether elegant or not, it may have slits to demonstrate that She's Got Legs.
Note that outfits that never have a back in the first place don't count (e.g., Chainmail Bikini).
Examples of Sexy Backless Outfit include:
Anime and Manga
Umineko no Naku Koro ni: Beatrice wears a full-skirted Victorian gown which shows a quite period-inappropriate amount of back.
Bleach: Yoruichi and Soifon both have special uniforms that leave their shoulder blades exposed in order to use Shunko, a special technique that concentrates energy on the arms and back, without ending up completely naked.
Naruto: We have yet to see it in-series, but one of the databooks shows that under her Black Cloak Konan wears a backless dress.
Karakuridouji Ultimo: Quite a few of the doji, especially Ultimo and Jealous, have backless tops. Might be Fan Disservice since it's a Shonen manga and they're male, but then again...
Rebuild of Evangelion: Asuka has a variant: the test-type plugsuit's torso material is incredibly sheer, and at one point she turns to show that it perfectly defines her back and the top of her rear. Yeah, Vapor Wear while your entire body is clothed is pretty impressive.
Birdy the Mighty: Birdy's leotard-like outfit, especially in the Decode remake, in which her outfit is not only completely backless, but neither the front part, nor what back there is, is held on by anything. Presumably there is glue involved. Or it's Body Paint.
Film
Literature
Kushiel's Chosen: Phedre's costume for the Longest Night masque is deliberately cut so the entirety of her marque (full-length back tattoo) is visible. In her culture, marques are sported by courtesans who have completed their apprenticeships. A fully bared marque means its wearer is seeking business offers. Her back (and a touch more) appears prominently on the cover.
Live-Action TV
The West Wing: Ainsley Hayes in one episode; this being an Aaron Sorkin show when Sam commented on how attractive she looked, that led to a discussion of feminism and sexuality in the workplace.
| | | |
| --- | --- | --- |
| |  Sam Seaborn: Whoa, I didn't even see that thing from the back. | |
Tabletop Games
In the 3.5 of the Eberron Campaign Setting, the example character for the Dragonmarked Heir prestige class was depicted with such a dress, though for her; it had the added benefit of showing off her Dragonmark of Storm.
A couple of the Iconics for Pathfinder have similar outfits, though artwork showing them from behind doesn't happen too often. The coverart for Raiders of the Fever Sea (the second part of the Skull & Shackles Adventure Path), however, plays this trope straight.
Theatre
Murder Among Friends: Angela's red dress must be backless or nearly so, to inspire her husband's line "Lovely dress, but don't you have it on backwards?"
Video Games
Castlevania: Order of Ecclesia: Shanoa wears a backless halter-top dress with a deep slit up the side, with a Breast Plate over it which is designed along the lines of a corset. The backlessness is necessary because she absorbs Glyphs through a large and intricate tattoo on her back.
Samurai Shodown: Shiki wears a backless tight dress and her back sports a massive snake tattoo that... does nothing.
Neverwinter Nights: Aribeth's fantasy girly armor is rather open down the back. That suit of armor's + 7 AC bonus (before magical enhancements) is completely unjustified, as it exposes at least as much as it protects. It only covers the "important" areas.
Fatal Fury and the The King of Fighters: Mai Shiranui had one intro where she bares her back and more while wearing a traditional Japanese kimono. In KOFXIII, she finally gets to demonstrate this trope by having a barely-there backless outfit with Absolute Cleavage in the front and nothing but a Thong of Shielding and a long sash in the back.
Bayonetta: This game takes Third Person Seductress to whole new levels; the eponymous character wears a variety of these, all made out of her hair.
Primal: Third Person Seductress Jen features a midriff-baring backless red halter top which shows off her Power Tattoo. It's prominently featured on the cover.
Tales of Hearts: Kohak Hearts has a backless leotard which covers her to the neck in front, but, combined with the little leg-frills that suggest a microskirt, gives her a very flirty look from the back.
Lost Odyssey: Female pirate Seth Balmore's outfit seems to lack any sort of back above the waist, no doubt giving Jansen in the back row an eyefull.
Blaz Blue: Noel's standard outfit in Blaz Blue is backless with a halter top, Detached Sleeves and a tiny skirt. The top also opens down the front for an alternate look with bonus extensive cleavage.
Kingdom Hearts Birth By Sleep: Aqua; it got to the point that Tetsuya Nomura actually had to censor the outfit's design. Her back used to go all the way down to below her waist.
Sonic the Hedgehog: Rouge boasts this feature on both incarnations of her Spy Catsuit, though it makes sense, since she has wings.
Final Fantasy X: In the original, Yuna's regular outfit is a halter-top, backless variant on traditional Kimino. Her Gunner outfit in Final Fantasy X 2 is much skimpier, backless, sleeveless, and has Absolute Cleavage to boot.
Suikoden V: The Prince's main outfit involves backless, sleeveless armor and long gloves. It probably doesn't help that he's a pretty Bishonen who takes after his Hot Mom.
Tekken: Anna Williams wears a strapless, backless cheongsam with a Cleavage Window and a deep slit up the side. In case you couldn't identify her as the resident Ms. Fanservice.
Skies of Arcadia: Aika has a perky backless minidress with the skirt styled in panels slit to the waist (and some very small Modesty Shorts). Fina has an elegant long, backless halter-top dress with a Cleavage Window.
God of War: Chains Of Olympus: Persephone has a black halter-top number that goes down the back well past the waist. It incorporates a Thong of Shielding to keep within R-rated territory. Barely.
Resident Evil 5: Excella has a backless halter-top evening dress with Absolute Cleavage and Sideboob that must require lots of tape to keep in place.
Sengoku Basara: Magoichi wears a backless corset which defies all the laws of physics by staying on her.
Ibara (and sequel): Shasta Rose's outfit is basically a backless leotard with a ruffled collar, sash, and just enough of a skirt to pose for Panty Shots.
Street Fighter: In the Alpha games, all of the Dolls and the Shadoloo version of Cammy (a.k.a. Killer Bee) wear an uniform with a nice gap on the back, making the back, aside from the face, the only portion of visible skin in an otherwhise more straight Spy Catsuit (Leotard of Power, in Shadoloo Cammy's case). They get more personalized outfits in Street Fighter V, however, and some ditch the bare back.
Fire Emblem:
Visual Novels
Webcomics
Western Animation
Community content is available under
CC-BY-SA
unless otherwise noted.