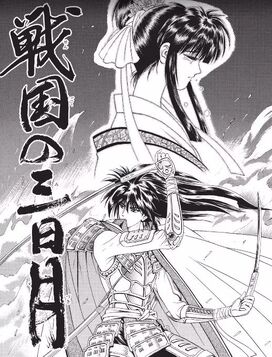 Sengoku no Mikazuki
(戦国の三日月,
Crescent Moon of the Warring States
) was one of the first stories by
Nobuhiro Watsuki
, creator of 
Rurouni Kenshin
 and 
Buso Renkin. 
It was included as an extra chapter in an early volume of
Rurouni Kenshin
, and alongside the original pilo
t "Swordsman Romantic Story"
, it's pretty much a blueprint for the story itself.
A barely teenaged boy from the Sengoku Era, the shy and cowardly Isshinta, has been taken away from his humble village and the girl he loves, Natsu, to fight in the bloody conflict between the Kitakata and Nagumo lands.  Terrified after seeing so much slaughter and death, he tries to run away but is almost caught by the Nagumo warriors, and then a Master Swordsman steps in. The man's name is Hiko Seijuurou and he's the mightiest warrior of the Kitakata realm; after Nagumo broke their peace treaty and attacked, he's been fighting nonstop to take down as many as he can with him.
Isshinta finds himself kinda tagging along with Hiko, despite his sort-of ally's aloof and rough behavior. As they get to know one another a bit better in different ways, Isshinta realizes that Hiko's heart has been deeply shattered after having failed to the lord of Kitakata and especially his lord's daughter, the princess of the land... also named Natsu. So despite his fears and how Hiko tells him to leave, Isshinta decides to stick around him and see what will happen...
Tropes used in Sengoku no Mikazuki include:
Community content is available under
CC-BY-SA
unless otherwise noted.