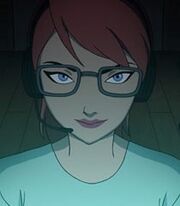 What I remember is you describing his green hair and white skin. I was just a kid. Scared the hell out of me!

—Barbara Gordon, The Killing Joke movie
Hi, tropers. Name's Barbara Gordon and I am the one with the answers to all your problems. It all started when I attended a masquerade ball in my Batgirl costume. When a burglar arrived at the party, I didn't hesitate to take him down. Later, I met the Dynamic Duo and was motivated to become a full-fledged superhero. I then was treated like an almost-equal by Batman and eventually elected at Congress where I became a part-time superhero at Washington D.C. Unfortunately, I was shot and crippled by the Joker in an attempt to drive my father (James Gordon, the police commissioner) insane. To that extent I quit my Batgirl identity in favor of becoming Oracle, a mysterious info broker and hacker. Now I lead teams such as the Birds of Prey and set an example for anybody who is in special needs.
Time to check my media...
The Comics that bring up my origins
The Killing Joke
Birds of Prey
The Silver Screen
Animation in its Glory
Batman: The Animated Series
Here are the most brilliant tropes that focus on my life
Well, time to depart. I hope to see you again soon. Au Revoir!
Community content is available under
CC-BY-SA
unless otherwise noted.