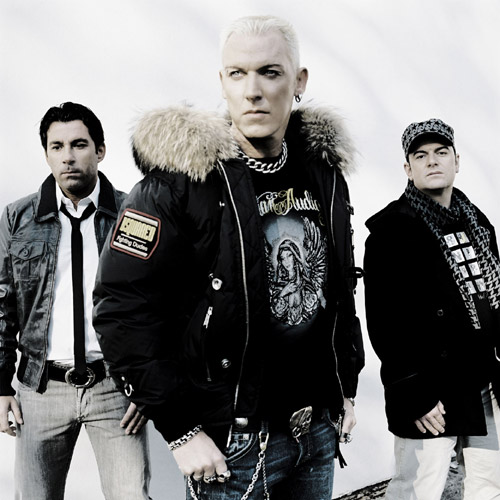 Scooter are an electronic music outfit who are a Guilty Pleasure or are So Bad It's Good or are So Cool Its Awesome or are completely appalling, depending on who you ask. Their lyrics are an amusing word salad and it's best not to dwell on what is being shouted by H.P Baxxter during the songs. Trying to decipher what he is shouting about will give you a brain hemorrhage.
They've been around for a surprisingly long time, starting out as a fun loving Happy Hardcore outfit in the early nineties, but have been moving towards hardstyle in the past few years.
Albums:
...and the Beat Goes On! (1995)
Our Happy Hardcore (1996)
Wicked! (1996)
Age of Love (1997)
No Time to Chill (1998)
Back to the Heavyweight Jam (1999)
Sheffield (2000)
We Bring the Noise! (2001)
The Stadium Techno Experience (2003)
Mind the Gap (2004)
Who's Got the Last Laugh Now? (2005)
The Ultimate Aural Orgasm (2007)
Jumping All Over the World (2007)
Under the Radar Over the Top (2009)
The Big Mash Up (2011)
They also released a Greatest Hits Album, Push the Beat for This Jam (The Singles 98-02), also known as Push the Beat for This Jam (The Second Chapter), in 2002.
For similar music see: Dune, Blümchen, Charly Lownoise & Mental Theo, Flamman & Abraxis, Party Animals and DJ Paul Elstak.
---
This band exhibits the following tropes:
Community content is available under
CC-BY-SA
unless otherwise noted.